Unless you've unlocked the secret of cold fusion or cured the common cold, your business has competition.
Separating yourself from that competition involves more than just lowering prices or beating your rivals to market with a new concept.
Let stellar customer service push you to the head of the pack.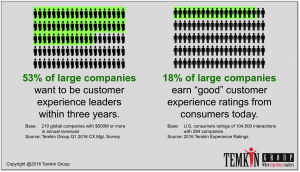 Consumer service trends evolve with consumers' wants and needs.
According to Hara Faron, an international customer service professional, "customer service will largely be shaped by how technology and the human element co-exist to deliver the best solutions to consumers in the most effective manner" in the upcoming years.
She writes in her Customer Think article:
In 2019, the growth of inquiries, evolutions in technology and the changing role of customer service representatives will shape the future of the industry. Hot button topics like automation, minimum wage and data security are also poised to make an impact.
So what does that mean for companies who wish to improve their customer service strategies to rise above the competition?
It means businesses need to keep up with the latest trend when it comes to clients.
That trend is customer experience. As one customer service company puts it
Customers no longer base their loyalty on price or product. Instead, they stay loyal with companies due to the experience they receive. If you cannot keep up with their increasing demands, your customers will leave you.
Marketer and researcher John Buccuzzi explains how customer service is the new marketing tool.
To improve the customer experience you customer service team need to be on point. Before, during, and after your client makes a purchase of your product or service.
Here are some tips on how to improve customer service to adjust to the latest customer experience expectations.
1. Give all your employees excellent product knowledge.
When everyone in your company can act as support, customers can get their questions answered promptly.
Imagine going to a coffee and asking a barista about the difference between a latte and cappuccino. If the employee just shrugs his shoulders and can't give you an answer would you even consider buying either beverage?
Now, what if not only the barista told you the difference (latte has more milk and less foam, by the way)? But also gave you some information on where the coffee shop gets its coffee beans, how it makes its espresso, and what time the next live music at the shot starts?
You'd remember that interaction. That customer service. You'd have a good customer experience.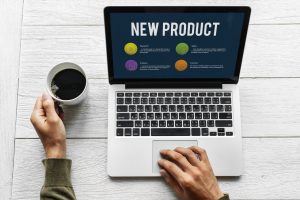 You may not own a coffee shop. And perhaps you don't need to go to the extend of giving out too much information without prompting.
But the point is, your customer service team needs to have a great knowledge of the product.
All the ins and all the outs. Give your team member resources to educate themselves on all the details. That way if and when questions arise they will be ready.
Saving your customers a call to the help desk goes a long way toward making them happy.
---
Related Post: Should you outsource your customer service and sales teams?
---
2.  Train employees in customer empathy.
Customer interactions are emotional exchanges as well as factual ones.  Give your employees the tools to share a happy customer's enthusiasm or reduce a frustrated customer's tension.
Daniel Kahneman, author and 2002 Nobel Prize winner, writes in his book Thinking, Fast and Slow 
"We are not thinking machines that feel, we are feeling machines that think."
Your customers might not remember exactly what you said. They will definitely remember how you made them feel.
Empathy is essential in successful customer experience.
Empathy doesn't necessarily have to do with problems, though when a customer has a complaint empathy is essential, even more, when your team works remotely and all interactions with customers are digital.
It simply means understanding how the other person feel, good or bad. Putting yourself into customer's shoes is a fundamental way to boost your customer focus.
Have you ever feel excited about something only to realize no one else around you is? That can be a bit discouraging. But if someone is sharing your excitement, you feel even better.
So if a customer feels frustrated with a service – show empathy. If a customer feels excited about a product or service – again, show empathy.
Researcher and sociologist Brene Brown explains empathy wonderfully with the phrase "Empathy – feeling with people."
When your staff members make customers feel truly listened to and not simply heard, customer satisfaction rises.
You can try proven methods which have led to better customer empathy in call centers.
They include:
Role plays
Training exercises
Empathetic buddy system
3.  Build an infrastructure that supports great customer service.
That means incorporating SMS powered live chat and support ticket software, streamlined self-help options like knowledge base on your website and call-backs instead of lengthy hold times.
Customers perceive looking up a tracking number or reading frequently asked questions as less effort than calling a customer care center, so offering these options increases satisfaction.
If lacking resources, consider outsourcing customer service operations which most of the time a much cheaper alternative than running an in-house call center.
One important aspect of customer experience today that was not dominant in the past is mobile customer service.
Software Advice conducted a study on mobile customer service usage. The finding show that mobile interactions play an essential role in customer satisfaction.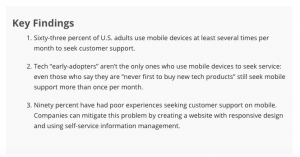 One thing is clear – if customers are dissatisfied with mobile support they will be dissatisfied with overall customer experience.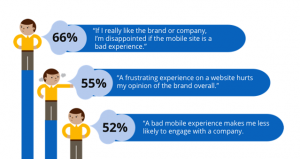 4. Resolve customer issues at their first point of contact.
Harvard researchers noted that having to repeat a problem to a chain of customer service representatives was intensely frustrating for customers.
Improve first contact resolution by ensuring that the person who initially handles the call takes full responsibility for it until the customer's concern is resolved.
Offering live chat support on your website allows for more collaboration behind the scenes.
Experienced agents can effectively mentor new hires by "whispering" answers to them as they chat with customers.
Customers do not want to repeat themselves.
When it comes to customer service agent interactions, ensure that the agents review all available history the customer had with the company – past calls, chats, and issues that came up.
---
Related post: 7 tips for boosting your call center's FCR (First Contact Resolution) rate
---
5. Deliver on your promises.
Every package that arrives on time or product that works as intended reinforces your customers' trust in you.
Customers don't want you to promise them the moon as much as they want you to deliver it on time and with a smile.
What do customers want? A few simple things: promise = delivery, ease of use, resolution, and a value proposition that matches their needs. Focus on these #CX elements to foster lasting #customerloyalty https://t.co/f3mG8zyIVX

— Julia Ahlfeldt, CCXP (@JuliaAhlfeldt) April 10, 2018
Michael Krigsman, a marketing researcher, offers some tips on how to bridge the gap between brand promises and customer experience.
6. Make it personal.
Adding on to the point of empathy above, connection with the customer is everything.
Your customer has to feel valued, understood, and connected with your company, your brand, and your customer service representative.
Including emotion and connection is part of the customer experience will ensure positive customer experience and, therefore, satisfaction.
Chief marketing officer Jeff Bullas offers great tips on how to emotionally connect with customers for better customer experience.
Conclusion
In today's fast paced world, where humans and technology co-exist, customer satisfaction depends heavily on the quality of customer experience.
To rise above competition and stand out in the sea of companies that offer similar products and services you do, connecting with consumers through superior customer experience is the key.
Which strategies work best for your business when it comes to customer experience?