A few years ago my family and I took a summer trip out west and stayed at a Sleep Inn hotel in Idaho Falls, ID.
Years later I still recall our experience. 
What can be so special about a road-side budget hotel?
Well, in addition to clean rooms, friendly staff, and free breakfast – all standard amenities of the chain – this hotel also offered complimentary home-made soups and salad for dinner and had extra towels in the room's bathroom. 
Nice, but still nothing to write home about (and probably not worthy of a blog post mention).
But when we left the hotel, we left behind a few items we purchased earlier. Not even realizing the loss, the next day we got an email from the hotel manager. He looked-up our email address from the reservation system and let us know he found our forgotten items. A couple of days later we were passing through the area again and we stopped by the hotel to get our things.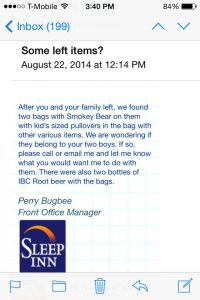 Everything was neatly packaged in a nice bag, which also contained some sweet treats for our kids and a thank you note from the manager. Now, that's so sweet! Blown away with our overall experience at the hotel, we vowed to ourselves to leave a positive review for the establishment.
But then our trip took up all of our attention, then school started, then Christmas, then Easter happened…. Now, over five years later, I'm writing this and feeling guilty. I still haven't written that review (ok, ok maybe now I will, finally)…
So why didn't we write that review, even though we had a great experience and fully intended to submit one?
Customer feedback is hard to come by for most companies. 
According to CustomerThink research average feedback frequency ranges between two and 10% among customers. Moreover, feedback collected at or close to the point of service delivery is 40% more accurate than feedback that is collected just a mere 24 hours later.
In other words, if customers don't provide feedback at the time of service chances are they never will. It's now or never. 
On the other hand, gathering feedback "in real-time at the right point of the customer journey can illicit up to around 20% response rates" CustomerThink research further suggests.
So how can companies ensure customers submit feedback at the time of service and don't go on with their lives without a word (like me, still meaning to do it five years later)?
Here are three ways that guarantee customer feedback frequency increase 
Now or never! Make it immediate.
Feedback is way too important for companies. They really can't afford to wait five years for feedback that might never come (Ahem…).
If prompted in real-time customer feedback is twice as likely to occur. 
Here's an example.
Recently, I went to a seminar and after the speaker finished, everyone in the audience received a piece of paper with questions about the presentation and a pencil. As I was leaving the event I placed my filled-out survey in a big pile of ones just like mine. I couldn't help but wonder how many answers would the organizers get if they asked the participant to fill out an online survey at a later time. My guess is not as many. 
Getting customers' feedback at the time of service is the key to getting any feedback at all. 
According to Nicereply there are certain benefits to receiving real-time feedback.
There are three important reasons every customer service team should develop a real-time feedback loop with their customers:

It's much easier to resolve issues faster
Executives are able to understand the customer experience
Feedback is a powerful training tool for agents. (Nicereply)
Receiving feedback in real-time allows employees an opportunity to be proactive and fix any issues before they turn into problems. 
While a paper survey in the example above might be a great way to get an immediate response, with available digital technology, companies have options for customer feedback collection. 
Feedback Kiosks: Real-Time Customer Feedback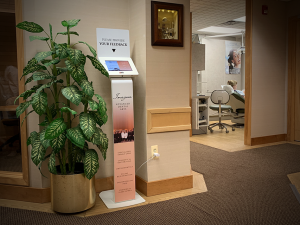 One great option is feedback stands. Placed strategically in a place of business they can deliver customer feedback in real-time, allowing management to address anything that is out of place. Some more advanced feedback tech even comes up with artificial intelligence-derived pain point solutions. 
A computer telling you what you can do to fix an issue, how to respond in a certain situation, and make customers happy right now? Now that's pretty nifty. 
Bonus points! People have reported that submitting their feedback to a survey kiosk allows them to remain anonymous and be more honest about their answers, and that makes it more likely for them to participate. Moreover, businesses can leverage kiosk software solutions for many other customer service interactions such as billing, payment, printing etc., to drastically reduce associated costs.
No dilly-dallying! Make it easy, convenient, and quick. 
So what is the reason customers' feedback is so difficult for businesses to obtain?
Customers are motivated by their own goals and deadlines, so it's not their responsibility to provide your company with feedback.
Many customers can be reluctant to fill out surveys or participate in reviews because of the inconveniences these measures cause. (HubSpot)
With every extra step the customers need to take to leave feedback the chances of them doing so diminish. The same goes for the time it takes to leave customer feedback once they start the process.
[ctt template="3″ link="287Jg" via="no" ]52% of customers said they would not spend more than three minutes filling out a survey (Visioncritical)[/ctt]
We've all receive emails following purchases from online entities like Amazon and Groupon. They ask to rate our experience and after we click on the stars in the body of the email to do so, the application takes us to the company's website. Now, if the website is slow or if it prompts us to take too many additional steps, it's likely we abandon the process and return to browsing through our inbox.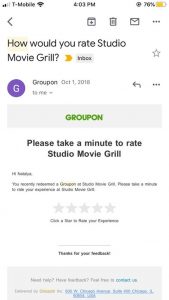 So to ensure the effortless experience of customer feedback it's important to make sure the process is simple and quick. Humans have a short attention span, especially when it comes to something like feedback surveys.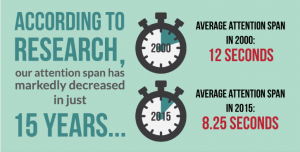 Convenient and easy are two other important qualities. Remember the pencil in the seminar example above? Had the organizers not provided a pencil with the survey they would likely end up with many blank surveys simply because people didn't have a pen or a pencil with them. It's a small but it's important.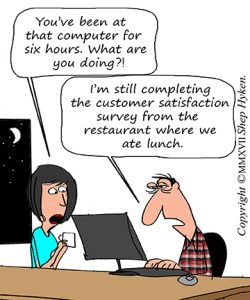 Customer feedback survey questions: 
Keep

surveys short

. 

Keeps the language of each question precise and clear. 

Make sure all the links work and take the customer to the right screen to leave a review.

If you're offering a paper survey, keep it to one page.

The fewer steps – the better!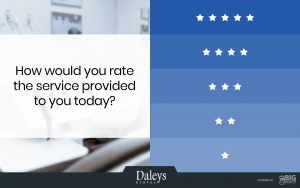 What's in it for me? Make it valuable for the customer.
While all humans might have great intentions from time to time, let's face it, we are all kind of selfish.
According to Feedier, a customer feedback improvement company, "offering an incentive is [a great way] to help the response rate, but mainly to make the experience more appealing and show your customers that you value their time!" (Feedier)
Naturally, if customers get some sort of a kick-back for completing a survey, leaving a review, or giving a company a shoutout on social media, they are more likely to offer their time and opinion. 
Customer feedback is invaluable, and sometimes you need an incentive to collect it.

— Adam Toporek | Keynote Speaker (@adamtoporek) March 4, 2015
People not only are likely to respond to a company's inquiry for feedback, but might even seek ways to participate without a prompt. 
Points for Surveys is an example of working feedback incentives. Participants receive points on their TrueBlue accounts with JetBlue airlines in exchange for their opinions and feedback on various topics. 
There are two types of incentives for customer feedback. 
Monetary incentives include free air dollars, points, discounts, coupons, etc.

Non-monetary incentives include anything that appeal to the customers' human nature – curiosity, craving to belong, learning new information etc. 
Non-monetary incentives are proven to work even better than monetary incentives in [a] 2009 meta-analysis (Feedier)
According to the Feedier study, the chances of a customer responding to a non-monetary incentive feedback prompt increases twice fold as opposed to a prompt with no promise of incentive. 
Bottom Line:
Feedback is essential for companies. While it's difficult to prompt your customers to provide feedback, making feedback opportunities immediate, simple, and valuable to the customer will increase the likelihood of customer feedback.
Now, what will you do with that feedback? That's another story and here's a great article from HelpSquad that discusses 10 Great Ways to Utilize Feedback. 
(Enjoy! I'm off to write that Sleep Inn review).
I swear it never fails – you sit around waiting for the feedback – then it all comes AT ONCE. #freelancelife pic.twitter.com/TfganvVmcJ

— Michelle Garrett (@PRisUs) November 25, 2019