How do you determine the success of your business?
More leads? Higher sales? Or better profits?
Irrespective of your metric, one thing that you must ensure is establishing customer loyalty – that's if you want to survive in the long run. 
After all, it's your customers that make or break your business. Without them, all your efforts will be in vain.
You should ensure every customer has a great experience with your company at every stage of the sales funnel. This is also where providing excellent customer service comes into play
In this article, we'll discuss why good customer service is one of the most effective and best ways to retain customers. We'll also shed light on ways to improve customer loyalty by making simple changes in your customer service strategy.
Sounds good? Then let's get to it!
Why Is Customer Loyalty Critical in Your Business?
To put it simply, customer service helps retain customers, helping you extract more value from them. Moreover, it recoups customer acquisition costs, creates solid testimonials and positive reviews, and nurtures a loyal customer base.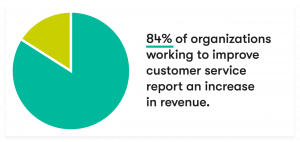 Essentially, everything you'd want for your business.
By making a few basic changes in your customer service team, you'll be able to build customer loyalty, as well as take your business to the next level. Read on as we discuss ways in which you can establish customer loyalty by working on your customer service team. 
Best Tips to Improve Your Company's Customer Service Sector and Gain Customer Loyalty
All business owners should seriously consider investing in customer service because of its innumerable benefits. By spreading the word about the business your customers can do a lot for you.
Below, we'll discuss a few tips to help you improve your customer service team.
Keep Your Customer Service Employees Happy
The rule is pretty simple for this one: Happy employees mean happy customers.
It's pretty obvious that an under-appreciated employee will not put the same amount of effort into their work when compared to happy employees, who feel satisfied with their jobs. 
When your employees work hard and efficiently, your business's customers get quality service that keeps them happy. This, in turn, allows you to reap its benefits.
Leadership creates great managers.

Great managers create engaged employees.

Engaged employees create happy customers.

Happy customers create revenue growth.

— Jacob Espinoza (@MrJacobEspi) February 1, 2021
Hence, you should make sure you respect and appreciate your customer service employees, recognize hard work, and even give them incentives for good performances.
Use Positive Verbs
Positive language has this magical effect that helps the customer feel more at ease.
There's no doubt that words are powerful, and in this case, can be particularly beneficial to create a trusting relationship with your customers.
#Customer service starts with #positive language, https://t.co/QWSzcu9pqB pic.twitter.com/U9hmL7P2q1

— The Mentor Group (@the_mentorgroup) May 18, 2016
Ask your team to use verbs more positively. Instead of asking your customer to not or avoid doing a certain action, inform them why the alternative is the better option. For instance, instead of saying "don't use your phones" say "it's better to keep your phones switched off."
The idea here is to prove your authenticity and positivity, and reinforce a calm and peaceful image of your company to the customer – even when they're angry.
Prioritize Finding a Common Ground
You may already know empathy is one of the very foundations of excellent customer service. After all, it's the ability to understand how your customer is feeling, and trying to see the problem through their eyes.
While many people are born with this trait, it's also a skill that can be acquired – luckily. 
You must try to empathize with your customers. Not only will it help de-escalate a conflict, but also give a positive impression of your company. 89% of consumers read company responses to online reviews, so empathy is especially critical in this regard.
However, in order to empathize, you need a common ground of communication. 
This can include live chat, telephone calls, or the more practical, email. You see, customers want to connect with you in a bid to vocalize their problems, and having a common ground of communication helps meet this very need.
Invest in Your Customer Service Team's Skillset
In addition to your mental skill set, understanding the technicality of the job is equally important.
Customers can come to you with all kinds of problems, and they want each one of the questions answered as efficiently and swiftly as possible. 
Suppose you don't know how to implement a service ticket. Not only will you be wasting your time trying to do this when attending to a customer, but also your customer's time. And we know the one thing that customers don't appreciate is waiting for nothing. 
You, along with your teammates, should know how to use the ticketing system, live chat, email, or any other help desk system you use when making note of the complaint or query. If you want to have true congruence across your organization, you could use an online course platform to develop one, or many training courses for your staff as well.  And oh, typing fast and having excellent communication skills is incredibly important too.
Using Advanced Tech for Better Service
There's no doubt that face-to-face contact is the best way of dealing with customers. But when the number in question becomes hard to handle – we're talking hundreds or thousands – relying simply on human resources may be inefficient. 
What you need here is technology.
Try to use technology that has been specifically developed to improve and enhance customer experience. For instance, using a live chat feature that offers 24/7 service, offering free delivery after the purchase of a specific amount, and automating product returns are excellent tactics to build customer loyalty as they help ensure seamless interaction at all times.
Performing Periodical Evaluations
It's obvious for customer support teams to have their limitations, which is precisely why your aim here should be to identify these weaknesses as well as make necessary and relevant adjustments that can help you deliver better customer service. 
Try to look for reasons behind customer complaints by performing regular evaluations. The next thing on your agenda should be finding ways to eliminate these problems to provide an even better service to your clients.
Excellent Customer Service = Customer Loyalty
Considering customer acquisition costs 5x more than satisfying and retaining current customers, it makes perfect sense to invest and work on developing customer loyalty. You need to work on your customer service if you want to stay relevant in the long run. 
Start by improving your customer support team's mental and technical skills. Also educate team members about the importance of empathizing with your customers and performing regular evaluations to identify weak spots.
Remember, just focusing on price is only a race to the bottom – plus, companies who already have loyal customers don't need to compete on price. It's leveraging strong relationships with customers that will always keep them coming back, and help your business survive for longer.