A new year brings new beginnings and, naturally, new LiveHelpNow features and updates. 
The quest for New Year's resolutions gets a bad rep. Most people abandon their resolutions within days or weeks of the new year. However, setting an objective and pointing actions towards that objective through small changes has become the new way to look at the whole "new year, new me" philosophy. 
For LiveHelpNow, the objective has been and remains to be the pursuit of excellent agent experience. In 2022, we aimed at that objective with the release of Beta Agent Workspace and the grand rebrand of LiveHelpNow's website. Other agent-centered software features also helped us and our customers improve the agent experience. And we're not stopping there. Here are some of the upcoming LiveHelpNow features for 2023. 
Agent Workspace: Full Release
One thing humans resist the most is, of course, change. Yet, it's both inevitable and constant. Since the inception of LiveHelpNow, thousands of businesses have come to love LiveHelpNow's good ol' trusty panel. But it's time to say goodbye.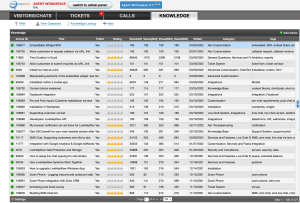 In 2023, we plan to fully implement the new Agent Workspace. 
The move will help us take agent experience to a state-of-the-art level. New LiveHelpnow features, such as sneak peek, voice chat, quick save canned responses, read receipts, dark mode, display customization, and others will only be available in the new workspace.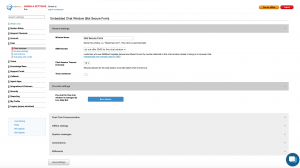 Currently, the Beta Agent Workspace serves customers who opted in to switch to the new interface. We're putting plans in place to retire the old interface and will communicate those as they are ready. 
New Features in New Agent Workspace
As mentioned, some of our new – and quite effective, if we say so ourselves – features are only available in the new Agent Workspace. This trend will continue as new LivehelpNow features come to be. We have quite a menu of upcoming tools. (So, once again, don't miss out and switch!)
Voice Chat 
Voice Chat allows agents to connect to customers via voice directly from within the Agent Workspace. Agents can operate the device they normally use to chat, while customers remain on the device they used to contact the agent. 
Voice chat is another one of the LiveHelpNow features that support omnichannel customer communications. It makes conversations between agents and customers easier than ever, ultimately improving the customer experience. 
Supervisor View
A supervisor's job is to, well, supervise. This feature will make it much easier. With our upcoming Supervisor View, a screen will be available in the new Agent Workspace with an overview of the entire account or specific department, or specific agent. Supervisors will be able to view statistics, reports, daily interactions such as chats and tickets, current department and agent overview, total interactions, in-queue chats, open chats, average response time, the longest duration of customer interaction, longest wait time, CSAT score, and more. This will place a current overview of everything going on right at the supervisor's fingertips.
Contacts Manager Beta
When people feel like someone knows them, they feel loved. And that is exactly what customers need. Contact Manager is one of LiveHelpNow features that will make customers feel like much-loved friends. It gives the agents the power to look up any contact that has chatted, texted, submitted a ticket, or otherwise communicated with the company. It will make contacts easily accessible and searchable. Agents will be able to quickly recognize customers that have had previous conversations with the company and review the details of those interactions. This expanded function will make proactive follow-up much easier because agents will have all the information they need. 
Social Media Integrations
One of the helpful things a company can do for its customers is to meet them where they are. Today, that often means on social media platforms. To bring even more omnichannel options to customer support, we're adding channels to our software. Instagram and WhatsApp communications will flow into the LHN message queue along with chats, texts, and Facebook messages. This will enable agents to handle all customer communications through one streamlined interface. 
Google Business Messages: Full Release
LiveHelpNow and Google Business Messages have joined forces to turn Google searches into customers. This feature provides instant answers to customers via live chat right from a business' Google Business Profile.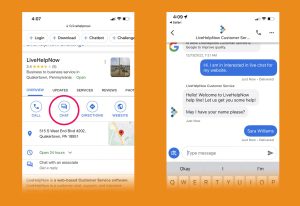 With one click, customers can connect to the business using a Google live chat window. Businesses can then answer the chats through their LiveHelpNow Agent Workspace. This feature builds trust and improves customer experience. It also improves SEO by boosting search rankings and increasing engagement.
Chat Widget Refresh 
The chat widget is getting a makeover – a new modern design, more layouts, and new features. Phase one will include widget window replacement and a brand-new button design.
Phone Deflect to SMS 
Customers have better things to do. They don't want to wait on hold. The Call Deflection feature provides a simple solution as it decreases call volume, reduces hold times, and improves customer experience. This is one of the LiveHelpNow features that can help improve customer service for busy contact centers as well as small business entities. The feature transitions an active phone call to an SMS text conversation. With the click of a phone key in a phone IVR or Auto Attendant, customers can make the decision to switch to a live chat or text message conversation. The system will then send the caller a text, the call ends, and they get immediate live service instead of waiting on hold. 
Zoom Phone Partnership 
Zoom Phone continues to grow as an outstanding cloud phone provider. LiveHelpNow will continue to find ways to integrate Zoom Phone calls and records more deeply into our new workspace for a true one-stop omnichannel shop. 
Zoom Phone provides everything a business might need in a phone system. It's the ultimate modern phone solution. It's flexible and easy to use, manage, and extend. Most importantly, it's cost-efficient, secure, and reliable (if you have Ring Central, just ask us for pricing…we think you'll be impressed!).
Continued Infrastructure Investments
As our features and efforts to help our customers help their customers expand, we continue to invest in our infrastructure and security. We're dedicated to ensuring our platform has little or no downtime and is blazingly fast. 
HelpSquad Enhancements
Our sister company, HelpSquad, continues to grow and help provide additional services to companies big and small looking for customer service agents. Here are two new features we're adding in 2023. 
Knowledge Base as a Service Beta 
Currently, we're looking for testers for our new Knowledge Base as a Service. Let HelpSquad create, manage, and optimize your Knowledge Base. You can offer the best self-help possible to your employees and customers. Be the first to experience this one-of-a-kind service with our beta trial launching in 2023. We're actively looking for testers. 
Google Business Messages 
The Google Business Messages feature we described above can be quite helpful to both agents and customers. Too busy or don't have enough staff to answer all the inquiries? HelpSquad agents are standing by and can answer your Google Business Messages (as well as chats, texts, and Facebook messages) within 30 seconds 24x7x365.