Text. Your. Customers. If this concept makes you pause and ask why you have come to the right place. Recent texting statistics show that texting is no longer a purely personal communication channel. Customers like to text. And businesses that incorporate texting into their communication practices get ahead in the game. 
How do we really know what the customers want? One sure way is to look at available data. Texting statistics provide a look at customer preferences. They show what works and what does not. For example, surveys show that open and click-through rates are higher for text communication than other channels. For businesses that try to reach customers in a personal way that's huge. Check out the compilation of a variety of business texting statistics below. See the evidence and reach teh results you want. 
Texting Statistics 
A relatively new practice, business texting might seem intimidating. With diverse sources for these texting statistics, this data shows there is nothing to be afraid of. 
78% of people wish they could have a text conversation with a business. (

The Local Project)

75% of people like offers sent via text (The Local Project) 

Text is the most used form of communication for American adults under 50 (The Local Project)

More than 50% of consumers would prefer text messaging for customer support rather than phone calls. (

Finances Online

)

Open rate for text messages is 99%, whereas a good open rate for emails is between 17 and 28% (

99Firms

)

SMS has a 36% click-through rate (99Firms)

75% of Millennial and Gen Z Americans prefer to text rather than call (99firms)

48% of customers prefer direct communication from businesses through text messages (

True List

)

89% of consumers say they prefer texting with businesses over any other mode of communication. (

Avochato

)

88%

of customers want their order updates, reminders, and order confirmations sent as texts (Avochato)

The response rate for text is 45%, whereas for email it's only 6% (Avochato)

77% cited a positive experience with text-based intelligence assistants, followed by messaging apps (72%) (

Statista

)

As many as 66% of consumers say they would pay more for something if it were supported by a mobile messaging channel (

CallHub

)

A study showed that MMS had a 20% higher opt-in rate than SMS. (

Adobe

)

Over 60% of businesses still don't use SMS. Get ahead of the game! (CallHub)

44% of people who actively text would prefer to press a button to initiate a text conversation instantly rather than just waiting on hold to speak with an agent. (

Skipio

)

47% said that texting could improve their overall satisfaction with customer support. (Skipio)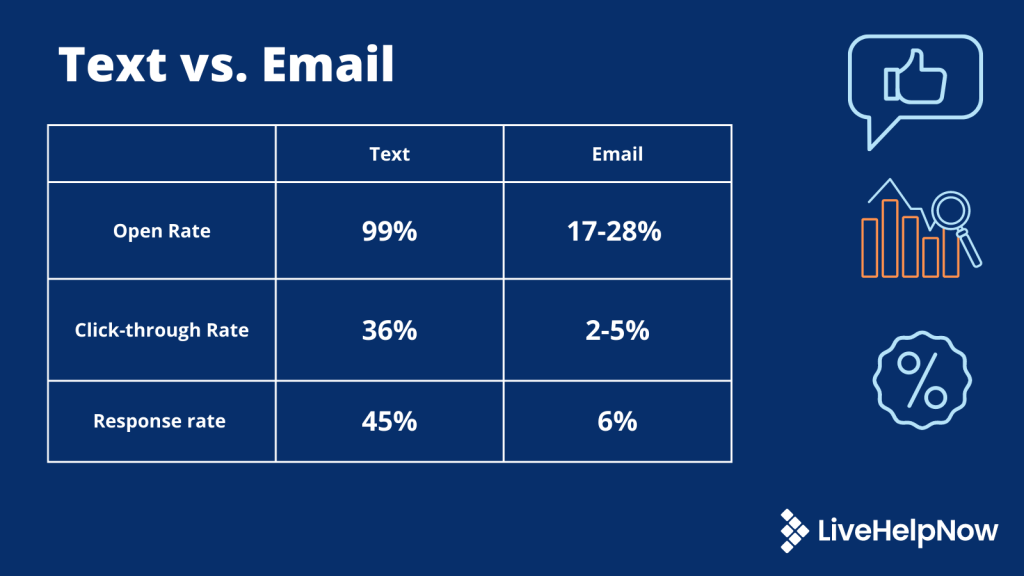 Bottom Line
Texting statistics show that texting is the future of business and customer service. By implementing texting into your customer support strategy, companies can get ahead of the game. Serving customers through their preferred method of communication – texting – can help take customer support to teh next level.