Here is an interesting statistic: about 96% of the customers visiting a website are not ready to make a purchase! Why are people reluctant, even though they might have interest?
To get the answer, one needs to peep into the fact that most people seek complete satisfaction with a product or service. If a product or service details are vague the purchase might seem too risky.
To clear things up a company can create a FAQ page that answers all of customers' questions. Not only can it increase conversions, it can help to avoid burdening the contact center with customer queries. In this article, we discuss ways to create an effective FAQ page that can help companies accomplish both of those goals. 
FAQs fulfil a crucial role in a customer's understanding of the product/service offered by a business but are often overlooked on many sites.

In his latest post, @Johno_Patterson shares how to write FAQs that engage customers & aid conversions 🤑 >> https://t.co/wwVxoqF0KI pic.twitter.com/wUndoQNXym

— Evolved Search (@evolved_search) September 10, 2020
1. Easy Navigation for Better Conversions
A striking 94% of consumers consider an easy-to-navigate website as a value-adding feature when shopping online. An ambiguous navigation structure will thus exhaust your customers and make them leave the site without buying anything.
Therefore the FAQ page must be, first of all, be  accessible to the customers. Once people are satisfied with answers to their questions, they will be more likely to make a purchase. 
One way to build an easy-to-navigate FAQ page is to use LiveHelpNow FAQ builder. It allows making customer experience loafing with its easy-to-navigate categories. 
LiveHelpNow FAQ builder allows for building a searchable library of support materials. One best feature is its right tab search bar, which lets clients search their inquiries without going into the individual sections.
So, the impact of sections and categories is crucial! They can help in sorting questions into groups, thus, allowing customers to get answers to their queries. People can do this without mingling into hundreds of ungrouped questions. Easy and simple – just as customers like it. 
2. Leveraging Customer Feedback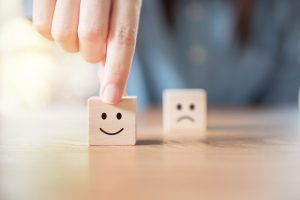 One thing to remember while offering services is that the need to prioritize customers over profits. Customer satisfaction comes before the company's interests. Not listening to customer's grievances is simply not good for business.
Empower customers by allowing them to share their genuine feedback on your knowledge base articles. People like to share their experiences. 
Feedbacks are the best way to discover loopholes in services or products. These are genuine comments that can enhance customer experience. 
No worries about the negative comments! With LiveHelpNow FAQ builder, customers can leave their comments on the knowledge base articles. 
You can moderate the potential comments and hide the ones for improvement. Comments are one of the best tools to power up SEO on your site.
Just imagine how happy a customer will get after watching a bunch of FAQ articles stacked upon each other, based on ratings. It aids the customers and helps them in getting to their wanted article.
The LiveHelpNow FAQ builder makes things easy by providing a rating system for the FAQ articles. It allows for organizing FAQs from most important to least via the ratings. The feedback makes FAQ articles look more authentic. Also, with ratings on display, customers can look up their favorite solutions with ease. Top articles can also get displayed on your home page of the support center.
LiveHelpNow Analytics keeps track of the average ratings for the knowledge base articles. It helps review and further polish the FAQ articles. 
3. Getting the Best Questions the FAQ Page
Artificial intelligence is penetrating into our daily routine. Each year, algorithms get more superior. Thus the use of AI-based technologies in many fields is getting a sonic boom. 
Chatbots are a by-product of AI with powerful conversational algorithms. They are handy, concise, and candid in their service. You can create chatbots and pre-program them with top questions, and they will data-mine answers from your customers. 
When people don't come to websites to stay for long, chatbots can be helpful. As they run on presets of codes, they only give relevant outputs. Hence your customers will not leave abruptly.
LiveHelpNow live help bot is one such example. It is easy to cache data via these bots. Hence the acquired details can be used by the bot to answer complex customer questions. 
LiveHelpNow Bot can also get to the next level by gaining details on customer demographics. Moreover, it can cut off the workload on customer care staff by replying to repetitive inquiries.
4. Boost Your Website SEO with FAQs
Search engine optimization is one of the first things to consider as a website owner. It determines business visibility on the internet and, therefore, number of visits and subsequent conversions.
How Can I Improve My SEO With #WordPress Widgets? Columnist Trond Lyngbø answers some FAQs https://t.co/2HQkQ2HhDS for newbies. pic.twitter.com/67hrTxDeZ7

— Clixlogix (@clixlogix) July 10, 2017
SEO makes it easier for search engines like Google to crawl and index your website. The more suitable SEO architecture in place, the more searchable it is in results. Creating a FAQ page can benefit  site SEO in various ways. Google, which is the top search engine, includes a separate "People Also Ask" box in its search results. The box contains top FAQs people ask  on various platforms. 
Well-written knowledge base articles attract search crawlers. Adding relevant URLs, images,  and relevant keywords can become a major SEO booster. Users are also more willing to click on relevant links, thus increasing their time on the website and potential conversion. 
Example of Success: a FAQ Page for a Cleaning Business 
Let's take a quick case study example of a carpet cleaning business. By using the above-mentioned points, we can increase carpet cleaning sales easily. 
An easy-to-navigate site will decrease the bounce rate and increase conversion. Similarly, by answering questions that consumers are likely to ask, we can also increase conversion.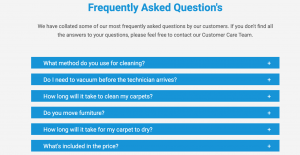 When their questions are answered on your FAQ page, customers are more likely to purchase the service. 
The FAQ Page is Crucial for Eliminating Customer Confusion
Building an FAQ page can be a real game changer. Embedding it in a website creates transparency. It also helps improve communication with customers, which, in turn, improves customer satisfaction. 
It's important to remember to update the FAQs from time to time so that business is not static. New customers might also continue to increase the question bank. 
Do you know some other killer strategies to increase leads and conversions with a blast? Do mention your ideas in the comment section!