I live in a small town.
It really is a charming place, with community events, homey book stores, a historic movie theater, and even a record store.
Small towns are said to be the heart of America and it's easy to see why. Walking down Main Street one can feel the warmth and care that permanently reside there. 
The soul of a small town lives in the planters that hang on street lights in the summer, at the holiday tree lighting put together by local merchants, in the attractive storefronts and on the couches of cozy coffee shops. 
I love my small town and I love shopping local.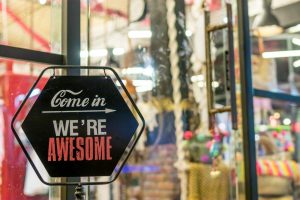 So when Nate Brown mentioned Jenarty's, a small ice cream shop he likes to patron with his daughters in his hometown of Smyrna, Tennessee, I knew exactly what he was talking about. There is one just like it in my town and it's quite a popular place.
Nate is a leading customer experience expert. He spoke about the topic of creating a customer experience momentum and the customer-first initiative at our SmallBizCX19 conference in September. 
During our talk Nate explained how applying small town business customer experience principles to any business can help a business succeed. 
Nate's example of the local ice cream shop as a model of excellent customer experience speaks volumes. 
From the moment you walk in the door, [the shop owners] are so intentional about what they designed beyond just the product of their ice cream. They just have this incredible environment, it smells really good, they know your name. They're telling you about how they make the ice cream, they're engaging with the kids. It's just a very different approach to the experience of it. (Nate Brown, SmallBizCX19)
Small businesses know how to put the customer first.
And that is why in the age of big-box store closings (yes, a K-Mart just shut down right outside my town) and online shopping, small-town mom-and-pop stores are still thriving.
The National Retail Federation notes that more than 98 percent of all retailers in America are small business companies employing fewer than 50 people (CNBC)
Many factors determine whether or not a small business establishment will succeed – from the popularity of a location to the quality of the products.
However, one of the most important differentiators for small-town businesses is customer experience. As Nate described in the ice cream shop example the atmosphere, personal attention, and general customer-first attitude are the things that make small shops flourish. 
[Consumers are] seeking more authentic experiences from unique store environments small shops can offer. (CNBC)
Small-town feel customer experience is what has kept Sunset Nursery, a small garden shop, in business for almost 70 years in Los Angeles. Its owner, Dennis Kuga, explained that evolving with the times, building personal relationships with clients, and listening to customers and their needs are necessities on the ever-evolving path to continuous business.
So how can a company start a customer-first initiative, keep the momentum going, and continue on the path to success for many years to come?
Nate defines four steps to initiating and keeping the customer experience momentum going, with a few lessons from small-town businesses.
Step 1: Develop a strategy and define the customer-first initiative
For any transformation, there has to be a plan. Leadership is necessary, but the goal of excellent customer experience has to be a company-wide initiative, Nate said.
In the first stage, leaders have to define their goals, make the customer-first initiative a priority but also customize it to the unique company mission for the specific customers the company serves. 
My theory is that you don't just accidentally create an amazing company and an admirable customer experience. It takes brave leadership with a clear and specific…https://t.co/F3flAAVjBF #business #entrepreneur pic.twitter.com/hZZPM6cV1m

— TonyBodoh (@TonyBodoh) December 2, 2019
Small town businesses have a connection with their communities. They know their customers and their community's needs. They shape their mission to fit the community and that's what makes them successful.
In a bigger company, it can be difficult to communicate the mission of the business to all the employees. It's not, however, impossible. Disney company communicates its defined common purpose – to make everyone happy – to every person on its payroll.
Implementing a simple change in business operations can work wonders for customer-first initiatives. A company can determine a need for change once it identifies a pain point of its customers. For example, if customers express dissatisfaction with the amount of time they have to wait in line in a store, the company can direct its efforts to remedy this pain point. After all, long waiting times often cost stores customers and cause significant loss of business.
How can a company identify customer pain points? By listening to customer feedback. That takes us to our next step.
Step 2: Listen to the customers
Nate calls this step the main leap to successful customer-first customer experience. 
This is where you start the magic of customer experience; this is where the rubber starts to hit the road. You're gaining the insight, you getting the understanding of the hearts and minds of your customers. (Nate Brown, SmallBizCX19)
Nate stresses that only once a company truly knows its customers can it create a customer-first customer experience and implement the changes to its operations.
---
---
Voice of the customer, a business term that refers to understanding the characteristics, wants, needs, and desires of customers, is key to successful customer experience.
Small town businesses might not need to go far to really get to know their customers. After all, they see their regulars often, they socialize, they build a personal relationship with them. They might even be their neighbors.
While larger companies might not have this luxury, there are quite a few tools available to companies to really hear the voices of their customers: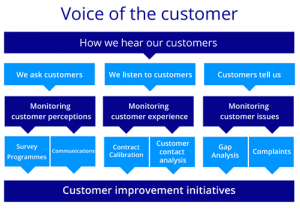 Step 3: Experience engineering: put the customer-first notion in all operations.
Now that the company understands its customers' needs and wants, it's time to really get to work and implement the customer-first initiative. 
Data is worthless unless you have the right data and then do something with it.

— Shep Hyken (@Hyken) December 2, 2019
One of the important aspects of this step is to stick with it. Quite often companies get the motivation for change, but soon give up the initiatives because of the lack of real commitment. 
---
---
Remember Dennis Kuga, the owner of the small Los Angeles nursery? He named evolving with the times and customers' needs as one of the most important skills for business. 
Small town businesses know a thing or two about change –  town demographics change all the time and so does the cultural landscape. What worked for a business a decade ago might not work today. 
A company that changes with the times continues with the times. The voice of the customer might change often. Respecting that voice will make the customer experience the cornerstone of the business. 
There are many ways to implement change in the company's operations. Here are just some of the ones we learned about from our speakers at the SmallBizCX19:
At the end of the day, #CustomerExperience is people being intentional about making other people's life easier and better.

— Nate Brown (@CustomerIsFirst) January 7, 2018
Step 4: Support employee experience that maintains customer-first culture.
As we discussed above, step one of the customer experience transformation revolves around establishing clear leadership in the process.
The final step is creating and maintaining an overall company culture that supports the customer-first model.
Nate named functionalizing customer experience the biggest mistake companies make. Assigning the task of customer experience management to just one section of a company disrupts the process of building customer-first culture.
Instead, "customer experience should be everyone's responsibility," Nate said. The job of the leadership is to "awaken customer experience initiative in the employees."
The small town business model shows that the general customer-first culture embedded in the employee experience really works. Store clerks, bartenders, and nursery attendants personally know their customers and their needs. They also understand the overall mission of the small company, even if they themselves are not leaders or owners of the business. 
The whole concept of small-town feel in business relies on the idea that everyone in the business participates in the customer experience.
Bottom Line:
Small town businesses have a long history in America. Around since the colonial times, small businesses know a thing or two about how to relate to customers on a personal level, foster and nurture customer loyalty, and engage in customer-first culture day in and day out. 
That is why, despite decades of cultural change, big-corporation take over, and online business boom, the little shops are still standing. So on your next shopping trip stop by on Main Street for a treat and enjoy that small-town feel. And maybe learn a thing or two from the old mom-and-pop.