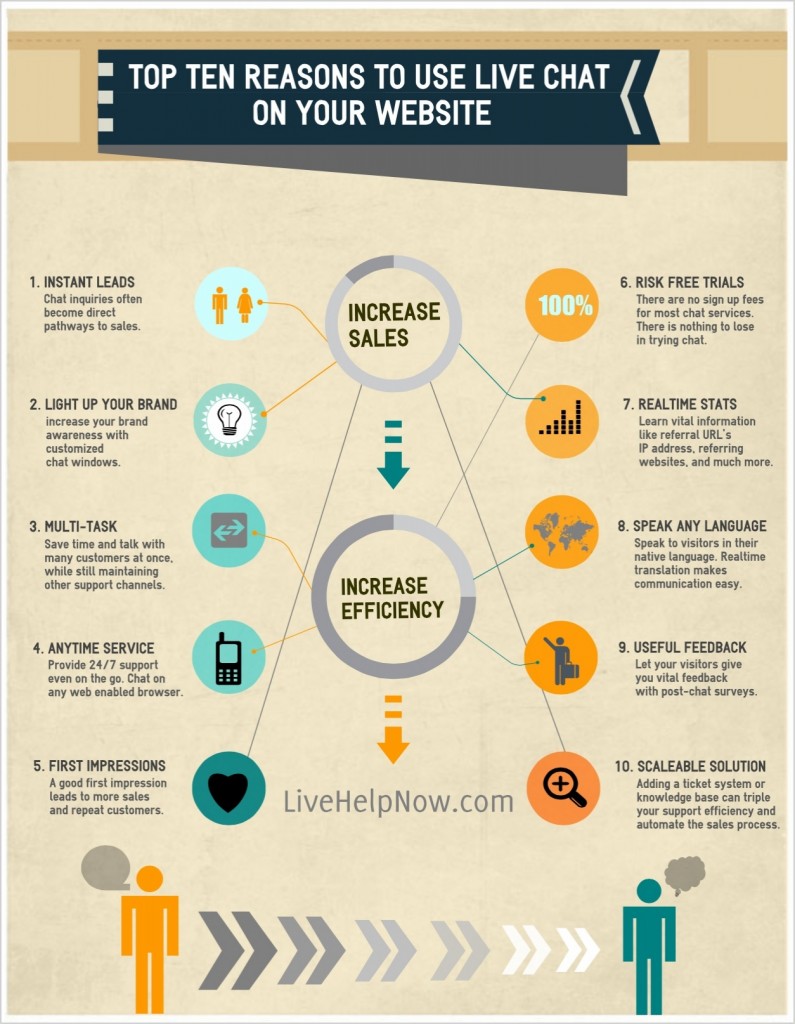 Whether you've had an online business for years or you are just getting started, there are endless benefits to adding live chat to your website. We've narrowed down the top ten reasons to try live chat, that are universally applicable to any type of business.
INSTANT LEADS
With live chat, any visitor that lands on your website becomes a potential lead. Inviting a visitor to chat gives you a chance to discover exactly what they are looking for and instantly offer them a product that matches their needs leading to a sale. Chat becomes the vehicle for creating a sales relationship and a positive experience they will want to repeat.
LIGHT UP YOUR BRAND
Take the opportunity to let your brand shine. Your chat windows can be customized with your website's branding including your brand's logo, colors and unique style. Offering customer service that is integrated right into your branding makes your company look highly professional, no matter the actual size of your company.
MULTI-TASK
With live chat, all the sudden support and sales can be accomplished simultaneously. Communication between customers and chat agents doesn't have to be limited to a "first in line mentality." Single chat operators can handle multiple chats at once, providing attentive support while never missing a sale. Customers have a tendency to buy if their questions were answered in five minutes or less.
SERVICE ANYTIME
Providing 24/7 chat support on your website not only offers your customers help at any time, it increases your credibility as a top-notch company. It used to be that only the largest of corporations could afford to offer 24/7 support. Now you can join them.
FIRST IMPRESSIONS
Inviting a visitor to chat the first time they check out your website, creates an atmosphere of service and personal attention that makes a permanent impression and paves the way for a long lasting, positive opinion of your business.
RISK-FREE TRIAL
The best reason to try live chat is a free trial. There is nothing to lose if you simply sign up and test the service. A month long trial can certainly give you enough experience to see sales spike and support running smoothly. If you don't value the experience, simply cancel at anytime. You'll know it's time to sign up for monthly services when your customers start asking where the chat option went.
REALTIME STATS
This feature has the tendency to sell chat all on it's own. Seeing your visitors ip address, what website they came from to get to your site and the search terms they used, gives you a huge dose of insider information-customizing your sales approach for each and every customer. Every customer is different and now you have the chance to know why and use it to your advantage.
SPEAK ANY LANGUAGE
Chat with realtime language translation means no more confusing support issues and clear and easy sales. When your customers can get the answers they need in their native language, it makes a world of difference.
USEFUL FEEDBACK
Your customers know what they like and what they don't. Give them a chance to give you customer feedback you with surveys or right in the chat conversation. Being able to have a conversation with your customers can tell you a lot about what they need and what is a waste of your time.
SCALEABLE SOLUTIONS
Offering live chat can have a tremendous positive effect on your business, but the positive forward momentum doesn't have to stop there. If chat works for you, why not add a ticket system to implement an official process to your support inquiries, or a knowledge base to allow visitors tohelp themselves.