Let's say you've built a great eCommerce website. The design, the content, and the product directory are up to the mark. 
But the conversion rate isn't. 
What does this say about your audience? Real-time interaction is one of the few drawbacks that eCommerce stores have over brick-and-mortar stores. 
So it shouldn't be surprising that 73% of customers find live chat to be the most satisfying way of communicating with a business. Moreover, 63% of consumers are more likely to return to a site that offers live chat. 
Regardless of how interactive your site is, your customers may want to talk directly with you while considering making a purchase or completing the transaction. And there's nothing wrong with that. 
And while deploying a live chat service on your eCommerce site is a prerequisite, you cannot sit back once it's done. You need to take steps to help your online store grow. Let's take a look at how you can do that. 
1. Target Live Support Messages to High-Value Visitors
What customer doesn't like personalization? Just simply addressing visitors by their names and providing them recommendations based on their taste can probably make for the lack of physical interaction in online sales. Instead of sending the same one-size-fits-all message, you can actually increase engagement by automatically greeting visitors with a personalized live chat message. 
Many consumers prefer messaging over phone calls. They will repeatedly use the live chat feature, which will give you a basic background of a visitor. You can also use that to your advantage. You can identify these prospects by integrating an intelligence product like Clearbit with your live chat tool.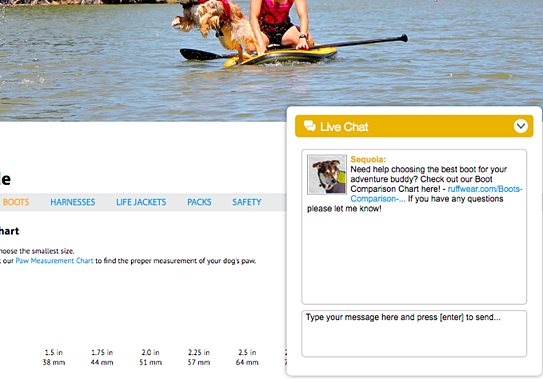 2. Reduce Cart Abandonment
Just imagine a scenario where shoppers are on the checkout page. But they are hovering around, not finalizing the purchases and proceeding with the payments. After a while, they decide otherwise and discontinue their process. You didn't know what went wrong and you didn't know how to ask. 
Now imagine an alternative scenario where shoppers are in the same dilemma. But within a few seconds, they are greeted with a live chat message that read, "Hey Sarah, I was wondering if you needed my help with something?". Sarah replies, "Yes, I was wondering if there are any offers available on my chosen products?" It's now your live chat agent's job to guide Sarah through the offers and helps her complete the purchase. 
That's it. A proactive chat method can help you understand why the customer was taking the time and even guided them to proceed with the transaction. A lot of eCommerce stores are plagued by a high cart abandonment rate. According to  Baymard Institute's research, the average cart abandonment rate is 69.57%. A high abandonment rate is one of the biggest barriers to growth and live chat can help you address that.
3. Offer Real-Time Live Support 
A lot of times in customer support, customers are treated merely as tickets and a problem to be solved. Whereas most times, customers just want to be heard. What makes live chat the future of customer support is that it allows online stores to have two-way conversations with customers that further drives the customer experience.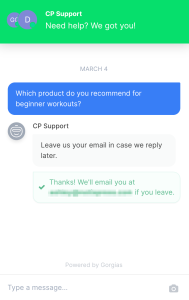 Real-time communication facilitates you to provide personalized support to your customers, listen to the problems first-hand and ask follow-up questions to customers. Not to forget, live chat is also the quickest way to resolve a customer query unlike an email or a call where customers are kept waiting for endless minutes. Check out the results from the customers who received real-time support via live chat. 
They asked 18% more questions and got answers in real-time

The real-time support ultimately drove the business revenue by 15%

The customers were happier too, with a 15% higher Net promoter Score. 
4. Collect Customer Feedback 
Since live chat gives you a chance to directly interact with customers, it provides an opportunity for you to gather customer feedback. You can learn how your customers feel about your site, your products, your delivery service, and shipping costs, what are the common problems, and how you can improve. 
If you use these perspectives to improve your online store and products, you'll likely witness an increase in purchases. You also get to know the basic queries that customers have and take measures to improve. This way,  your live support team has time to address complex problems instead of wasting time on basic queries. 
Since it's difficult to quantify customer feedback, define some parameters that help you take actionable steps such as product FAQs, requests and suggestions, layout and navigation, etc. You can also integrate a CSAT rating into your live chat to record the experience of your customers with the agents. It will give you a holistic view of the agent's performance as well. 
5. Prioritize Quality over Quantity in Query Resolution 
You may think live chat isn't scalable. But it definitely is if you know how to optimize the time of your live support agents. The idea is to focus on quality over quantity. Most customer can solve their own queries through self-service methods. Not every customer that converses with your agent on live chat would require human assistance. 
Hence, it's a good practice to analyze the peak traffic hours for your store and then set live chat shifts accordingly. Automate conversations for basic queries via a bot and enable a talk to an agent option if the customer isn't able to solve the query by themselves. You can also offer live chat options at specific points of the customer journey, especially those touchpoints which have a high drop-off rate. 
Grow Your eCommerce through Live Support
Live chat is a mechanism that allows you to be proactive and conversational. Those are the two most important elements of a delightful shopping experience. Think of it as a salesperson that greets visitors as soon as they walk in. They have the power to urge the customers to make a purchase or nevertheless, just make their visit count.