How many in-person conversations can you have at the same time? 
Brain studies suggest the answer is just one. And if you're in a group of people, only four people can have a conversation together. If the group grows larger, people will either tune out or break into smaller groups to talk. 
When it comes to multi-communicating online, things can get a little tricky. Especially if you're a customer service agent and your goal is to satisfy your customers. Handling multiple chats is one of the benefits of using live chat technology. Sometimes multi-communicating can feel like juggling – throwing a ball up in the air, while trying to catch another, and not drop any of them. 
Well, just like juggling, practice makes perfect. But beyond that, there are some tactics agents can implement to successfully handle multiple chats. We asked some experienced live chat agents and checked out some best practices for contact centers. 
Below are some ways to help provide excellent customer service while handling multiple chats. 
1. Waiting is for Bus Stops

We love this sentiment so much, we placed it on our website. And while public transportation customers might not mind waiting for the next bus, website visitors do not want to wait. When customers want their questions answered or issues resolved, they want it now. In fact, more than 30% of customers think that waiting on hold is the most frustrating aspect of customer service. (HubSpot) That is why they use live chat. According to Inc, 42% of consumers prefer live chat over other support functions because they don't have to wait on hold. 
The average wait time for live chat is 46 seconds. (Comm100) With the right tools, you can lower that number and stand out among competition. Remember, that once you answer a chat it's important to keep it active. Even if you can't answer customers' questions right away, stay active in the window. That way they know you're working on helping them. 
"Have automation set to remind customers every 2-5 minutes that you are still with them. Or you can simply tell them this while handling other chats. You could have to dig up stuff for one that can take longer than the others. (Jared Brown, live chat agent, LiveHelpNow)
2. Don't Bite Off More Than You Can Chew
Just like you can only have a meaningful conversation with only four people, there is a limit on handling multiple chats. The number will vary with the agent's skills and experience. It is best to take it slow and never take more chats than you can handle. 
"If you can take on three chats at a time make sure you don't take four until you are comfortable with it. Being ambitious is great, but having customers wait because you are overwhelmed helps no one."  (Jared Brown, live chat agent, LiveHelpNow)
While it's important to resolve all of your customers' issues, it's essential to do it right. Put quality over quantity. Know your limits. It's also important to not rush through your chat communications. Take things at a speed where you can deliver quality service. 
"To give the best customer service experience while handling multiple chats you have to be consistent. Read what the customers have to say and help out with the right answer. Even if it takes five minutes longer. Patience is key." (Austin Gain, live chat agent, LiveHelpNow)
Again – quality over quantity. To ensure the best possible customer service while handling multiple chats, it's crucial for managers to staff their contact centers properly. 
3. Get Up-close and Personal 
When it comes to customer experience, the speed of customer service is important. But beyond that, customers crave something else – personalization. According to a Researchscape International study, the top 5 benefits of personalization include: 
increased visitor engagement (55%), 

improved customer experience (55%) 

improved brand perception (39%) 

increased conversion rates (51%)

increased lead generation

customer acquisition (46%).
So if you want to provide great customer service while handling multiple chats, don't forget about making it personal in every one of them. 
There are many ways to make live chat communications personal. In fact, we listed twenty in our article, 20 Ways To Make The Live Chat Experience More Personal. From pre-chat surveys to language translation, there are many ways to apply personalization to chat communications. 
Check it out!
4. Reach Into Your Toolbelt 
You can dig a hole with an ice pick, but it's so much easier if you have a shovel. 
Selecting an interface with the right tools for better customer communication is the key to providing great customer service while handling multiple chats.  
Canned Response Tool 
Answering the same questions repeatedly can be frustrating. Worse yet, it can reduce the efficiency of your chat agents. That is when the canned response tool comes in handy. A canned response is a pre-composed response to a frequently asked question.  You can create a canned response for a product or service description, a greeting, a return policy, or any other type of standard information.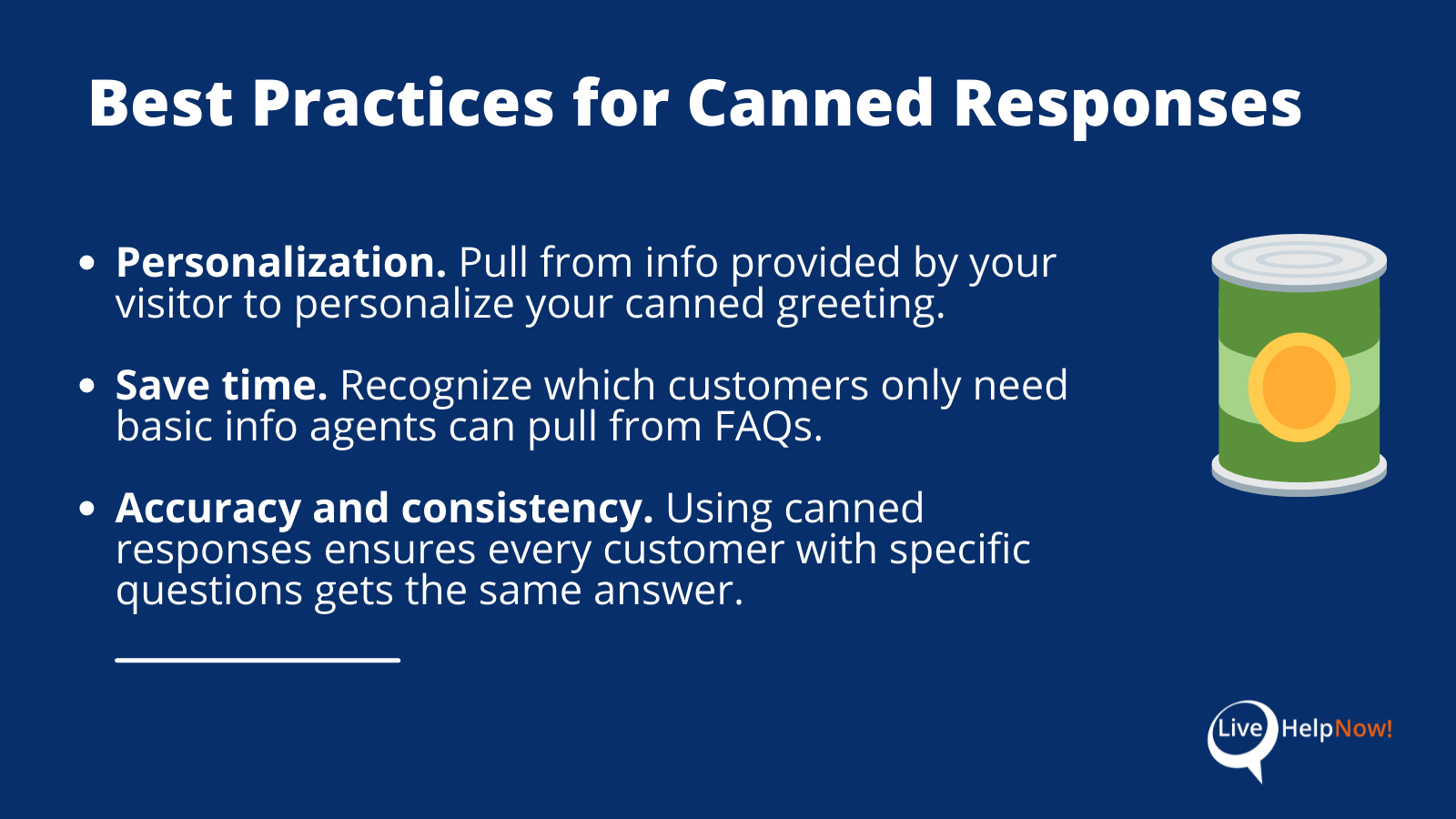 Canned responses help agents deliver good customer service while handling multiple chats. However, stay vigilant of their use to make sure agents use them at the right time in the right situations. Here is a tip from one of our customers. 
"Utilizing the "Canned response" feature allows us to achieve our target response time on frequently asked questions. Although they help from an efficiency standpoint, canned responses can also be a con if not used properly. Sometimes canned responses do not allow for a real organic experience, as they can come off as a bot response. As a best practice, we make sure our agents are only using canned responses for introductions or answering FAQs." (Alec Adair, Manager, Copart.) 
Auto Chat Accept and Terminate Features
One of the challenges of providing good customer service while handling multiple chats is working quickly and efficiently. To do so, it might be helpful to eliminate any unnecessary steps. After all, even when a task takes a few seconds to complete that time eventually adds up. 
For example, when a new chat pops up in an Agent Workspace, it is helpful to have an auto-accept feature turned on. That way the agent does not need to open the incoming chat and click on the "accept chat" button. The system will assign the chat to an available agent automatically. This saves agents time while at the same time ensuring the fastest possible response time for customers.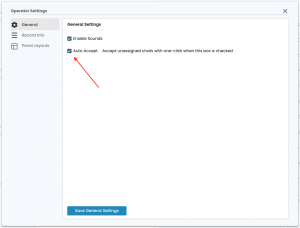 Similarly, when a chat goes idle and the customer no longer responds, it is helpful for the agent to terminate the chat. This, again, will save the agent time and free up his or her ability to take on a new chat. The "End Chat" feature allows the agent to set up a time for auto-termination.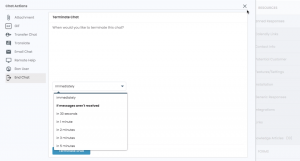 Chat Team Lead, Tonya Bates of Katapult, knows the importance of the agent's focus on the customer. She and her team use LiveHelpNow's software features to help them with that.
"The ability to only be able to see the chats assigned to you helps when responding to multiple customers," she says.
Knowledge Base 
The Knowledge Base is an important tool that serves multiple functions. It saves agents time when it comes to retrieving some information about topics that come up in conversations frequently. It allows new agents to understand customers' issues they have not previously encountered. And, finally, it ensures that teh customers get the best solutions to their inquiries. 
Bates thinks that the Knowledge Base can be an essential tool when it comes to providing good customer service while handling multiple chats. 
"Having the Knowledge Base a click away and available during the chat is very helpful," she says. "You have important information right at your fingertips. This aids in providing the most accurate and up-to-date information to the customer."
Chatbots
While we warn agents against sounding robotic or overusing automation, we do recommend using the chatbot when it's appropriate. The key lies in that last bit – when is it appropriate?
Similarly to canned responses, chatbots can be a useful tool when it comes to greetings and frequently asked questions. When used right, chatbots can help personalize customer experience. In some cases, they can answer customers' questions so quickly that the customer doesn't have to even get to a live agent. Additionally, chatbots can be a great addition to after-hour support. 
One of our customers, Tarrant County Clerk's Office, saw an immediate improvement in customer service and a significant reduction in call volume once the office implemented a chatbot on its website.  The live chatbot greeted and asked initial questions upon a citizen's inquiry on the website. This allowed residents with simple questions to get immediate answers. The self-service feature proved to successfully resolve a great portion of inquiries. In fact, 50% of inquiries now resolve immediately, with no further contact or follow-up needed. And, the live chat bot is available 24/7/365 days of the year.
"We saw great value in the bot. Much of it is just low-hanging fruit. [The questions are] repetitive and we can get the bot to handle [them]. It can free up and create capacity for team members to handle more complex, more difficult tasks." (Clint Ludwig, Tarrant County Clerk Chief Deputy)
5. Teamwork is Dreamwork
To provide good customer service while handling multiple chats, it's essential to remember about the most important factor of customer service – the agents. Avoiding burnout, setting goals, motivating agents, and constantly developing and improving their skills can bring great results. 
Our customer, Autumn Rivera of CPAP discussed some strategies that work for her team development. 
"It has taken a lot of dedication and hard work from my team. We are constantly working to improve our processes and skills every day." (Autumn Rivera, CPAP)
Team development strategies to provide good customer service while handling multiple chats
Focus on

developing our communication skills

within the team and with our customers

Never stop innovating

and trying new things. We will run tests of new processes or use of verbiage for 1 day-1 week. If they work, we keep them. If they don't, we move on and try something else. 

We have a

weekly team meeting

where we discuss issues and suggestions for improvement. Everyone has a voice on our team and this helps ensure we are all on the same page at all times.

Team support.

Our team is a family. We typically work in a video call together so that we can quickly communicate and assist each other. Everyone in the team is quick to jump in to help answer each other's questions or provide guidance. 

Goals.

We all strive to provide a response within 2 minutes and maintain a high customer satisfaction rating among other things. We talk about our goals in every meeting and where we stand.

Shadowing.

I spend half a day each week shadowing my entire team while they are answering chats. This way I can provide them with tips in real-time on how we can increase our customer satisfaction and efficiency.
You can't improve what you can't measure. That's why as part of the team development strategy we recommend measuring and monitoring KPIs (Key Performance Indicators) of your agents. Average response time, lengths of live chats, number of dropped chats etc. are all important data points to consider. Measuring and sharing the data with the entire team. That way the agents can work on improving their KPIs and delivering better customer service. 
Additional resources for providing good customer service while handling multiple chats:
Mistakes to Avoid in Live Chat Communications
How to Motivate Contact Center Agents
7 Tips for boosting your call center's FCR (First Contact Resolution) Rate