Any online retailer knows the oh-so-common customer inquiry – the Where Is My Order (WISMO). 
An everyday occurrence for customer service agents, this one is perhaps the simplest of inquiries, and also one of the most important for retail customer satisfaction. As the world grows more impatient and demands instant gratification, businesses everywhere succumb to the pressure of delivering products faster than ever. Keeping the communication channels open for the customers to ask about the delivery dates is equally important. 
LiveHelpNow's integrations with retail point-of-sale (POS) system Shopify and shipping software ShipStation add ease to managing WISMO orders right within the Agent Workspace. These integrations allow agents to access the necessary information using the omnichannel capabilities of LiveHelpNow's software to deliver an excellent customer experience. 
New Capabilities for Customers Using Shopify and ShipStation 
The Shopify and ShipStation integrations allow agents to easily view customers' orders and tracking information within the LiveHelpNow Workspace. When viewing a record or a contact, agents can navigate to the history section, and select the Shopify or Shipstation tab. 
A list of all of the orders found for the customer appears. Agents can then click on the orders to view the full details of each order. 
In only a few clicks, agents can access everything they need to quickly provide answers to customers with WISMO questions. And the quicker the customers get the answer, the happier they will be. 
Of course, we didn't forget about the good ol' LiveHelpNow agent helper, the LiveHelpNow Bot. The Bot also has the ability to access customer information needed for WISMO orders. 
A customer will only need to provide an order number, and the Bot will respond with WISMO information immediately without any agent interaction. This integration serves as a definite high-quality factor in a customer service bot. It helps businesses better control and efficiently distribute resources. 
With high percentages of customer inquiries being WISMO questions, this feature will allow customer service companies to increase First Contact Resolution rates. Customers with simple WISMO orders can use the self-service tool to get answers. And agents can attend to more complicated incoming inquiries. 
A Bit More About WISMO
According to one Digital Genious Report, the rates of WISMO inquiries run high for most retail businesses, with significant increases during the peak holiday seasons.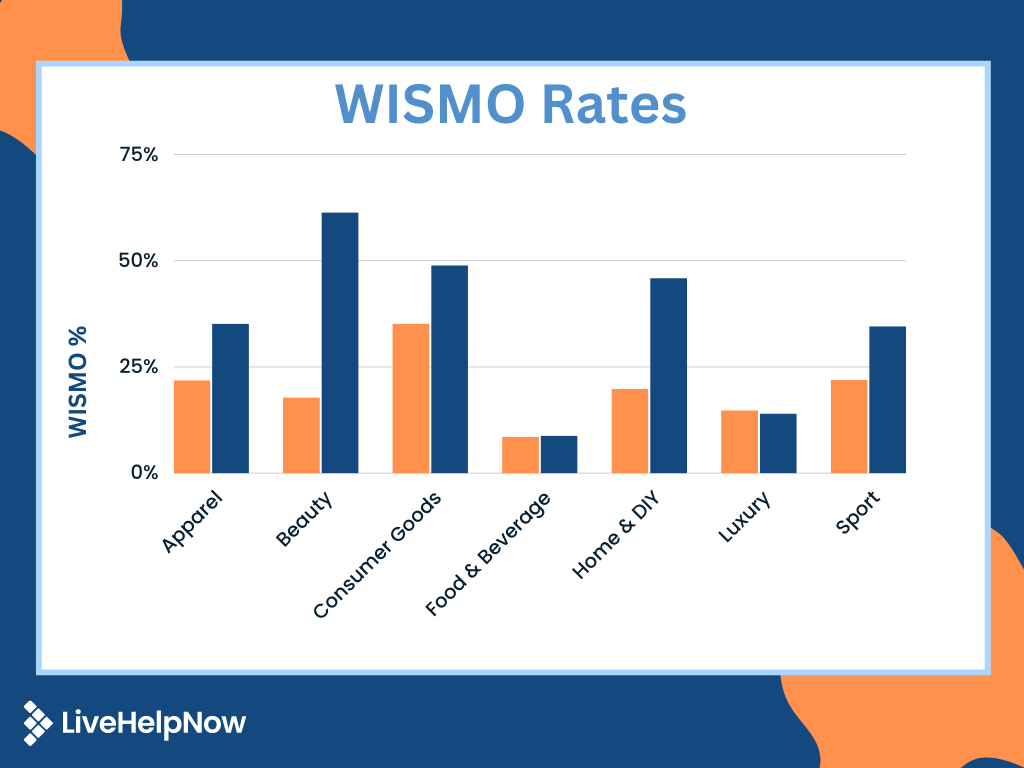 As the world grows more impatient and demands instant gratification, businesses everywhere succumb to the pressure of delivering products faster than ever. Keeping the communication channels open for customers to ask about their delivery dates is equally important. After all, when it comes to customer service, customers compare their best and worst experience not just to a business' direct competition, but to all of their experiences in various fields. 
People no longer compare you just to your direct competitors. They compare you to the positive experiences they've had with companies in any industry!

— Shep Hyken (@Hyken) February 22, 2021
WISMO: Best Practices 
LiveHelpNow's WISMO inquiry assistance through retail software integrations is just one way to minimize the amount of costly WISMO inquiries from customers. Here are some other best practices. 
Automate what is automatable – and let the world know. A

WISMO look-up-enabled bot, as we mentioned, is one way to free up human agent resources. Let customers know about the WISMO look-up capabilities of your bot through the billboard feature of your

chat widget

.

Clearly post shipping information on your website and online store.

It might help to provide this info in multiple places throughout the customer journey. 

Offer free and fast shipping.

Data shows that offering free shipping increases sales. Additionally, it might incentify your customer to be a bit more patient. Spotify offers

this handy guide to free shipping practices

.

Offer real-time shipping updates to your customers – and be proactive about it.

One of the best customer experience strategies is

proactive customer service

. Before your customer gets a chance to contact you, contact your customer first. Provide tracking info and any updates.