Extra! Extra! You might have heard the news already – the new LiveHelpNow Agent Workspace is here to stay and shine. Over two years in the making, our new agent software interface is now available to all customers. This is an exciting upgrade for every support agent. The new interface is more modern, faster, and sleeker. It creates a better agent experience and, in turn, provides customers with better service.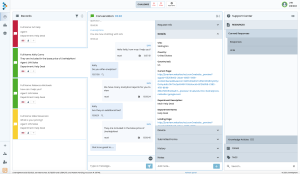 All accounts now have access to the new workspace. Until we retire the Classic Operating Panel, agents have an option of switching between old and new (However, we have a feeling that once you try it and get used to it, you will not want to go back.)The new Agent Workspace is a real treat! Beyond the modern look, it provides an organized layout, detailed customer information, and many new features. (And, of course, more to come.)
Agent Workspace Video Overview 
If you have some time and would like to see a detailed overview of the new LiveHelpnow Agent Workspace, this video is a great resource. This tutorial covers many of the new features and serves as a guide to the new system.
Short on time? Here are two shorter videos that give you a general idea of the benefits and features. 
Chat Overview: 
Ticket Overview:
Agent Workspace Benefits
Back in 2020, we set out to improve LiveHelpNow's agent operating panel. One of the main objectives of this project has been to improve the delivery of omnichannel customer experience. One way the new Agent Workspace fulfills this objective is that it can help agents to streamline all customer conversations. 
The new features – current and those in development stages – aim to keep all customer information in one place. Customers may use various channels to connect with a company. Regardless of the channel, the Agent Workspace's organizational features help agents keep track of all communications. These features include new search options, customer filters, and pins. 
Other features help connect to customers via various channels. These include Voice Chat, Google Business Message integration, and upcoming integrations with various social media platforms. 
Let's dive into these features a bit deeper. 
Agent Workspace Features
Voice chat
Voice Chat allows agents to connect to customers via voice directly from within the Agent Workspace. This feature comes useful when a more complicated customer inquiry comes in. It's hard to resolve tough technical problems via chat or email sometimes. Details can get lost in translation. In these cases, a voice conversation can serve as the best solution. 
However, connecting with someone via phone can be tricky. Some customers, for example, don't want to give out their phone numbers. In these cases, Voice Chat comes handy. 
During a web chat conversation, the tool allows agents to seamlessly switch to a voice conversation with customers. With a simple click of a button, the agent can offer the customer to start a voice chat. If the customer agrees, the agent starts a voice connection directly through the LiveHelpNow Agent Workspace. The customer connects to the voice chat straight from the device he or she is using, be it a mobile phone or a computer. Either party has the ability to mute or disconnect the call. The conversation can return to web chat once the voice call is completed. 
Sneak Peeks
As much as agents sometimes want to, they cannot read customers' minds. The Sneak Peek feature can help them get pretty close to achieving that superpower. 
The function provides the ability to see what customers type before they submit their responses. This allows agents the opportunity to respond faster. They can start typing and retrieving information sooner. Additionally, this new feature can help agents better understand customer sentiment. If a customer types a somewhat angry message but then deletes it, an agent can come up with a strategy to appease the unhappy customer. 
Sneak Peek can also help in complicated cases or during training. Supervisor's Sneak Peek allows them to see what an agent is typing. Then, the supervisor can help answer a question or correct an agent, if needed. Using LiveHelpNow whisper technology can help supervisors and agents communicate behind the scenes. 
Between knowing what the customers are typing ahead of time and making sure the agents are providing the best possible service, Sneak Peek brings great benefits to live chat users. Sneak Peek aids with the speed of customer support interactions. It also supports service personalization efforts.
Dark Mode 
Fans of Dark Mode rejoice! With a click of a button, agents and admins can switch their new Workspaces to dark mode. Dark mode reduces blue light that can interrupt sleep. As screen time grows, eyes need more rest. Dark mode can provide relief from eye strain.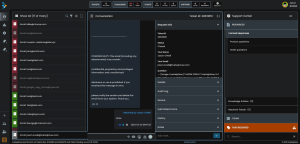 ChatGPT-Powered Tools
Supervisors have a lot on their plates. To make their jobs a little easier, we've implemented some ChatGPT-powered automation tools.
Current AI-supported features allow supervisors to write knowledge base articles in minutes. They provide improved canned response suggestions. And support faster escalations and transcript reviews with AI-generated summaries.
Coming soon
Agent Assist.  With one click of a button, agents will be able to create perfect chat responses to answer customer questions. ChatGPT will use canned responses, chat transcripts, the company's website, and other data sources to create effective responses.
ChatGPT-powered bot. A build-on on LiveHelpNow's already powerful chatbot, ChatGPT-powered features will take the bot to the next level. The bot can point to any data source – a website, chat transcripts, knowledge base, or MS Sharepoint. It will then use these data sources to derive answers to customer questions before they get to a live agent. This will dramatically improve the First Contact Resolution (FCR) metrics and increase customer satisfaction.
Google Business Messages 
Google My Business is a great way for customers to find and learn more about your business. Now, with the live chat integration, they can also connect via chat. The customer inquiry will appear in the Agent Workspace, enabling the agent to connect to the customer quickly. 
Custom filters
Agents can create their own filters to view only the records relevant to them. Filters like Active Chats, My Active Chats, Tickets, Departments, Calls and more will give agents total control over how they manage their conversation queue. 
Pins
The new Agent Workspace provides the ability to pin up to five filters in the sidebar. This allows for a one-click filter switch of their most popular filters.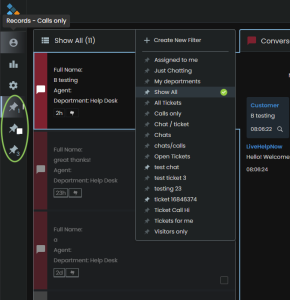 Search
A quick search will allow agents to easily search records for information such as visitor details, IDs, tickets, and more. The search will be based on the specified filter without the need to modify it.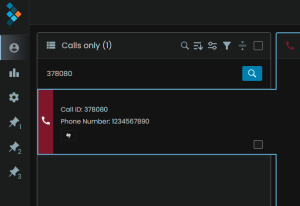 Search/Resolved tickets
In addition to canned responses and KB Articles, agents can now easily search resolved tickets as another resource to provide fast and accurate answers to customers. This new tool can be found within the Support Center column under the Resources group.