Intro to Zoom Phone <> Zoho CRM integration powered by LiveHelpNow
LiveHelpNow contact center software collects empowers customer service teams by giving them tools needed to understand the customer better. Our chat, email-ticket, SMS, self-help knowledge base, social media and now Zoom Phone native integration allows to produce rich timeline for your customers. We are now taking it even further by helping you bridge the gap by integrating your Zoom Phone account with Zoho CRM which will allow for easy transfer of Zoom Phone Calls information into your Zoho CRM account for additional marketing, business analytics, upsell and cross sell flow.
Overview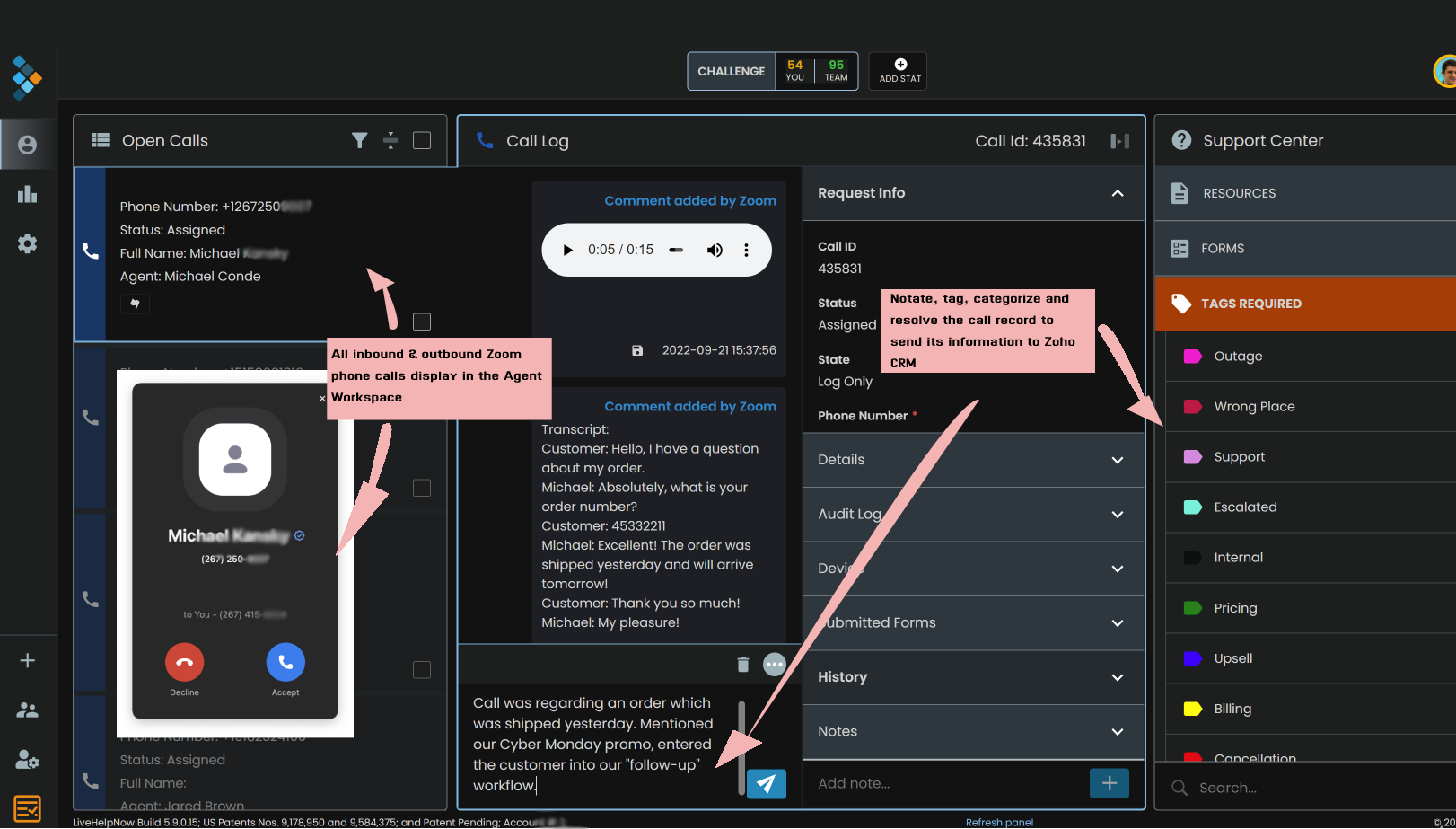 Get the most flexible and friendly Zoom Phone-Zoho CRM integrated Contact Center solution on the market today.
With LiveHelpNow's omnichannel contact center software, you'll be able to manage and optimize your customer phone, chat, SMS and email communications via one beautiful interface.
After an easy set-up process and free training for your team, you'll be ready to communicate with customers through any channel – Web Chat, SMS/text, Facebook Messenger, email, website contact forms, service tickets, self-help knowledge base, and, of course, Zoom Phone. You can even build a chatbot to deflect live chat or phone conversations by helping customers find answers to frequently asked questions without involving live agents. Send phone call information to Zoho CRM automatically and effortlessly.
You won't find a faster or more friendly help desk platform available.
Track, categorize, notate and report on all incoming and outgoing Zoom Phone calls all in one place.
Automatically text callers of missed calls with custom "away" message.
Customer information screen automatically appears on an agent's workspace when an agent answers a call showing all previous interactions (calls, chats, emails, sms messages, etc) as well as name, email, order history.
One-click outgoing call initiation.
Automate post-call activities
Automatically log calls, voicemails, transcripts and notes under customer records in Zoho CRM.
Update call status, save notes, escalate
Fully integrated analytics to measure performance. (Average Waiting and Handling Times, Hourly volumes, missed opportunities)
Configuration steps
Please complete the following easy steps to integrate your Zoho CRM account with Zoom Phone.
Login to your LiveHelpNow account and authorize your Zoom account in Admin Workspace -> Support Channels -> Phone
Authorize Zoho CRM account in Admin Workspace -> Support Channels -> Zoho CRM
In Admin Workspace -> Call Management -> General settings configure calls to be sent to Zoho CRM, you may also setup automated text message to be sent to callers when their calls are missed. For example "Sorry we missed your call, we will call you back soon. In the meantime you may simply reply to this text with your question"
That's it. Enjoy!