One thing is absolutely constant in life, and most definitely in the tech industry – change.
Technology and the modern customer's relationships that come with it demand upkeep. That upkeep sometimes involves smaller things, like bug fixes and updates. Other times it's an overhaul that creates better customer and user experiences.
This week, we're releasing our new redesigned live chat widget. This enhancement will be a great addition to any website. The new modern design, more layouts, and new features complement the button design.
"The new Embedded Widget design significantly improves the customer experience by combining simplicity and functionality," says LiveHelpNow's Solution Architect Magnus Sepp. "Its clean and intuitive layout enables users to navigate effortlessly, promoting a sense of ease and efficiency. With clear icons, easy-to-use menus, and distinct chat bubbles, customers can quickly find what they need and engage in seamless communication. This experience reduces customer effort and enhances satisfaction."
In other words, our live chat embedded window widget got a "girl-without-glasses-in-a-coming-of-age-movie" type of makeover.
Let's take a closer look at the features.
Embedded Chat Window: New Features
Ladies and gentlemen, and all the LiveHelpNow users, here it is in its full brand-sparking-new glory.
It's wider than its previous version and has more of an inset, creating a framed interface. The widget is also more esthetically, with a pleasing combination of sharp angles and curved corners creating a smooth visual flow in customers' conversations.
Here is the chat window as it appears during customer interactions with a chatbot.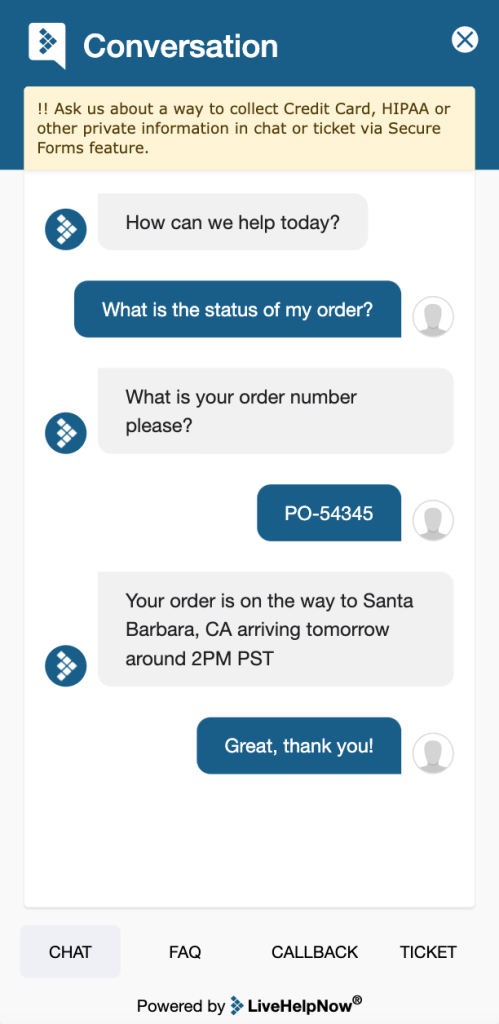 And here is the window as it shows a human agent conversation.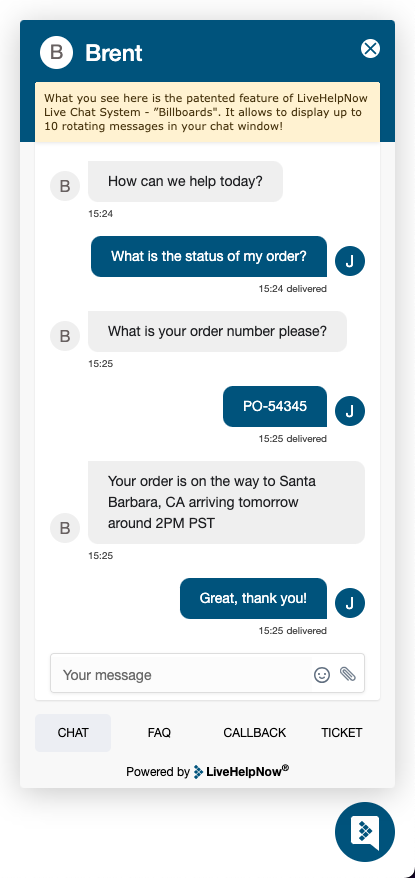 The new layout allows easy access to emojis within the "Your message" field.
Overall, the redesigns present a more conversational and visually appealing layout. "It's easier on the eye and the functionality is definitely improved," says software developer Brent Weber who had worked on the redesign project. "It provides a cleaner look of all the elements in the window." And, that, in turn, gives customers a better experience.
New Feature Design:
Customers can easily search the company's knowledge base to find relevant and helpful information. This invaluable tool now pops up on the side of the chat widget, allowing for both the conversation and the search to continue simultaneously.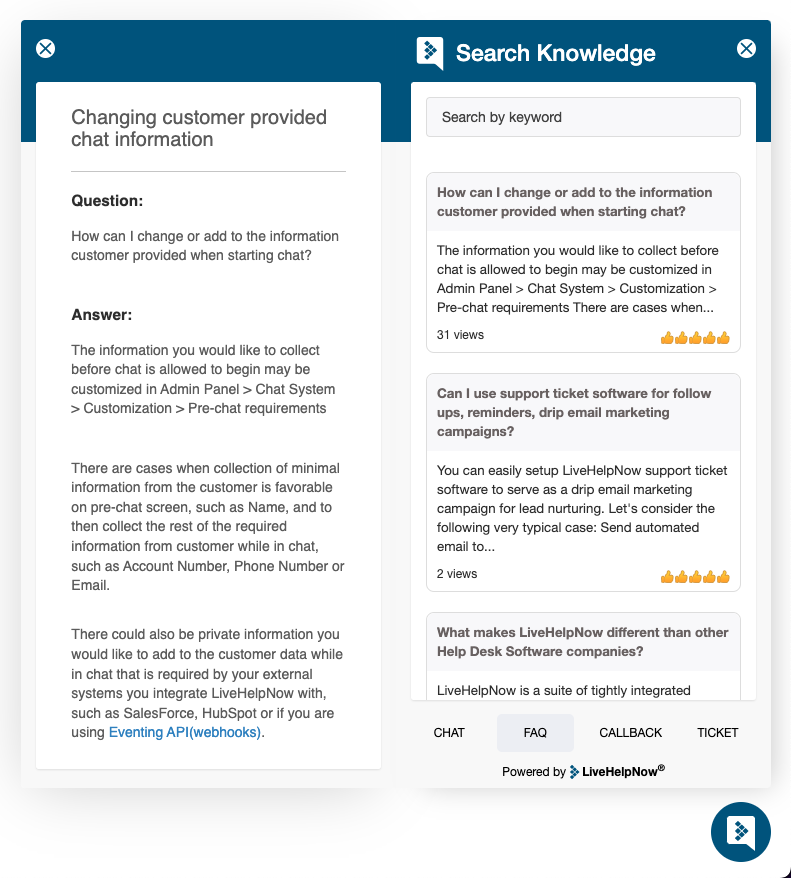 Similarly, the post-chat survey appears on the left of the chat window at the end of the chat conversation.
The new chat widget layout style is located in the website code administration tool.