Anyone who works in customer service will tell you just how time-consuming and resource-intensive it can be. To ease the strain, many businesses have turned to customer service chatbot services. In fact, chatbots are experiencing explosive growth as a support strategy and are currently the most rapidly expanding brand communication medium.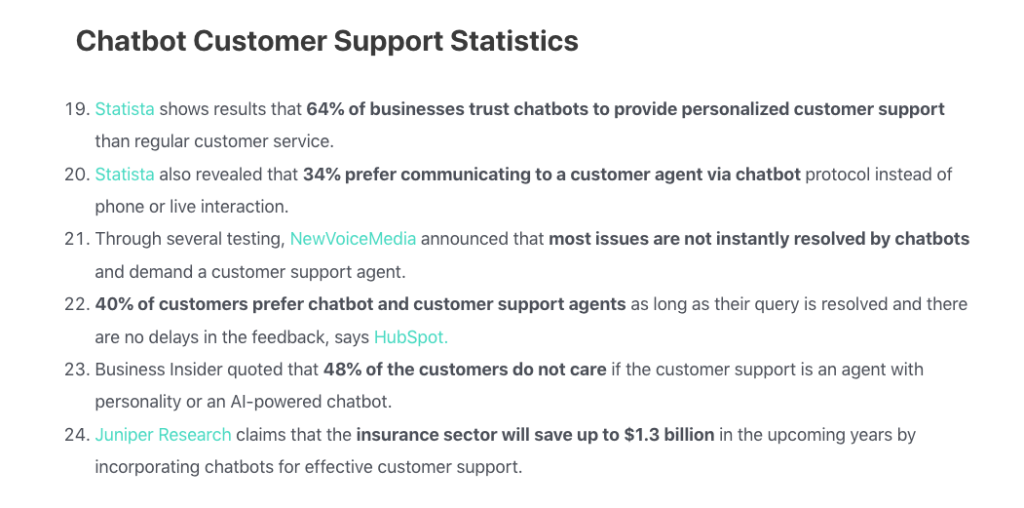 It's easy to see why chatbots are being so widely adopted. Instant response times, 24/7 customer service, and high customer satisfaction used to require a huge cost. Thanks to chatbots, that's no longer the case. That is, of course, assuming you choose the right one and implement it correctly with still-present human support. 
Using a poor-quality chatbot or one that isn't designed to work with your kind of business can cause more harm than good. The last thing you want is to provide poor service to your customers. In this article, we discuss the importance of customer service chatbots, their important features, and how to choose the right customer service chatbot for your business. 
Understanding the Purpose of Customer Service Chatbots
One of the advantages of customer service bots is that they can be used for almost any part of customer service you want to automate. They can function as a sort of guided self-service portal, an FAQ page, or a contact form. 
For e-commerce businesses, chatbots help customers make purchases, handle payments, track shipping, and manage the refund process when needed. For medical and insurance companies, chatbots have even started helping customers create and manage their claims. 
While some chatbots are set up to handle advanced functions, most chatbots handle common customer queries. Many companies use chatbots to handle simple troubleshooting and connect customers to relevant information based on those customers' queries. Most problems can be solved by using online resources. However, sometimes customers just don't know where to find those resources. 
Overall, the purpose of a customer service chatbot is to enhance the customer experience and make your customers' lives easier when it comes to interacting with your business. 
@intercomhq🤖 Bots + 🧠 Brains = 🤩 Better customer service, aka: THE CHATBOTS ARE COMING!!! (and it's not a bad thing!) #customerservice #ai #chatbots #artificialintelligence #chatgpt #customerexperience #cx #botsandbrains #customersupport
Advantages of Implementing a Great Chatbot
No one likes being put on hold or waiting 20 minutes for an available service representative. A chatbot can be available to every customer instantly, providing consistent support availability. Not everyone wants to use a chatbot, but given an engaging experience, 80–90 percent of customers may engage with one. 
There's also employee experience to consider. Feeling overwhelmed by the sheer number of customer calls or messages can cause even the best live agents to stress out. Over time, this can lead to high turnover. Hiring new agents means higher labor costs and lower agent productivity. 
One of the challenges for customer service representatives is maintaining consistency of information. Customer service reps may not have heard the latest company news or may have a different way of doing something compared to other agents. Chatbots ensure a consistent user experience. All of your customers will receive the exact same information.
You've probably heard it before, but it's worth repeating: Chatbots can significantly reduce customer service costs and customer support costs, all without sacrificing quality. At least, they can if you put the time and effort into finding the right service for you.
Essential Features of Great Customer Service Chatbots
Each business will have to decide for itself what chatbot features are essential. However, the following features are ones that almost every business will want to see in its chatbot:
Natural Language Processing (NLP) Capabilities
Understanding and interpreting customer inquiries is an essential function of a great chatbot. Chatbots need to be able to understand what a customer is asking, despite typos, misspellings, and confusion. The better a chatbot can do this, the better the experience a customer will have. Rule-based chatbots have their uses, but they can't adapt to users, as they are simply following a decision tree matrix.
No one speaks exactly the same, and the same goes for typing. A great chatbot will be able to handle variations in word choice and sentence structure while still understanding the intent of the text. The next step is to return a helpful, relevant response that makes sense based on the customer's intent. 
Personalization and Context Awareness
For a chatbot to help with more advanced customer service functions, it needs to be able to gather, store, and use customer data, such as conversation history, for tailored interactions. If a customer wants to change something about their account, for example, the chatbot will need to collect personal details and access that account securely. 
If a customer returns for more help, they aren't going to want to start all over from zero. A great chatbot should be able to recall past chat conversations to understand the customer's journey. This lessens customer frustration and reduces the time to resolution. 
A chatbot should also be able to provide personalized recommendations and solutions for customers based on the information it gathers while chatting. This is an important feature for news sites and other content providers.
Multichannel Support and Seamless Integration
A great customer support chatbot should have the ability to operate across various messaging platforms, such as a website, social media, or an app. You shouldn't have to use multiple chatbots to cover the various platforms your customers use to interact with your business. 
Chatbots should also be able to integrate with existing customer support systems and tools to allow for more advanced functions. They should be able to access the customer information that will help them make each interaction successful. 
A customer support chatbot won't be able to solve every issue a customer might present. Complex customer issues or unsatisfied customers may have to be handled by a live agent. In those cases, a good chatbot should make the transition to a live customer support agent quick and easy. It shouldn't require the customer to do much on their end. 
Evaluating Customer Service Chatbots
One of the best ways to evaluate customer service chatbots is to interact with them yourself, if possible. Here are a few things to look out for.
A User-Friendly Interface and Ease of Interaction
Make sure the design of the chatbot is intuitive for customers. Interaction with the chatbot should be as effortless as possible. The prompts should be clear and concise without losing their friendly touch. The conversation flow should be easy and natural. The goal of the interface and the prompts is to minimize friction and help the customer reach their goal in the smoothest way possible.
Continuous Learning and Improvement
A great chatbot should be able to learn from customer interactions and continuously improve. By examining how customers ask questions and where they seem to experience the most frustration, chatbots can adapt and improve. By analyzing that data, they should be able to extrapolate helpful changes. Chatbots should receive regular updates and improvements based on the ever-evolving needs of the customer.
Flexibility and Customization Options
As your business grows, you may want to change how you use your chatbot. If a chatbot isn't adaptable to different business requirements, you'll have to spend time and money finding one that is. You'll also want a certain level of customization around the chatbot's tone and what responses it can provide. Again, it's hard to know what your business might need in the future. As you expand your online knowledge base and FAQ section for customers, you'll want your chatbot to be able to access this information in real-time. 
If you run a multilingual business, make sure whichever chatbot you decide to go with has multilingual capabilities. If you're planning on more complex chatbot functions, make sure your chatbot provider has some sort of multilingual support available.
Vendor Reputation and Expertise
As with any purchase, consider the reputation of the company you're engaging with. Research what kind of chatbot you'll need and which providers offer it. If available, look at customer feedback, such as case studies and customer testimonials, to get an idea of what other customers have experienced. Look at average customer engagement stats, if possible. Make sure that you're confident that your business goals and values align with that of your provider's. 
Scalability and Support
You're planning for your business to grow. What about your chatbot provider? Make sure its chatbot can scale alongside your business and handle all kinds of business growth. With growth come growing pains. Make sure your chatbot provider offers five-star customer support and resolves issues quickly. If a chatbot is providing the wrong information to clients, it can actively damage your business. You want to establish a long-term partnership with your chatbot provider and be confident that the provider's service will only get better.
Customer Service Chatbot: Business' Helping Hand 
Chatbot usage is growing quickly year over year. In fact, 74 percent of customers prefer chatbots over a human corporate agent to solve their queries. Chatbots aren't novel or nice to have: They're an important customer service channel. Look for the essential features of a customer service chatbot, evaluate providers, and make the best choice for your business. Your customers will be happy you did. 
If you're looking for a customer service chatbot provider you can trust, consider LiveHelpNow's live chatbot. Its live chatbot is beautifully integrated with its live chat software. The live bot can help with initial contact, provide your customers with 24/7 support, capture lead information, schedule appointments, and more. Schedule a free demo today!