"An ounce of prevention is worth a pound of cure."
The author of the famous wisdom, Benjamin Franklin, might have not spoken about customer service specifically. But we will go ahead and apply it to that.
In customer service prevention is achieved through proactive customer care. Reactive customer care, while sometimes unavoidable, is the proverbial cure. 
What is the Difference and Why is it Important?
Proactive customer service is one of the key components to positive customer experience. 
In contrast with reactive customer support, proactive customer service addresses issues before they become problems. 
Here is an example of the difference between proactive and reactive customer support:
A company's server goes down. 
While the technical problem is being investigated, the company's customer support team answers the telephone as customers call in reporting the problem. The agents explain what happened to the clients, promising a speedy resolution. 
This is reactive customer support.
While the customers might be understanding of the problem, they have already gotten upset enough about it to call in. 
---
---
If however, as soon as the problem is detected, the agents reach out to customers via mass email notification to let them know that the website is experiencing difficulties, that becomes proactive customer service. 
The clients might still be upset about the malfunction, but they will appreciate the notice and will be able to plan their activities accordingly.
With this minor change, the company promotes more positive feelings among its clientele. 
After all, it shows that a company puts the customer first. It shows care, personalization, and makes the customers feel special.
[ctt template="3″ link="6B54A" via="no" ]According to a recent Microsoft customer service report, 68% of consumers say it increases their perception of a brand when companies send them proactive customer service notifications.[/ctt]
Ways to Achieve Proactive Customer Care
Providing proactive customer service is not an easy task. 
In his Forbes article, customer service expert Shep Hyken outlines five ways to deliver proactive customer service:
Knowing your customers 

Getting leaders on board 

Dedicating time and effort 

Assembling the right team 

Building customer service into the culture 
Applying these strategies to everyday operations will help drive proactive customer service. That, in turn, will make for happier customers.
How can a company use these excellent strategies using help desk software? Let's find out.
Using Help Desk Software to Be Proactive
Knowing your customer is essential to be proactive. 
This visual representation of what customers do, think, and feel really helps getting to know the ductomer. With the map at hand customer service agents can know exactly where a customer is on her journey and take preventative proactive steps if an issue arises. 
A customer journey map takes many forms, but this is not one of them.#customerjourney #strategicplanning pic.twitter.com/Hu2Xc4c3Aa

— Michael Solomon (@mikesolo) July 9, 2019
Another great way to know your customers is to get information about them and their experiences with your company through surveys and questionnaires. 
You can gauge the quality of your support by prompting customers to fill out a brief satisfaction survey after their live chats are complete or when tickets are resolved. 
Then review survey statistics for your account, department and by the operator to determine best practices and identify top performers.'
Getting leaders on board is important as customer service agents do need certain tools to perform proactive tasks.
It's up to the company leaders to provide those tools.
Instead of having a customer search for a live chat window on the company's site, it is a much more proactive practice to have a pop-up window appear when a client first visits the site. That way if he or she has questions or concerns help is already on standby.
The knowledge base is a great tool as it allows both the client and the support agent to access information about a product or service.
Having a FAQ section available and prominently visible on the company's site proactively answers many of the questions customers might have.
Staying on top of your customer service game entails staying organized when it comes to your client communications. A ticket management system helps you stay on track. #ticketmanagement #email #CustomerService https://t.co/WxeDSH4X20

— LiveHelpNow (@LiveHelpNow) July 14, 2019
---
---
This handy tool organizes all of your client communications, be it live chat, email, or ticket form submissions. Keeping all of the communications and customer experience history handy allows support agents to address issues in a quick and efficient manner
Keeping in touch with past and present clients may help get you future clients and raise your revenue. Eighty percent of business professionals believe that email marketing increases customer retention, Studies show that email generates $38 for every $1 spent. Staying on top of current news and updates is an excellent way to proactively deliver information to your clientele.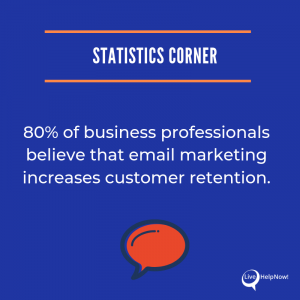 There is no better way to proactively engage with your clients than to recognize and show your appreciation for their business. If a client has been doing business with a company for a while, it's important to express gratitude and reward the client for his loyalty. 
Red Point Global reports that 63% of consumers expect personalization as a standard of service and believe they are recognized as an individual when sent special offers.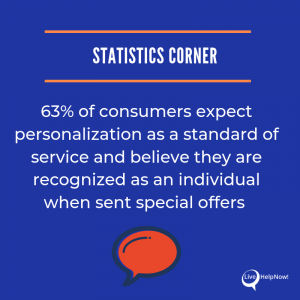 Here at Live Help Now we invite all of our clients to participate in Live Help Now Customer Service Challenge. The winners of the challenge are determined based on various parameters of customer service excellence. We find that such challenge not only motivates our clients to succeed but also recognized them for their efforts.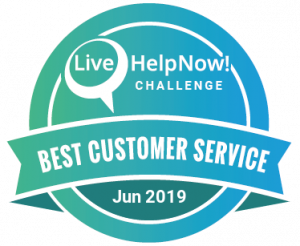 Dedicating time and effort is a no brainer. You reap what you sow. 
Training

is the key. A company's support agents must have knowledge of all operations in order to provide stellar customer service. A

well-trained employee

can confidently take the initiative to take care of the clients in a proactive manner. 
For live chat agents, reviewing an agent handbook and coming back to it periodically can result in a better understanding of all the ins and outs of customer experience.
The FAQ database mentioned above is also a valuable source for training customer support agents.
Personalization of services is another proactive strategy to employ. Customers expect

personalization

. Studies

show

that 79% of consumers say they are only likely to engage with an offer if it has been personalized to reflect previous interactions the consumer has had with the brand.
Assembling the right team is probably the most essential tool.
Even with all the available technology members of the support team are the key components of proactive interactions with clients.
How your team chooses to interact with clients will determine if the customer service your company provides is proactive or reactive customer service.
Hiring

the right team is a starting point. You have to make sure your team member's vision matches your company's goals and visions. 

Constantly

improving

and growing your team's talents and customer service techniques is also important. Don't stay stagnant. 

Happy

employees

make for happy customers. Invest in your employees' satisfaction and the results will show that the efforts are worth it. \
Your team should have the drive to proactively engage with clients and use all help desk tools available to help them do so.
Building customer service into the culture
Customer service should not be one department's job. It should be the whole company's vision. Customer experience is important for the entire duration of the client's business with the company, not just when issues arise. 
Stressing that and building that into the entire company's vision and operations will help make actions proactive before any issues even arise. 
Conclusion
Proactive customer experience improves customer satisfaction. Companies can interact with customers proactively by employing various tactics through help desk software. 
Which strategies do you employ to improve your company's proactive customer service?