Alexander Graham Bell spent most of his life working with the deaf. His mother lost most of her hearing due to a childhood illness and his wife was completely deaf. In his work as a speech therapist and a teacher at the Boston School for the deaf, he studied the ways in which sound transmits via the human voice. That, eventually, led to his invention of the telephone. Bell also invented a wireless photophone, which transmitted sounds using beams of light. (The History Channel)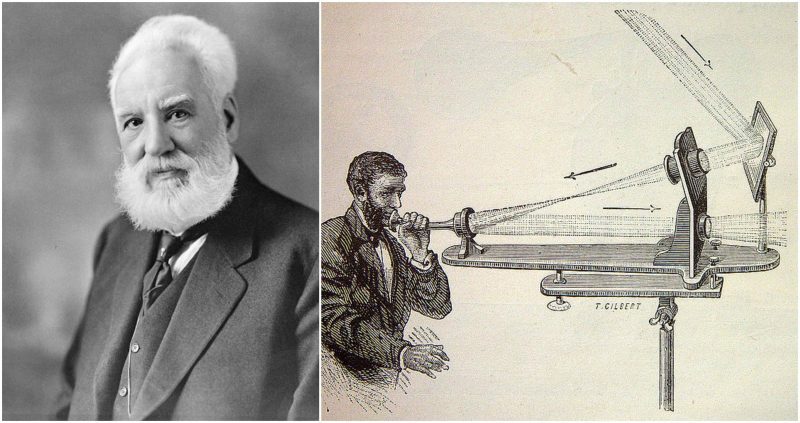 Image Source: Vintage News
Bell's invention shows that sometimes in-field knowledge leads to further discoveries. 
As an omnichannel customer support software provider, LiveHelpNow's business is to connect companies to their customers in the most efficient way. Live chat, texts, social media messaging, and email are effective communication channels that serve customers at their convenience. However, it turns out that sometimes connecting through voice is the only way to accomplish a specific customer support task. 
Voice Chat: The Return to Human Voice
Many customer service inquiries are simple and can be resolved quickly through self-service options while others through web chat or email. Sometimes, however, it's hard to resolve tough technical problems when details get lost in translation.
In these cases, a voice conversation can serve as the best solution. LiveHelpNow believes strongly in the benefit of phone communications. Recently, we integrated with Gartner Magic Quadrant Leader Zoom Phone to create a way for customer service agents to connect with customers by voice. However, connecting with someone via phone can be tricky. 
Some customers, for example, don't want to give out their phone numbers. In fact, a survey shows that people don't trust phone calls from unfamiliar sources. Just two out of 10 people answer calls from unidentified numbers. (Hiya State of the Call Report)

Image source: Hiya
To make a connection by voice simpler than ever, LiveHelpNow is introducing Voice Chat. During a web chat conversation, the tool allows agents to seamlessly switch to a voice conversation with customers. With a simple click of a button, the agent can offer the customer to start a voice chat. If the customer agrees, the agent starts a voice connection directly through the LiveHelpNow Agent Workspace while the customer connects to the voice chat straight from the device he or she is using, be it a mobile phone or a computer. Either party has the ability to mute or disconnect the call. The conversation can return to web chat once the voice call is completed. For you geeks out there, the technology is enabled via WebRTC. 
The Benefits of the Voice Chat Feature
Voice chat is another great extension of LiveHelpNow's omnichannel customer support software. It makes conversations between agents and customers easier than ever, ultimately improving the customer experience. 
Here is how. 
Better Connections with Customers
While digital communications aid the convenience factor, hearing a human voice still brings people closer and creates better bonds. 
The American Psychologist journal presents a study that shows that voice-only communications enhance empathic accuracy. This happens because when engaging in auditory conversations "humans focus their attention on the linguistic vocal cues that accompany speech." (Michael Kraus, Yale University
"We theorized that people often intentionally communicate their feelings and internal states through the voice, and as such, voice-only communication allows perceivers to focus their attention on the channel of communication most active and accurate in conveying emotions to others." (Michael Kraus, Yale University, The American Psychologist Journal, Vol 72.)
In other words, it's easier for people to connect emotionally with someone when they are not distracted by looking at their faces. 
Personalization is another benefit of voice communication. Empathetic listening certainly contributes to a better understanding of customers and their needs. Additionally, agents can receive feedback, suggest additional products and services if needed, and otherwise add personal details to the conversation. Voice interactions leave more room for casual conversation with more personal touches. Which then contributes to closer bonds and subsequent customer loyalty. 
Quicker Inquiry Resolution
One of the benefits of using digital communication channels such as text messaging and live chat is agents' ability to handle multiple chats at the same time. This increases efficiency, inquiry resolution time, and rises overall customer satisfaction. 
However, in some cases, a voice conversation might be a more efficient option. Typing takes time. Even with tools such as canned responses and sneak peek, explaining a complicated technical issue to a customer might take longer than the alternative – voice chat. By connecting to the customer over the voice feature, agents can take a few seconds to take care of the issue which might have taken minutes if they had to type out the answer. 
Voice Chat: Another Option in the Omnichannel World
Alexander Bell introduced the technology that over time evolved into the digital ocean of communications we enjoy today. Depending on the situation, factors such as convenience or speed determine which communication channel works best for a customer. 
In some cases, the good ol' voice conversation with a human might do the trick of resolving an inquiry. Voice chat is the built-in feature that puts the agents one click away from speaking to a customer.