Businesses are beginning to realize that the easiest path to higher sales is to roll out the red carpet for their customers. According to a study conducted by Forrester, 72% of businesses say  improving customer experience is their top priority. That means giving people what they want. Fortunately, we're here to tell you that AI Suggested Responses are the way to consumers' hearts.
What is an AI Suggested Response (a.k.a. Canned Response)?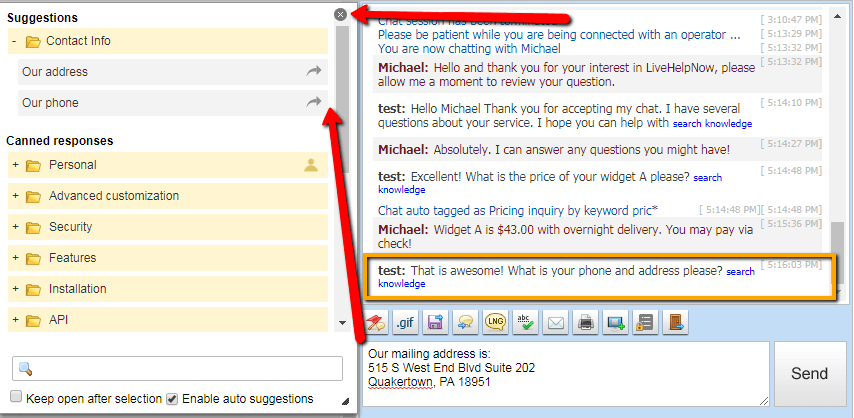 AI Suggested Responses (a.k.a. Canned Responses) are pre-written responses to common customer inquiries. These responses are intuitively suggested to your live chat agents via an artificial intelligence program. Then, as your customer service representatives begin to type a reply, possible answers will populate within their dashboard. Next, the agent will click to select the appropriate resolution. Their chosen response will instantly appear within the conversation window. As a result, your team will benefit from faster response times and streamlined, consistent service.
If You Want To Stay On Top Of The Competition, You Better Get Moving
In today's marketplace, consumers expect speed of service. According to a 2018 study conducted by Forrester, 66% of consumers feel that valuing their time is the most important thing a company can do to provide them with a good online experience.  AI Suggested Responses will help your chat agents efficiently and quickly manage visitors.
For example, one customer may have a complex, multifaceted issue to discuss. In contrast, a second customer waiting in queue may just be looking for basic business information (i.e. address, store hours).  AI Suggested Responses will allow an agent to fire off an address or business hours to the second customer without having to compromise time with the first customer.
Pro tip: Create as much canned content as you can for your AI Suggested Response program. Because, the more pre-written replies you create, the more efficient and successful the AI Suggested Response program will be. Plus, adding a canned response is easy. Here's how: https://help.livehelpnow.net/1/article/15080/How-to-add-canned-messages

If you need help getting started on the list of canned responses for your account, please download 40 Most Important Canned Responses from HelpSquad.
Consistency Is Worth More Than Currency
By 2020, customer experience will become more important than price and product. One of the main values consumers expect to see in a customer service team is accuracy. According to a recent Salesforce study, 75% of patrons want to receive a consistent experience regardless of how they engage with a company.
Fortunately, another benefit of AI Suggested Responses is that they will ensure your team provides standardized information.  Each of your agents will have the same list of canned responses to choose from. Thus, consistent information will be provided on important issues like returns or faulty products.
AI Suggested Responses Will Show You The Money
Businesses that deliver better consumer experiences obtain growth revenues  between 4% and 8% above their market. Thankfully, we have found a simplified way to improve your customer satisfaction scores. Speed and consistency are what people want. With AI Suggested Responses, speed and consistency are what you will give them!