?As soon as you walk in and see the statue of Walt and Mickey you are immediately back to being a little kid. It's magic??? ~ Kim
Magic.
That is one word that keeps popping up time and again when we talk about Disney.
Customer satisfaction statistics tell quite an impressive story. According to some reports Disney has over 70% customer return rate. 
Numbers aside, real-life customer stories show the true magic of Disney. 
@WDWToday I had amazing trip to Disney World thanks to Cast Members El & Camelia ?‍♀️ !! The Finding Nemo Show was wonderful and you ladies are full of Disney Magic and sharing your smiles with the guests!!??? #CastCompliment pic.twitter.com/ydb2pLmOmw

— Nikki Yee-Martinez (@NikkiYeeMartin1) August 2, 2019
#CastComplement shout out to Kimberly at the Disneyland ticket booth! Client's first day=bust due to son's sensory meltdown. Kimberly was so sweet and helped an exhausted mama upgrade her tickets to have an extra day to redeem the trip. Thank you, Kimberly!

— Ashley Moreno (@ChaosDiaries) August 6, 2019
There is no shortage of these stories. It is clear – Disney is doing something right. Millions of visitors and customers across the globe are constantly wowed and they keep coming back for more. 
@WDWToday Tabitha "Anita Margarita" was absolutely amazing and let my daughter play restaurant with her. Arabella got to be the waitress and Tabitha got to relax and be waited on! Loved every moment. #CastComplement pic.twitter.com/I00mfI4H8q

— Seana O'Neal (@seanaoneal) August 6, 2019
So what is it? How does Disney do it? And how can the rest of us implement similar strategies into our businesses in an attempt to create some customer magic of our own?
With the help of Disney Institute's book about the magic of customer experience, Be Our Guest, customer service experts, and testimonies from the many Disney guests, we examine what really works for this company.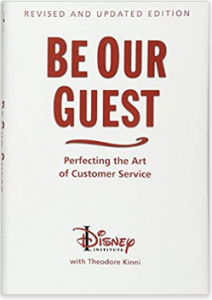 Companies can learn a lot from Disney. 
So get ready for some pixie dust because we're going on a quest for Disney's secret to excellent customer experience.
Guestology: Knowing the Guests
There are many areas in which Disney perfects its excellency when it comes to its services. It all stems from something the company calls guestology. 
"Guestology" is an understanding of customers that incorporates demographic data & information about their needs, wants, preconceived notions, & emotions. Guestology helps businesses identify & commit to a shared purpose. For Disney, this purpose is to create happiness through

— Vishnu (@TheVishinator) January 5, 2018
It's an art and a science.
It's what some customer experience experts call customer profiling and customer journey mapping.  
In Disney universe it's guestology. It consists of two parts – the demographics and psychographics.
The demographics document physical attributes of Disney's guests. 
The psychographics refers to four things about the guests:
Wants

Needs

Preconceived notions with which they come

Feel
My son had just purchased his end of the night snack, one of those enormous lollipops bigger than his head. He was so excited trying to unwrap it that he dropped it and it shattered into pieces on the ground. We walked back into the store with my son in tears to purchase another one. The Disney employee handed us a new lollipop and said "no one cries in Disney, this is on the house.~ Kathleen
In the story above the clerk expressed not only empathy but compassion (empathy+action). The Disney employee knew what the child wanted (a treat), knew what the parents needed (child's happiness), knew the family's expectation (to get another lollypop), and knew how they felt (frustrated in that moment). He put it all together and exceeded the expectations by fulfilling all of those and then some.
That's what adds to the magic of Disney – exceeding expectations to make everyone happy. Even outsourced live chat support teams servicing Disney app users are trained on Disney values through and through.
Which takes us to the next ingredient of Disney's excellent customer experience. 
---
Related Post: Don't Be a Creep: Five Steps to Customer Profiling
---
The Common Purpose – Making Everyone Happy
Disney lives up to its name of the happiest place on earth and for a reason.
My business is making people, especially children, extremely happy. ~ Walt Disney
Mr. Disney set off on that mission decades ago and it's still the number one goal of Disney service. It since has been the company's common purpose and the primary and ultimate goal. 
A common purpose communicates its message throughout the organization. It relates an ultimate goal to every one of the 150,000 people who work at Disney worldwide and serves as a rallying point across the organization. It is one thing that all cast members have in common and no matter what the individual job, it defines the expectation that all of us will help create happiness for our guests. ~ Disney Institute, Be Our Guest
The common purpose acts as a promise to Disney's customers and a mission to the employees. Four components make up that purpose:
Safety: quality standard

Courtesy: every guest is treated as a VIP

Show: uninterrupted performance from beginning to end

Efficiency: smooth operation
My 3-year-old daughter was in her Snow White outfit and so excited to see Snow White at our lunch at Cinderella Castle. However, she was "busy working at the mines with the dwarves." We went to the front to meet her instead and just missed her by 5 minutes.

The greeter at Tony's Town Square told us to wait a few minutes and quietly asked my daughter's name. A few minutes later we hear a soft voice calling my daughter by name. Here comes Snow White just to see my daughter. Spent a full 5 minutes with her. That doesn't sound like much, but to a 3-year-old it's an eternity (and you typically get a minute if that with a character.) Disney is definitely expensive and all, but something great happens every time we go. ~ Mike
In the story above, we can see every element of the common purpose formula.
The little girl was treated as a very special guest and was given personalized attention. The princess and everyone involved in her story remained in character, even as she left to "work with the dwarves." Giving the little girl specialized attention took five minutes, but it made the girl's day and made her happy.
The staff went above and beyond all expectations to make that happen. And, of course, all of this was done in a safe setting of the town square, a place where so many great memories are made. 
The extreme attention to detail in this story resonates throughout all Disney experience stories. And that's no coincidence.
Hence, our next Disney strategy discussion.
Attention to Detail: Little "Wows" Turn Into Big "Wows"
Exceeding guests' expectations is Disney's service strategy and paying attention to every detail is the tactic by which it is accomplished. ~ Disney Institute, Be Our Guest
Disney team deeply believes that when a guest experience is consistent, seamless, and of high quality, guests return.
Whatever you do, do it well. Do it so well that when people see you do it, they will want to come back and see you do it again, and they will want to bring others and show them how well you do what you do. ~ Walt Disney
The company takes pride in creating magical experiences through quality service standards implemented in everything it does.
Nice attention to detail there, Disney! https://t.co/e9TtH2Cgi8

— Jack The Lightning Ripper (@RipperLightning) July 22, 2019
By taking care of everything and freeing the guests from worries, Disney shines with its customer service performance.
If the little wows are delivered consistently and continuously, they add up to big wows. ~ Disney Institute, Be Our Guest
In the video below Disney reveals little details about the making of the springs in Disney world. Little touches like the shadowing of water elements wow the visitors even if the guests don't pay close attention to it. Those touches are seamlessly there and they bring up the quality of service from behind the scenes.  
And that's what makes Disney's customer experience so great.
It's magical ….. family and friends enjoyed our trip down to Disney every two years. It's a place with no worries???? We all focus on having fun and enjoying everything within….. – ~ Judith
In the quote above Judith hits the nail on the head. Disney experiences are so magical because they take away worries from the visitors.
Disney meets and satisfies all of its visitors' wants, needs, feelings, and expectations. That is what makes Disney the happiest place on earth. The staff takes care of all the worries with attention to detail, knowledge of the customers, and good attitude.
---
Related Post: Six Steps to Successful Customer Journey Mapping
---
Conclusion
Millions of people around the world fall in love with Disney as kids and never fall out of it.
We can apply some of Disney's strategies to our own business practices.
Knowing your customers through the art and science of guestology, having a common purpose implemented throughout the company's culture, and paying close attention to every detail can put your company as high on the customer service scale as Disney.
And maybe then we can have some magic of our own.
All I can say is that Disney is the place where all dreams come true. The magic that Mr. Walt always talked about has such long roots in our lives that automatically grows together with us. Besides the great, if not excellent, service that the Company has the objective to provide to each and every guest, not customer, there is that intimate need in each of us of touching that magic that walked with us in our lives. We grew up with Disney, and Disney grew up with us and that is what makes every Disney accomplishment so great.

Doesn't matter how old you are, The Disney magic is inside of each of us that for at least once watched a cartoon or a movie and the Parks are just the magical Disney tale that all of us can touch and experience.
Everything is possible if you only believe. ~ Aldo