A few weeks ago, I was researching a company that offered a certification in which I was interested. I decided to check that organization on Facebook. I went to the company's Facebook page to check out the reviews and see if someone could answer a few questions via private message.
It should have been easy to learn everything I needed to know within two minutes of visiting the company's page.
None of the reviews that were written by former customers, whether positive or negative, had a response. I was dubious (and a bit curious) to see how they would respond to a private message.
After waiting for about 6 hours, I received a canned response to my message stating that I should call the company for any questions. I had asked them for their phone number because the one listed in the "About" section of the Facebook profile was disconnected.
I didn't bother communicating with this company further.
Social media customer service is no longer optional for companies that are looking to provide the best possible customer experience. What's more, brands need to recognize that it's not enough to be there; you need to BE there. Here are five reasons why brands need to care about social media customer service.
Your customers are social media junkies
There are over 3.5 billion people online, and over 2 billion of them are using social media. 
Customers are using social media, and the odds are high that they will look to reach out to you with a question or concern. According to Sprout Social, 90% of people surveyed have used social media in some way to communicate directly with a brand. 
Furthermore, social media is their preferred channel for customer care. Brands owe it to their customers to be present and to offer assistance via the customer's preferred channel.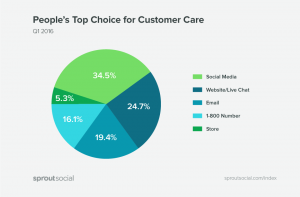 Prospective customers are social media junkies, too.
Social media customer service isn't just about assisting current customers. 
Customers turn to social media when they are researching brands. 
Research by Bright Local shows that consumers read an average of 10 online reviews before trusting a local business and that 89% of consumers are focusing on the business' response to those reviews.  
Brands must be responsive to customer reviews, and that response must demonstrate the brand's willingness to address customer concerns quickly and with as little friction as possible.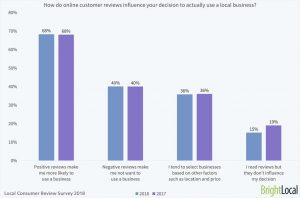 Social media customer service brings home the bacon.
It's necessary to respond to more than just negative reviews; businesses need to respond to positive reviews, questions, and suggestions. 
Data from Sprout Social shows that engaging with customers/prospective customers via social media drives revenue and promotes loyalty.
---
---
When brands respond or reach out on social:
70% of people are more likely to use a brand's products or services

65% of people have more brand loyalty

25% are less likely to go to a competitor

25% are less likely to post negative things about the brand, product or service

75% of people are likely to share a good experience on their profile
These figures speak volumes and really demonstrate the need of adding and expanding your social media customer service.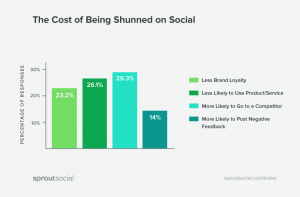 Social Media Customer Service is cost-effective
In case the data in reason 3 wasn't enough to get that executive on board, here are a few more data points from McKinsey & Company that should drive the point home:
It costs, on average, $1.00 to solve a customer issue on social media.

Social media support is 63% cheaper than phone support. 
Those are astounding figures! Coupled with the fact that social media is the preferred customer service channel, it is clear how valuable social media customer care is, both to customers and the brand providing that service.
Analytics from social support is invaluable
Social Media interactions are the pulse of your customer experience. It's real-time data on how your customers feel about your products and services AND how they feel about their experience with your employees. The data that you obtain from analyzing social media interactions can be useful to your business in several ways.
First and foremost, complaints and questions provide valuable information about opportunities for improvement. Whether it's that representatives in a particular department need additional training, or that your website's FAQ needs some attention, LISTEN to your customers and use their feedback to implement positive change.
---
---
Secondly, suggestions are an excellent source for product and service improvements/ideas. If your analytics show that a large number of customers are looking for a new product or service (or an enhancement to a current product or service), get that information to your development team to explore the possibilities.
Finally, questions and buzz on your social channels can provide content ideas for your marketing team. Whether it's a hot topic in the industry to capitalize on, or an idea for a product DIY video series, your marketing team will be forever grateful for new content ideas. 
Do we have you convinced?
What other reasons would you add to show the value of social media customer service?