Any business owner knows the importance of building customer loyalty. It's pretty simple. Customers who come back are happy customers. And satisfied customers create the foundation for a successful business. But creating a loyal customer base is one thing. Maintaining customer loyalty that lasts, however, is another. 
Running a business, especially small businesses, is not an easy task. There is a lot to do – new customer acquisition, effective marketing campaigns, profitable growth, new product development, and employee management. And, of course, the ever-primary focus – customer service experience. All of that and more demand attention. 
Before we know it, we leave a customer waiting too long for an email reply. Or have no one checking on repeat orders. That can lead to customer churn and a drop in customer retention rates. And so, it's important not to lose sight of customer loyalty efforts. 
In this article, we examine the art of customer retention. We explore the psychology behind customer behavior. We learn what makes or breaks an individual customer's allegiance to a brand. We share some tips on how to maintain customer loyalty and keep repeat customer rates high. And we focus on overcoming common obstacles. All for the purpose of creating long-lasting relationships with customers. 
Understanding the Importance of Maintaining Customer Loyalty
As consumers ourselves, we know that creating meaningful relationships with customers is a good business strategy. We all have our favorite coffee shop, department store, or travel agency that we love. That could be because of the excellent service that the business provides. Or, perhaps, the favorite products it carries. Or the fact that you know the owner's name, and it's nice to say hello and catch up sometimes. Regardless of the reason, we just love it, and we don't want to take our business anywhere else. 
From the customer data point of view, longtime customers are of great value to any business. According to customer retention marketing analytics, first-time customers cost five times as much as repeated customers do to retain. Retaining customers increases yearly revenue and reduces customer acquisition costs. It supports customer success and increases purchase frequencies. It keeps customer lifetime value high.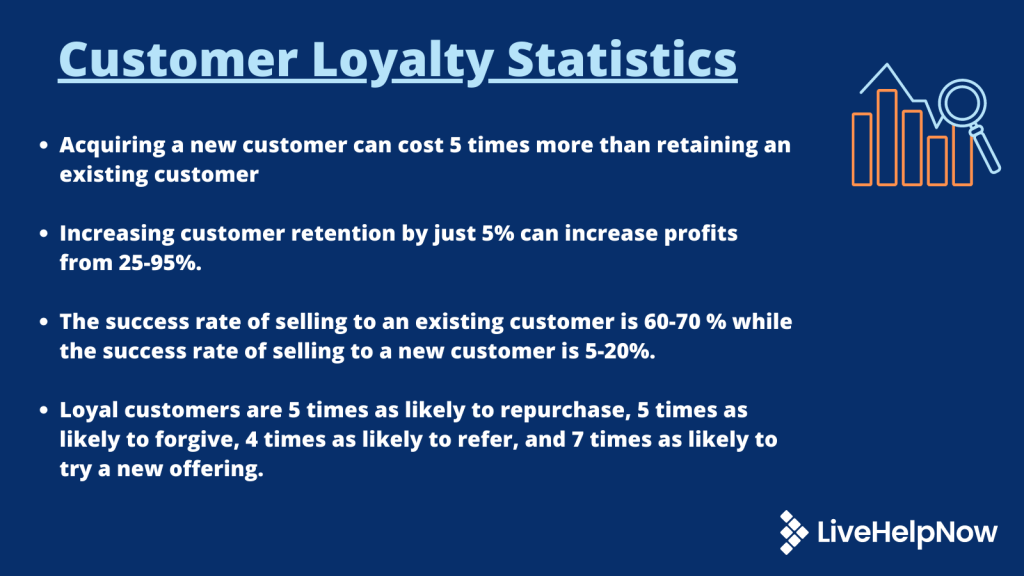 Psychology Behind Repeated Customer Behavior
So why do customers come back? Knowing the answer to this question can help businesses create unique customer experiences designed to maintain lasting customer loyalty. There is a lot to be said about the psychological reasoning behind consumer behavior. Boiled down, the reason customers come back to a business, as it is in many other aspects of life, is that doing so makes them feel good. Customers make decisions emotionally, then support them with logic.  
---
Related Read: 5 Psychological Principles That Fuel Great Customer Service
---
For businesses looking to enhance their customer loyalty strategy, knowing their customers is key. Understanding which customer emotions make them return to a business is not a "trick" to lure the customers. It's a helpful tool that can help deliver excellent customer service. It can help create effective customer loyalty programs and overall raise customer satisfaction. Understanding customer psychology can help create solid long-term relationships with existing customers. 
So here are some things that affect customers' buying habits. 
1. Internal and external triggers 
Personal triggers come in all shapes and sizes. And frankly, unless you put a customer in a therapy chair, an individual's triggers will be hard to determine. However, understanding some common triggers can guide businesses in the right direction. 
Author and behavior design expert Nir Eyal uses the example of Instagram to explore the power of triggers. "When a product is tightly coupled with a thought, an emotion, or a pre-existing habit, it creates an internal trigger," Eyal writes. That means that discovering what triggers customer engagement with a brand can lead to enhancing that trigger and gaining even more lifelong fans. 
Takeaway: Understand Triggers to Boost Repeat Purchase Rate
You should know what prompts your average repeat customer. How? Ask. Establishing a customer feedback loop is always a good practice and a building block in the customer advocacy process. Negative feedback can point out fixable problems within the customer journey. Positive customer service experiences can help a business understand what is going right. Feedback can reveal key data points, such as triggers. Understanding positive triggers leads to engaging fans on a deeper level. Discovering negative triggers is also important as it can help a company to avoid them.  
2. Personalized customer experiences
Nothing creates positive feelings and prompts repeat business as personalization. We all know the power of a carefully packaged product with a personalized note included. Or a greeting from our favorite shop owner who knows our name and asks about how the kids are doing. Personalized experiences serve as positive triggers in customers' brains. 
We live In a world where large enterprises like Netflix, Spotify, and Amazon address customers by name and make suggestions based on customer history. All businesses should follow this lead.  
People no longer compare you just to your direct competitors. They compare you to the positive experiences they've had with companies in any industry!

— Shep Hyken (@Hyken) February 22, 2021
Takeaway: Personalization Serves a Valuable Purpose
Personalized offers, product recommendations, and personalized emails are just some ways that can help build strong shopping relationships and capture customers' attention. Review previous purchases and study the habits of your current customer base to discover personalization opportunities. Conduct customer surveys. Then direct your customer service team's marketing efforts. 
For example, what are your customers' favorite items? Product suggestions not only support cross-selling and upselling practices but also show your valued customers that you care. 
Catered and carefully-crafted personalization strategy is a form of relationship marketing. And unlike other marketing strategies, it shows that you care for the customer in an authentic way. And that, in turn, leads to positive customer reviews and higher profits.
Customer retention programs that focus on personalized marketing create lifelong customers. To keep the marketing costs down, employ marketing automation. Good customer relations management software serves a valuable purpose within marketing departments. Based on specific personal details of different customers, it can help a business send automated emails with unique promotional offers. 
3. Trust
Studies show a direct correlation between trust and brand loyalty. It might be nearly impossible to maintain a 100 percent retention rate. But striving to keep the trust factor high serves as a strong relationship builder.  And it can elevate customer status from an occasional window shopper into a brand advocate. Building a company that serves its customers in the most efficient, customer-centered, honest manner is the way to customers' hearts. 
Takeaway: Be the Trustworthy Business Your Customers Respect
The other day I was parked in a lot when a fellow Kia driver came by to chat. He told me about his likes and dislikes of the vehicle and then told me that he has some issues with his car's warranty. Because of those issues, my incidental conversationalist didn't return to the dealership where he purchased the car. He then proceeded to tell me about his mechanic. The man was thrilled with this mechanic's honesty and transparency. He loved the fact that this mechanic didn't try to change and improve everything that might be wrong with a car immediately. Instead, the mechanic would suggest a specific date for a certain repair, honestly presenting options to his customers. 
While honesty is the best policy, here are some additional ways to build customer trust from our friends at Indeed: 
Make a product you can stand behind

Establish and show your company values

Be transparent 

Showcase both positive and negative reviews
4. Personal
Investment
Understanding customer needs and meeting customer expectations are great business practices. But for a customer to truly become a loyal patron, he or she must have a personal investment in the brand. Strong emotional ties to a business truly ensure future loyalty. After all, when we are emotionally connected with a business we maintain our positive feelings about the brand. Even when minor things go wrong. 
A good example of a personal investment on the customer's site is the IKEA building model. The global furniture company did what no other furniture designer attempted. And it did it well. 
As we all know, customers must assemble their own pieces of IKEA furniture. In doing so they are putting their own efforts (and sometimes a little bit of blood, sweat, and tears) into the final product. There is a sense of accomplishment when the table is finished and the bookshelf does not wiggle. Each IKEA customer puts a little bit of himself or herself into the project. They become emotionally attached to it. Maintaining customer loyalty is easier when customers feel connected to a business on a deeper level. 
Add to that the sweet memory of bonding time the furniture-builder shares with a family member and that emotional attachment is solid. (Of course, there is the downside of unsuccessful projects that result in negative associations with the brand. Sometimes the DIY projects go sideways. But, hey, as a business, it's good to remember that you can't please everyone.)
Takeaway: Create Opportunities for Customer's Personal Investment 
So, find ways to connect your customers to your brand on a deep effort-requiring level. Of course, that doesn't mean you have to make things hard. In fact, the opposite is true. Make it easy. 
Make it easy to connect to the people who work for your business. Integrate gamification. Implement good customer rewards programs. Find a way to become a staple in community hubs. Create branded content that engages your audiences. Issue reward points for referral links. Set brand guidelines that emphasize personal relationships with customers. 
Bottom Line: Maintaining Customer Loyalty 
In the business world, service delivery alone cannot bring higher conversion rates. Superior customer support, deep connections with customers, personalization, and trust are some of the factors that can help with maintaining customer loyalty.