Imagine yourself being stuck at an airport. Your flight is delayed, and you want to speak with someone for help. 
But there is no one at the desk, and the customer service lines are constantly busy. 
You'd get frustrated. 
Now, keep your customer in your shoes and imagine your company to be in the place of the airline company. 
Your customers are at the heart of your company's success. If you keep them waiting, they'd search for alternatives and never return.
It's not that you want them to wait. A business owner is always happy to help. But sometimes, the sheer support ticket volumes don't allow companies to be as prompt as they should be. 
Fast response times are crucial for a great experience. 90% of the consumers expect an immediate response if they have a customer support question.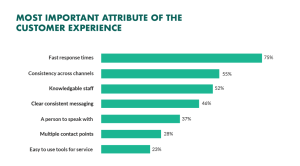 The longer it takes to reply, the less likely it is that the customers will engage, so the more likely they are to leave. The fact is that humans have become more and more demanding these days. And with shortening attention spans, slow customer service has become a recipe for doom. People don't care how great your company is. They want a solution you provide and expect you to be there for them if something's off. 
So, how to deal with impatient human beings with a limited amount of time and resources? You can always ace the game by adding self-help initiatives to your existing efforts. 
In this article, let's look at using self-help and live chat service initiatives to enhance customer delight. But before we dig deeper, let's look at some fundamentals and why you should invest in live chat first.  (Even if it's free live chat software to start.)
What is Customer Self-Service? 
Customer self-service means empowering your customers to solve their problems themselves without interacting with a human executive. It is an essential and crucial part of the modern customer delight equation. Most customers expect every organization to have a customer self-service customer portal –  a FAQs section, knowledge base, public community, forums, and live chat solution. 
According to research by Gartner, self-service solutions cost $0.10 per customer compared to $8.01 for live solutions like phones and emails. Having customer self-service features or a knowledge base improves customer enablement metrics. It also helps you free up your agents to handle more advanced issues that require human intervention. 
In short, customer self-service solutions help you improve your response rate. It is also a great way to unearth additional sales opportunities through personalized upsell, cross-sell, and loyalty offers. 
Why Care About Customer Self-Service and Live Chat Now? 
You're on the right path with your company. Everything's working great — customers love your solutions, you have great reviews, and customers are happy. 
You'd be thinking, why care about live chat now? But the thing with business is you've always got to see the future trends coming. 
According to research, most of your customers are looking for a quick response while reaching out.  
All the market trends and industry reports point out three fundamental takeaways: 
1. Customers appreciate the promptness

Fast response times are the most important element of a great customer experience in 2022. 
2. Customer self-service is the first choice of millennials

88% of modern customers expect a self-service customer portal from a modern business or startup. 40% of them explicitly prefer browsing self-service content over human contact.
3. Customers rely on live chat assistance for supplementing self-service solutions 

Live chat and AI chatbots are among the most prominent self-service solutions in 2022. Even modern CRM systems like PipeDrive are implementing chatbot and live chat features.  
Driving Customer Self-service Initiatives With Live Chat
Self-service isn't a luxury anymore for any growing business. Especially when customers are looking for solution-centric content and expect instant resolution. 
But how to transform your human-first team into an assistive team that can jump in instantly whenever they're required? 
Here are three steps you can take to power self-service initiatives and improve customer experience with live chat instantly. 
Step 1 — Integrate a live chat solution into your self-service workflow
A live chat solution would help you resolve queries faster. You can integrate a live chat platform on your website, mobile app, or elsewhere to give instant responses to customer queries. 
An integrated live chat solution would help you set and achieve SMART customer service KPIs by: 
Reducing customer wait times

Improving employee satisfaction 

Humanizing the customer experience
Modern live chat solutions have powerful features like omnichannel availability, AI-powered responses for agents, and even a pre-trained chatbot with answers to common FAQs. 
This helps you lighten your team's workload, allowing them to cater to more customers efficiently.
Related Post: How to balance between automation and live chat?  
Pro tips for adding live chat to self-service workflow
Connect your existing knowledge base with live chat software
If you already have a knowledge base for self-service, it's time to connect it to live chat software. This will allow support agents to guide customers to relevant help articles and support resources quickly.
Add a chat window to commonly visited URLs
Identify the pages that always bring maximum questions, issues, and queries from customers. Integrate a live chat window on the pages with a chatbot agent trained with a library of canned messages to quickly address common issues.
Use pre-chat forms in the live chatbox

Gather information from the customers by using a short pre-chat form. The information helps a human agent know everything about a customer at the time of routing. 
Step 2 — Automated follow-up loops and support tickets 
Sometimes, new problems and issues crop up despite your knowledge base and documentation being deeply exhaustive and your agents fully informed. These issues require manual intervention for proper resolution. 
You can use live chat to create automated follow-up loops and support tickets to make such situations hassle-free for end customers. 
A live chat solution can be optimized to automatically create support tickets, tag the conversation, and assign agents. This would free up the end customer from the hassle of submitting a support request manually, improving customer support KPIs like the CSAT scores.
Pro Tips to automate follow-up loops 
Integrate live chat with your help desk solution 
Customer conversation on the live chat should be automatically transformed into support tickets to avoid redundancy. 
Categorize conversations for prompt follow-ups
Use the live chat customer support solution to organize, prioritize and channel conversations based on urgency/workflow. This would ensure timely resolution and proactive follow-ups. 
Add a chat with a link to your help desk tickets
Add a live chat link to all your outbound help desk emails for customers to chat with an agent immediately if they have any doubts or ongoing queries. 
Step 3 —  Blend customer self-service options with human support 
Customers prefer self-service. Sure! 
But they also appreciate on-demand human support more when it's not pushed. In short, they should have the option of how they wish to resolve their issue.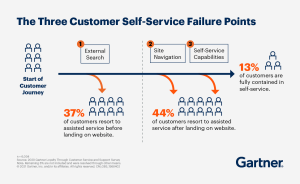 Source: Gartner
You should have a blended support workflow consisting of customer self-service options and live human assistants. Blending human support in your self-service portal can help speed up query resolution. 
Pro Tips to Blend Live Chat Support with Self-service 
Use omnichannel chatbot support with a central hub 
Chatbots can answer common queries across chat, social media, email, and Slack. Based on the customer's intent, the support query should automatically be routed to either a self-support customer portal or live human support. 
Configure a tiered live chat solution 
Set up a dedicated support widget on support pages, FAQs section, knowledge base, and self-service customer portal. All incoming queries should be categorized based on the level of conversation required and routed to the relevant team for prompt resolution in case human assistance is needed. 
Route customer queries to service agent with context
Customer questions and issues should be redirected to human support with relevant background information, context, and applicable resolution suggestions (powered by AI-based suggestive documentation). This would help human service operators to answer faster and delight a customer. 
Frequently Asked Questions 
How to create a customer self-service portal? 
A self-service portal for customers is the best way to provide instant support and answers to common questions and queries. You can use a solution like LiveHelpNow to launch an integrated knowledge base with self-service features to delight customers. 
What should you include in the customer self-service portal?
Your customer self-service portal should have several features to speed up issue resolution for customers. You can create FAQs, guide them through common problems and solutions, offer valuable content, How-To articles, and even on-call phone assistance and access to an online chatbot/live chat to help them get access to answers quickly. 
What are the different ways to integrate live chat in the customer self-service portal? 
You can use different strategies to integrate a live chat and improve the customer experience. The best way is to use an integrated customer support software with live chat, knowledge base, and self-service dashboard. This will help you streamline everything quickly and ensure that your customers can search for relevant content, information, and articles, and get support from a single screen.
Live Chat For Customer Self-Service – The Way of the Future
Customer service is fast changing in the modern world. No longer can you expect your customers to wait for hours (or days) to provide them with answers. 
Create a dashboard that resolves customers' issues online without needing them to wait in a queue to get relevant information, resource, or answers to common questions. 
Top it up with a tiered live chat solution to improve your relationship with customers and enhance customer experience. This way, you won't just be doing a service to your customers but to your agents, and yourself too.
Planning to have a customer self-service portal supported by a live chat solution? Discover LiveHelpNow's live chat solution and book a demo now.