When your significant other breaks up with you, it hurts like hell. All you want to do is get him or her back. Or, at the very least, understand why he or she left you. 
When a customer leaves you, it kind of works the same way. You might not lose your appetite, but you still want to know what you did wrong. 
Now you can.
This month we're introducing the expansion of our webhook system. Up until this point, LiveHelpNow users could set up webhooks to receive customer chat data such as name, email, or chat transcript near real-time. Like this:
But now, our customers can get even more information. Our expanded webhook system now allows for setting up data transfers for ticket & callback updates as well as post-interaction survey results. Once set up in the Admin Workspace, this function will send all the data to the specified endpoint as soon as ticket or callback is created/updated and when post-chat or post-ticket survey is submitted.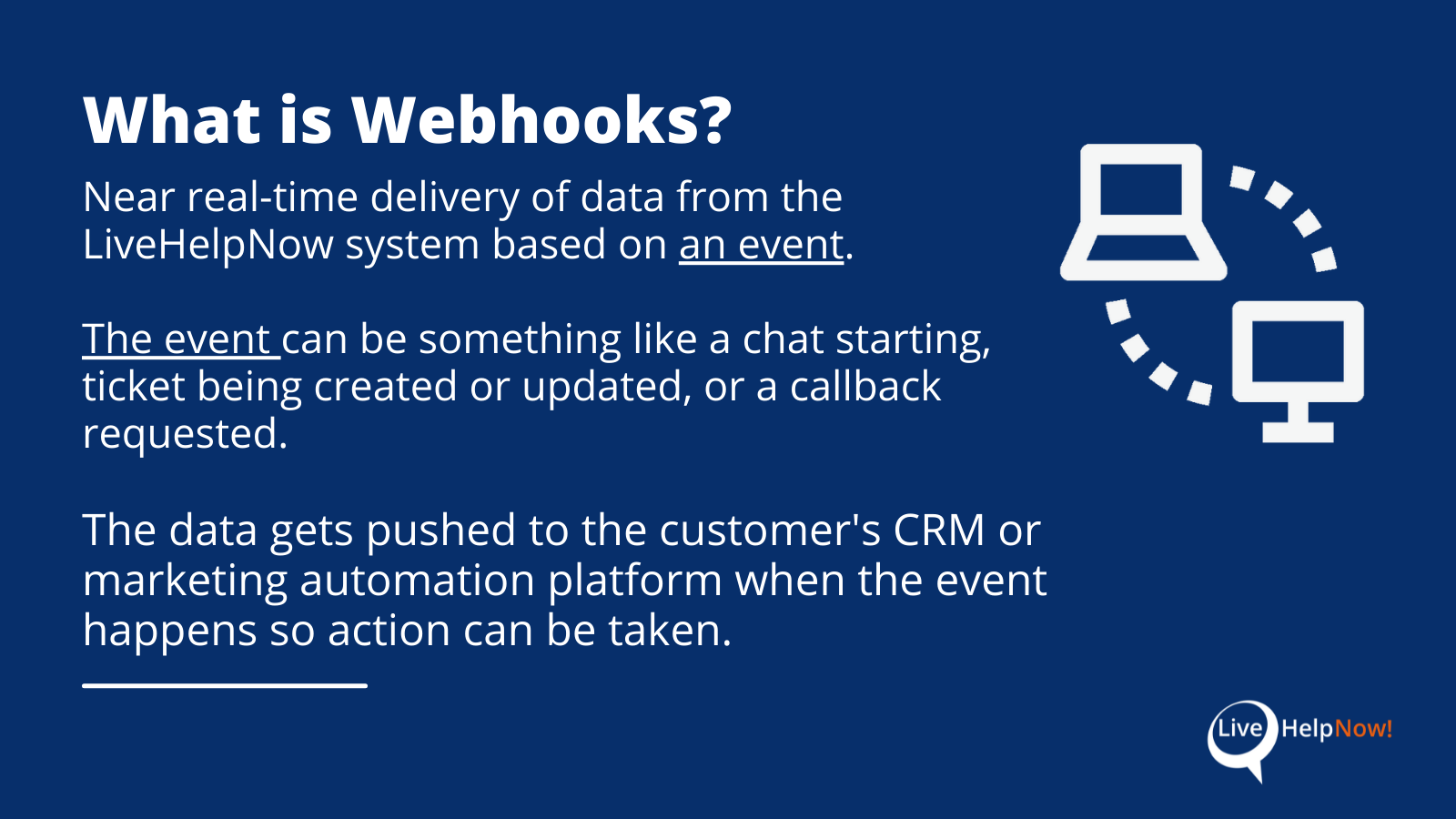 Why is That a Big Deal?
Glad you asked! The webhook system expansion is great news to our customers because it allows them to receive real-time data at the time your LiveHelpNow account receives it. 
Think of it this way. If a customer had a bad experience in a store and immediately told a manager on-site about it, the manager would get a chance to remedy the situation. Similarly, if the customer had a good experience, the manager would get an opportunity to encourage the customer to tell others about the experience right then and there. 
[fullcontrol title="Web…who? Webhooks!" subtitle="Want to learn about Webhooks in human, not techy, language? " linkurl="https://livehelpnow.net/schedule-demo/" linktext="Click here to schedule a demo!"]
Real-time Customer Feedback is Gold
The new webhook feature works similarly, but digitally. It gives companies the ability to receive immediate feedback by sending real-time customer feedback to the company's CRM. Let's say a customer has a bad experience within a live chat or does not get a problem resolved through a ticketing management system. The customer's survey feedback data will appear in the company's CRM. A manager can then immediately contact the customer and offer further help, launching an immediate damage control campaign. The brand can act on the feedback in real-time, maintaining, improving, and nourishing the relationship with the customer. 
Companies can also use this tool to promote their business by inspiring customer-led storytelling and customer-led brand advocacy. For instance, if a customer has a good experience and leaves stellar feedback for the company, that creates an opportunity for the company to contact the customer and encourage them to leave a review or share their memorable customer experience story on social media. 
What is a Net Promoter Score? And Why You Should Know #feedback #marketing

— Voice of Customer News (@VoCNews_Online) October 30, 2021
The ability to monitor customer feedback in real-time can also benefit companies in terms of their Net Promoter Score (NPS). After all, when it comes to customer experience analytics, it's essential for companies to be aware of their NPS and to use it to adjust their customer service efforts. 
"It is imperative for companies to be mindful about their Net Promoter Score. They need to know about a customers' experiences immediately, while it's still fresh in their minds. Contact them right away. Encourage them to spread the word, leave a review, and become brand advocates. The only way we can become this reactive is to get real-time customer feedback. With our webhook expansion, our customers now can."

(Michael Kansky, CEO of LiveHelpNow)
Additional Benefit of Webhooks: Marketing Automations
Webhooks are great not just for monitoring customer feedback through survey results. The system also allows companies to get other important information into their CRMs. For example, when a ticket is created or updated or a callback is requested, that data can be passed instantly to the company's CRM. It then gives the company the power to automate marketing or perform other actions to serve their customer better in real-time. 
Set up for real-time data integration into CRMs
Knowledge is power. 
Use our expanded webhook system to your advantage and start getting real-time customer feedback. Check out our detailed instructions on how to set it up: Streaming API – Eventing API (Webhooks)
Your ex might never speak to you again, leaving you to your own devices to figure out what went wrong and what went right. Your customers, on the other hand, just might give you another chance.