In contrast to traditional communication techniques such as email marketing or cold calls, recent communications with consumers have become speedier and more data-driven. Using live chat software eliminates barriers and improves customer communication. Additionally, chatbots serve as a valuable resource for providing an exceptional customer experience. We've compiled a list of live chat statistics and insights that demonstrate how live chat technology does just that. 
Live Chat Statistics: What The Data Says
1. Do live chats on websites impact customers' perception of the online store?
The data shows that, in fact, there is this impact. 
It seems to represent an important factor. According to eMarketer, 63% of customers agree that there is a tendency to return more often to a website if the possibility of communicating over live chat exists. 
2. Customers appreciate the live chat feature.
According to Zendesk data, 92% of people say they have a positive experience using this channel. This is also more satisfying than other forms of contact (phone: 88%, email: 85%, Facebook: 84%, Twitter: 77%).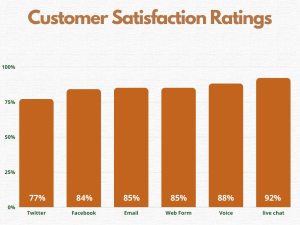 3. Live chat statistics show that customers expect round-the-clock service
Online stores are open at any time of day or night, every single day of the year. This gives them a nice advantage. However, customers would also like to be able to contact a representative or a seller around the clock. Live chat statistics show that 51% of consumers think business should be available 24/7. 
For this reason, it is important to have a live chat solution that is equipped with a chatbot. These are programs that use artificial intelligence to simulate interactions with actual humans. Advanced chatbot development may offer constantly evolving and personalized responses. This, in turn, can result in additional purchases and higher revenues. 
4. Many people need some assistance during the online purchase process
According to Forrester live chat statistics, in the field of electronic commerce, 44% of customers consider the ability to converse in real-time with an operator the most important feature of a virtual store.
5. Customers no longer tolerate waiting for an operator 
Listening to a recorded message several times invites us to be patient while listening to background music.
The frustration of wasting several minutes waiting for a person to take their call seems to be why 42% of users choose to use live chat instead of the telephone. Consumers appreciate live chat for the ability to offer immediate answers to their questions. 
6. Customers expect an immediate response when communicating with a salesperson
In fact, today, we live in an era where customers prefer instant solutions to their issues. 
Live chat statistics data from Zendesk show that most problems handled by live chat are resolved in less than 42 seconds.
7. Shopping online during working hours (The one who has never done it, cast the first stone)
According to Econsultancy, 21% of people say it is very convenient to shop on the web while in the office. 
For 51% of customers live chats represent the best method of interaction because this allows for multitasking.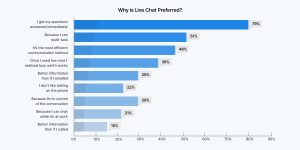 8. Are live chats more popular with young people?
Yes, of course.
Moreover, as per Zendesk, 45% of consumers over the age of 55 agree to use this engagement method on a website at least once – and this figure looks to be continuously increasing.
9. Communication efficiency decreases virtual shopping carts abandonment rates
Online shopping cart abandonment averages around 70 percent. Business owners put a lot of money and effort into moving customers down the sales funnel. When shoppers don't make a purchase, it might feel like all those efforts were in vain. 
According to WhosOn data, in fact, 52% of customers agree that, in the absence of a quick response to their questions, they prefer to suspend the online purchase rather than finalize it and then be somehow dissatisfied.
10. Live chat not only means convenience and short response times
But also a better user experience, which in turn favorably influences brand loyalty. 
According to WhosOn, 41% of visitors feel that organizations with a live chat service on their online platform are more credible and trustworthy.
11. Modern Customers Prefer Staying Off the Phone
61% of people under the age of 24 declare that they intentionally avoid using the telephone to contact companies for purchase-related matters.
60% of those born in the new millennium prefer live chat to traditional methods of communication.
Trends in Live Chat in 2022
Conversations will be "humanized" using natural language processing (NLP) and artificial intelligence (AI)
In an increasingly interconnected society, the customer base is often made up of people from different geographic areas with different languages ​​and needs. 
AI-based chatbots represent significant cost savings. A single bot is able to provide customer service in multiple languages, automatic, real-time, and integrated (sites, platforms, SMS, email, and apps). 
In 2022, the use of NLP will increase in order to make chatbot reactions more humane. 
Conversational AI will, in fact, allow chatbots to understand specific languages ​​and accents. This will allow brands to better adapt to international markets and reduce the time for purchasing decisions.
Live chat statistics and data will drive personalization
Sentiment tracking will allow chatbots to identify the mood behind customer communication and thus personalize the relationship. 
In fact, sentiment tracking is a process (governed by algorithms) to identify if an online written / voice interaction expresses a positive, negative or neutral attitude. 
As a result, the responses will be more tailored and "genuine," affecting client loyalty. By 2025, chatbots are predicted to handle 75-90 percent of queries, due to technological advancements in the data processing. In essence, chatbots will be able to tell whether a consumer is delighted, angry, unhappy, and so forth. Then, chatbots will be able to adapt their communication accordingly.
AI-based chatbots optimize costs and resources
Startups and SMEs will be able to benefit significantly from chatbots in terms of support cost reduction. According to Juniper Research, chatbots could help save up to 50% on customer support costs. Furthermore, a chatbot minimizes the number of people that are available 24 hours a day and handles redundancy in tasks and regular requests more wisely.
The popularity of voice bots will grow
Voice technologies begin to acquire more space in the chatbot field. That is because they allow overcoming the limitations of textual inputs. 
Voice chatbots might make customer communications more smooth and simple, particularly in industries like healthcare, banking, and eCommerce. It's safe to predict that we will see a massive spike in automation by 2022.
Chatbots and automatic payments
As user acceptance of cashless transactions grows, the incorporation of technology to automate chatbot payments will gain traction in 2022.
This will reduce operating costs for companies. And it will also allow easier management of the expansion of the customer base to international markets.
Live Chat Statistics And Trends For 2022
Live chat is more than just a customer service element. It's a fundamental pillar that's growing in popularity.
Live chat statistics clearly show that, given current increased usage, live chat technologies will only gain more popularity.  Furthermore, as more businesses move to an online model, client expectations are growing. Live chat support must be constant and always available to reach your company goals and develop customer relationships.