The sky is blue. 
Water is wet. 
Elvis is the King.
Great customer service will get you loyal customers…
These are all well-known facts. 
If you ask a satisfied customer of a major brand (i.e. Amazon, Chewy, Apple) why he or she likes a company's service, one of the things he or she will probably say is, "They solve my problems quickly" or "They understand my needs."
I have to give a shout-out to Adam at @Chewy, who not only refunded me for 7 cases of food my kitty had become allergic to, but asked me to donate them to a cat shelter rather than ship them back. This company truly understands the importance of #CustomerExperience. #givingback

— Ellen Lind (@Ellen_M_Lind) January 11, 2019
You're thinking to yourself, "Of course they do. Those big corporations have tons of resources at their disposal. They're well-equipped to deliver speedy, personalized service."
But, you shouldn't be so hasty. 
Don't assume that you need a sprawling portfolio or an army of CSRs to provide high-end service.
You can run a lean and mean customer service machine on a shoestring budget that will be the envy of any Fortune 500 company.
In fact, if you are a small business, the odds of blowing your customers away are actually in your favor. 
You have the advantage of being nimble and responsive. You are not staggered by red tape, turf wars and inter-departmental politics.
70% of Americans have a great deal or quite a lot of confidence in small business, more than three times the 21% confidence rating for big business. @Gallup Click To Tweet
Besides, the masses believe in you. 70% of Americans have "a great deal" or "quite a lot" of confidence in small business, more than three times the 21% confidence rating for big business (Gallup).
Here are a few strategies that you can use, so you'll never let them down.  
1. Use Social Media Monitoring Tools
54% of customers prefer social messaging channels for care over phone or email (Adweek).
54% of customers prefer social messaging channels for care over phone or email. @Adweek Click To Tweet
So, why not give the people what they want? 
Social media is actually one of the best ways to track and solve customer problems.
You can utilize platforms like Twitter and Facebook to check message history, pinpoint trending issues, and quickly respond to online reviews and comments. 
With the ability to view your customers' basic profile details, you'll also be able to serve them on a more personal level. 
What are your customers saying to you on social media? More importantly, are you listening? Social media customer service is an essential part of #customerexperience. Here's why. @LoneDigiMarketr https://t.co/dLenWDYogR pic.twitter.com/52vj3NhUSU

— LiveHelpNow (@LiveHelpNow) December 4, 2019
If you have a smaller staff, it may seem overwhelming to delve into these additional communication channels.  
But, have no fear. There are a large number of monitoring tools (both free social media tools and software from paid vendors) that will allow you to properly oversee your social media inquiries and help you take rapid action. Plus, you'll actually save money by investing in social media customer service. It costs 6x more to solve a customer issue through a call center than on social media. (Helplama)
In addition to monitoring inquiries, tracking incoming communications can help determine best channels for customer communications. A good call tracking software can show which channels customers use the most. That, in turn, can show which channels the company should really focus on and save money and efforts. over time.  
2. Leverage Google Alerts
Google Alerts is a heavy hitter when it comes to keeping an eye on what people are saying about your brand online. 
It's also a great way to track emerging customer service trends in your industry. 
You can create a series of alerts with brand appropriate keywords and configure the settings to send you updates by email or RSS.
And, as with most Google products, it's free.
Click on the tweet below to learn how to set up Google Alerts.
We are asked daily how Knowledge360® and Google Alerts are different and when to use one or the other. Ahrefs does a great job explaining – How to Set up Google Alerts (and Use It to Grow Your Business) https://t.co/BODZ90yfGn

— Cipher Systems, LLC (@CipherSysLLC) June 20, 2019
3. Keep an Eye on Forum Chatter and Review Sites
People frequently talk about their experiences in forums and on review sites.
By the same token, 88% of consumers read reviews to determine the quality of a local business (Bright Local).
88% of consumers read reviews to determine the quality of a local business. @BrightLocal
Click To Tweet
So, it's important to check these mediums daily.
This will provide you the opportunity to properly respond to negative chatter and allow you to intercept and correct any negative experiences your customers have had with your brand. 
Of course you can check the usual places like Google Reviews, Yelp!, or peer review sites (i.e. G2 Crowd). 
However, you can use forum search engines like boardreader to dig a bit deeper.
Below is a great article by MakeUseOf that covers the best forum search engines to search. 
Some of the best information on the web can be found on message boards. Try these forum search engines for searching them today.: "The Best Forum Search Engines to Search Message Boards" https://t.co/OGx69R8GAb pic.twitter.com/ibOti1oWhJ

— MakeUseOf (@MakeUseOf) September 15, 2019
4. Employ Live Chat and Ticket Management Systems
52% of brands report that technology is helping them deliver better customer support operations. (Sitecore)
The growing popularity of technological support tools is due to the fact that an increasing amount of customer service interactions are being completed online. 
If you haven't jumped on the software bandwagon yet, don't worry. We're here to point you in the right direction.
Two of the most economical and effective solutions for delivering virtual support are live chat support and ticket management systems. 

For instance, you can easily turn your website into a customer support powerhouse with live chat. 
In essence, it will give your customers the ability to request service at anytime from anywhere. 
It will also allow you to monitor your website traffic and visitor behavior, while providing you with the opportunity to deliver proactive assistance.
Even better, live chat has the highest consumer satisfaction rate at 92% (99firms).
Live chat has the highest consumer satisfaction rate at 92%. @99firms
Click To Tweet
I know…all this talk of traffic and visitors probably sounds overwhelming.
But, you can use helpdesk software to manage and organize your online inquiries, and it will pay off big-time.
Leveraging help desk software big data can save up to 670 working hours per year, reduce the number of phone calls by 10%, and allow 25% of your help desk resources to be available for attention-demanding incident resolution. (HDI)
The good news is that you can employ live chat and ticket management software for as little as $42.00/month with LiveHelpNow. ?
5. Use a Customer Relationship Management (CRM) Software
CRMs are known to improve customer retention, by as much as 27% (Trackvia).
CRMs are known to improve customer retention, by as much as 27%. @trackvia Click To Tweet
Why? Because, CRMs help brands build stronger relationships with their customers by allowing them to serve each individual on a more personal level.
For instance, CRMs track and store a customer's purchase history, basic personal information, and previous customer service interactions. This will allow staff members to have quick, easy access to pertinent information.

More importantly, you don't have to break the bank to implement this type of software solution.
Heavy hitters like Zoho and Hubspot offer free versions of their CRM platforms. 
Depending on your size and scale, you may need the power of a paid CRM platform.
In that case, there are tons of affordable options to choose from. 
CRM are known to improve customer retention, by as much as 27% according to @trackvia. Check out this great article by @VentureHarbour that highlights the 10 Best Free (or Cheap) All-in-One Marketing & Sales CRM Platforms! https://t.co/tBJuKBSz3Y#crm #customerservice

— HelpSquad (@helpsquadusa) December 5, 2019
6. Use Feedback Apps for Brick-and-Mortar Businesses
Brands are viewed more favorably by 77% of consumers if they proactively invite and accept customer feedback (Microsoft).
Customers respect and appreciate brands that respect and appreciate them. So, ask them for their feedback!
Not only should you be asking for it, but you should also be asking for it at the most important touchpoints in their journey.
That means you, too, Brick-and-Mortars!
While we all know there are tons of options for collecting customer feedback online, do not neglect to obtain on the spot feedback from customers when they are in-store.
Consider installing a survey kiosk at your reception desk or check out counter. 
A survey kiosk will provide you with an in-depth view of your customers' experiences in real-time, while offering A.I. driven pain point solutions.
Thus, you'll be able to identify and rectify any issues before they even leave the building.
Now, that's what I call customer service tracking!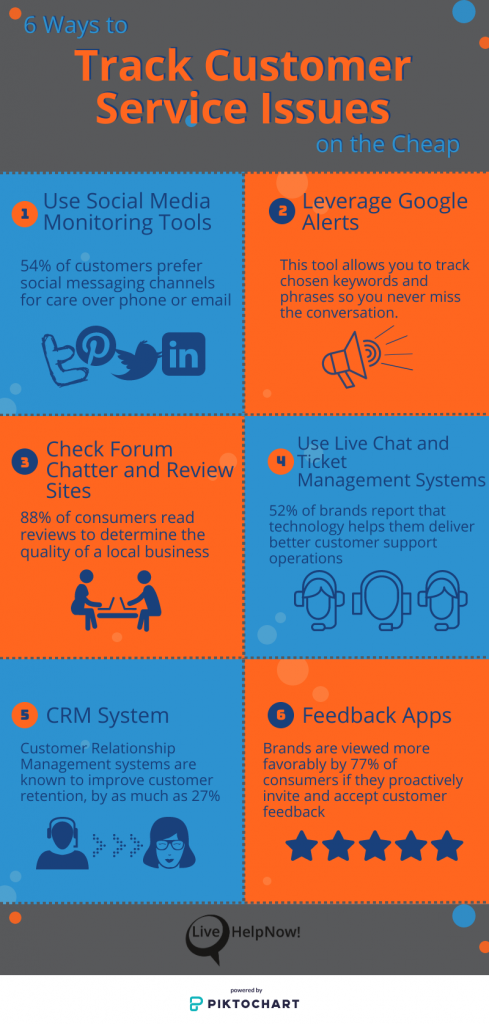 For more business tips and customer service advice like LiveHelpNow on Facebook or follow our business page on LinkedIn.
Originally published Apr. 24, 2012