In today's digital world, customer service is a race against the clock. Responsiveness to customer inquiries is critical, and instant gratification makes those customers want answers faster than ever before.
According to Convince & Convert, the average response time to customer inquiries via social media is 10 hours. E-mail response is even slower, clocking in at a response time of over 12 hours.
When the most critical contact point for incoming leads is only a couple minutes, how can companies possibly win business with such a small window of opportunity?
Live Chat Support Brings Personable, Real-Time Customer Service to Every Business
Live chat support is today's top solution for connecting with customers when time is of the essence. It brings multiple benefits to both B2B and B2C companies, and these 6 reasons demonstrate how this product can boost business and build better relationships with clientele.
Reason #1: Live Chat Support Reduces Customer Effort
You're in a hurry and want to ask a question about a product on a website. You have two choices:
Fumble around and find your phone. Dial the number listed on the website. Re-dial because you hit the wrong key. Wait through the initial prompter to find out which number you need to press to talk with a representative. Hear the annoying "we're experiencing an unusually high call volume" response message as you sit on the phone for another 20 minutes. You finally connect with a representative who puts you on hold to find out your answer.


You click "chat now", enter your name, and wait a minute for someone to chat with you in real time.
Most customers will likely pick choice number 2.
Why?
Because it's easy.
Live chat support won't make your customer jump through unnecessary hoops to talk to a representative. With a couple clicks of a button, your potential customer is only minutes away from speaking to someone with nearly zero effort involved.
Reason #2: It Gives Your Company an Edge over the Competition
While live chat support is certainly becoming mainstream, not every business offers this solution to their customers.
If you are looking for a way to one-up the competition and even convince their customer base to choose you, make the decision easy with live chat support. Your willingness to provide top-notch customer service will shine through with a convenient chat option.
Reason #3: Live Chat Support is Reliable
Can you hear me now?
With live chat support, there's no need to worry about faulty phone service or other complications ruining the conversation.
When you work with a company like LiveHelpNow, you'll see the real difference in quality with our chat support products. If there comes a time when the live chat support isn't working properly, customers have praised us for our personalized and fast customer service. It is the job of a live chat agent to provide customer support that is both personal and reliable. 
Reason #4: Customers Love Live Chat Support—Even More Than Social Media
A survey conducted by J.D. Power shows that live chat is the leading contact source for customer support. 42% of wireless carrier customers choose live chat support, while 23% use e-mail and 16% turn to social media.
Reason #5: Live Chat Brings Proven Customer Satisfaction
The same survey indicated that higher levels of satisfaction with online chat stem from several reasons. First, it's efficient—you virtually skip long wait times on the phone.
Second, it's immediate. With the average human attention span coming in around 8 seconds, you can't get much faster than immediate response time.
According to eDigital's customer service benchmark, live chat has the highest satisfaction rate for customer service compared to any other avenue.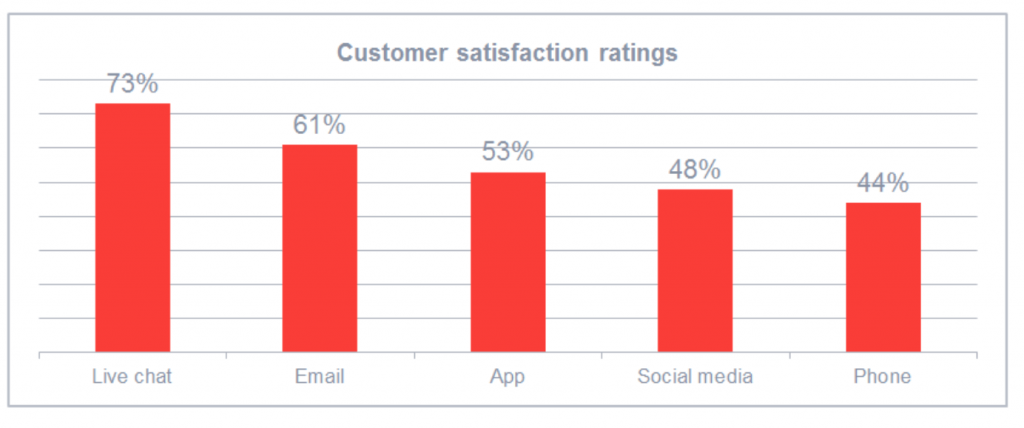 Reason #6: 90% of Customers Consider Live Chat Support Helpful
According to an ATG Global Consumer Trend study, 90% of customers think live chat support is helpful. This product even boosts customer confidence, with 63% of visitors more likely to return to your company website when a live chat function is in place.
Choose LiveHelpNow! For Live Chat Support
LiveHelpNow! makes it easy to build real customer relationships with live chat support and other smart technology products. Chat with us by clicking on the blue "Questions?" box on the right-hand corner of your screen, or explore our live chat products page for more information.