"It's hard to make a difference when you can't find your keys"
It's hard to make a difference when you can't find your keys – one of my favourite #book titles. So true, Marilyn pic.twitter.com/QRwy0u9L4H

— Juliet Landau-Pope (@jlpcoach) April 8, 2017
We love this book about organization and order; its title truly delivers a really great point – it's hard to accomplish great things without the right tools.
It's hard to deliver a superior customer service experience if your email box is full, unorganized, and is hard to navigate.
If that ever happened to you – read on.
We explain everything you need to know about the ticket management system or helpdesk suite – a unique tool that organizes, keeps track, and manages all your customer service communications.
What is a Ticket Management System?
Here at LiveHelpNow we offer the ticketing management system as one of the many customer support tools we develop.

You can get the helpdesk system with or without other customer service software such as live chat and FAQ builder. Either way, it can be an extremely helpful addition to your customer support tool arsenal.
Email remains one of the most popular forms of communication when it comes to customer service.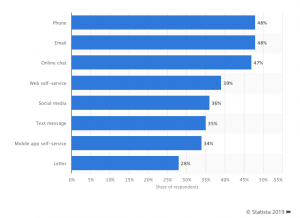 Statistics show that an average office worker receives 121 emails per day.

So it really is a no brainer that a company that receives a substantial number of email communications employs a tool that keeps all communications organized.
The ticket management system is much more than an e-mail organizer, however.
Helpdesk suite integrates with the company's website and puts all parts of the puzzle in one convenient place. All of the customer service communications – emails, troubleshooting forms, text, social media, and even voice messages.
A ticket system is better than many other methods of dealing with customer questions or reported issues. It keeps a history log, a status update, any notes, comments, and resolution records, all in one place.
Once a customer sends an email or fills out a form on a company's website, the communication usually goes into one general email inbox.
Without a helpdesk tool, there is really no way to make sure that tickets are read by the right person. There is no way to check or track whether the customer's problem or issue has been fixed. Because all the messages go into the same pot it can be difficult to manage this pool.
In addition, even if the problem is fixed, nobody knows if the person who sent in the email has received any information about the issue at hand.  That can be frustrating to customers and employees.
A ticket management system, on the other hand, is specifically designed to organize issues as they are reported and keeps track of all fixes made.
Key Features of Ticket Management Systems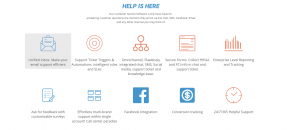 1. Intelligent Inbox
With the ticket management system, you have the option to create a unified inbox.
Emails that customers send you are turned into trackable tickets that include attached files and keep conversations threaded together.
You can send customers automated ticket status notifications that include your company messaging.
You can manage support workflows manually or automatically with ticket triggers.
Simple email forwarding rule to your existing support inboxes puts all of your customer emails in one convenient dashboard.
If your site includes web forms for inquiries that you'd like to handle as tickets then the email submissions they generate can also be managed via email-to-ticket integration.
Support your brand by adding your company logo and messaging to the ticket submission form.
2. Ticket Triggers
This feature allows you to set parameters within the system to direct messages to the right place.
Automatic ticket assignment to the right agents based on the email subject, email body, email source, ticket category, and many other possible conditions.
Trigger changes to ticket status, priority, category, and other ticket attributes automatically.
You can schedule your ticket triggers for specific time periods and days of the week.
3. Whisper technology
Just like with live chat, ticketing management system allows external watchers to monitor communications.
This feature helps with training, proper supervision, and quality control.
Tickets can be reassigned if need to.

If a ticket addresses various issues that require answers from different departments, agents can take turns answering the questions, transferring the ticket, and moving it along.
4. History Log
Similarly to the live chat history log, this feature allows agents to review everything connected to the customer inquiry – notes, communications, comments, resolutions, prior live chats etc. It really makes the ticketing management system a true problem tracking solution.
Review the history log of all interaction related to the ticket, including any past chats.
Monitor all cross-department interactions, transfers, and resolutions
Open ticket reminders allow for automatic ticket management
5. Multi-Brand Support
Managing more than one brand can get confusing, especially with multi-channel communications in place.
Forward each brand's email to your account to bring email communication into the platform.
Each incoming email will follow specific rules set up for each brand as far as routing and automation.
Setup email templates for each brand to carry the brand's image and language.
The ticket management system employes various integration technologies. They connect all of your customer support channels. So implementing it into your daily customer service management is essential for saving time and resources when it comes to client inquiries.
And because as we say here at Live Help Now, waiting is for bus stops and lobbies.