What is more important in business – experience or innovation? The answer is indisputably "both." 
When a company has been in business for a while, its teams get to know the industry in and out. They have all the know-how and the experience when it comes to serving their customers. But times change. Technology changes. Customers change. New generations bring new values, priorities, and expectations. And when it comes to customer experience, companies must keep all of that in mind. 
On June 17th, LiveHelpNow joined two great teams to co-host a customer experience webinar. Our COO Jason O'Neill led the discussion with Marc Vasquez, Global Director of Ecommerce at Ideal Tridon, Annie Gray, LiveHelpNow's Director of Customer Success, and Benjamin Arp, B2B eCommerce Advisor from Miva. Together we discussed tools, strategies, and everything customer experience – from pre-purchase to re-purchase. Here is what we learned through this insightful customer experience webinar. 
The Challenges of Customer Journeys
Ideal Tridon is a supplier of stainless steel fittings and fastening solutions with a 100-year history. With decades of experience under its belt, the company knows its industry, its suppliers, and its customers well. But in the modern, fast-paced world full of digital interactions, changing customer expectations present challenges even to seasoned businesses. During the customer experience webinar, Vasquez discussed various challenges of modern customer journeys. He then explained how the company works to implement effective solutions to address these challenges.
When it comes to making online purchases, uncertainty presents a degree of risk. Customers need supplemental info when considering a purchase. Buyers need details, reassurance, and trustworthy, responsive support. All that comes into play when companies create, maintain, and update their websites. Vasquez stressed the importance of eliminating outdated support systems such as automated phone support. After all, no customer wants to spend time on hold or going through endless automated menu options. 
"Merchants need to create an outstanding experience that captures customers and keeps them moving through the purchase journey or risk losing them to the competition." Marc Vasquez, Global Director of Ecommerce at Ideal Tridon. 
ECommerce customers often face challenges that have to do with inventory updates, frequently asked questions, and consistency, speed, and quality of customer service. The solution, as Vasquez discussed during the customer experience webinar, lies in providing omnichannel support. 
Omnichannel Customer Support
Quality omnichannel customer support brings consistency and speed of connection with customers. It means that regardless of the channel customers use to connect, the company will provide unified and consistent service. 
A unified customer service platform – and in case of Ideal Tridon it is LiveHelpNow – will provide customer service agents with all the information they need.  According to Vasquez, Customer communication history, canned responses, and identifiers of customers' positions in the sales funnel are all essential factors when it comes to efficient omnichannel support.
"That holistic view really changes the game. It gives us so much more information that we wouldn't otherwise have access to." Marc Vasquez, Global Director of Ecommerce at Ideal Tridon. 
Equipping customer service agents with the right technology and information is what drives successful customer service. Creating a comprehensive knowledge base can help agents access information quickly and efficiently, solving customer problems and learning about common issues for future references. Omnichannel support platforms can also facilitate more positive relationships with customers. After all, if agents can see customers' entire history with the company agents can provide more tailored and personalized customer service. 
Vasquez stressed the importance of treating customer support not as something only done post-purchase. Instead, he urged the necessity of providing customer support through the entire customer journey – from pre-purchase to re-purchase. 
Personalized Customer Service
Modern customer interaction requires what some customer experience experts call extreme personalization. 
"80% of consumers are more likely to make a purchase from a brand that provides personalized experiences." Epsilon
Sending personalized emails, thanking customers, making live chat more personal – there are endless ways to personalize customer service. And the best part is there is no wrong choice here. Whether a company does all of it, or some personalization, every little touch matters because customers value personalized support. 
Once again, we come back to the omnichannel communication platform. Knowing each customer is key and the right tools can help companies do just that. Order uploads and updates on orders for customers, their page views, their place in the sales funnel, any and all interactions, data syncs from other CRM, and communication history from all channels – all those aid personalization. Vasquez stresses the importance of using these tools to personalize customer experiences.  
Most importantly, listening to each customer carefully will ensure personal communication. Being heard is one the most deep psychological desires all humans share. So show customers some love and listen up! Want some tips on how to do it most efficiently? Check out our Agent Handbook by clicking on the ink below. 
[fullcontrol title="Agent Handbook" subtitle="Best Practices for Customer Service Agents" linkurl="https://livehelpnow.net/agent-handbook" linktext="Click to view"]
Customer Feedback
Customer feedback is important. However, getting quality customer feedback is just the beginning. Listening and implementing it is an essential practice for every business. 
Benjamin Arp, B2B eCommerce Advisor from Miva, stressed the importance of customer feedback during the customer experience webinar. If customers repeatedly ask for the same information, it's a good sign that website information needs updating, he said. 
"Institutionalize repeated questions into your FAQ pages as well as in your Knowledge Base for agents to use in the future. Take that feedback and add it into the website. Add new experiences to the website, too. We get feedback from the customers and in exchange we provide them with improved functionality." Benjamin Arp, B2B eCommerce Advisor, Miva.
That improved functionality comes from active implementation of customer feedback. It can help shape things like product market fit. Customers are the ones using the products and services a company provides, so they are, after all, the best judges of their use and effectiveness. When releasing a new product or updating an existing one, recruiting customers as beta testers can help steer the development in the right direction. It can help a company discover what works and what does not and, eventually, make both the product and the customer experience better.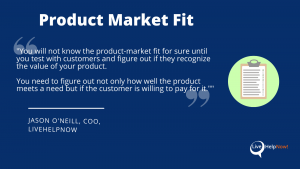 There are many ways to collect customer feedback. Tailored emails, post-chat bot surveys, phone or video call follow ups, and reviews are the most popular ones. Whatever avenue or combination of such a company uses,  there is no wrong way to proactively seek feedback. 
Agent Training 
Customer feedback, while steering the direction of future improvements, can also make service agents better at their job. That is extremely important because, as we know, happy agents mean happy customers. In addition to customer feedback, communication records can help with agent training. 
During our customer experience webinar we discussed using live chat transcripts as training guides. Useful especially for new agents, live chats transcripts can provide visual assessment on how the interaction went. Supervisors can then review them and provide feedback and training tips to agents.
Another training tool available with LiveHelpNow software is its whisper feature. When one agent 'whispers' into another agent's chat session the customer can't see the message, but the other agent can. Whispering effectively cuts down agent-to-agent chat transfers, allowing the same agent to help the customer from start to finish. In the event that a chat transfer is necessary, all transfer notes get sent as a whisper message to the next agent. In addition to providing valuable training information, the whisper feature can help new or less experienced agents to address issues with which they are not familiar. All without having to transfer the customer. 
"Not everyone is confident enough to take chats. Taking a chat can be nerve-racking, especially in the beginning. It feels like you're on a stage and you suddenly forget your lines. Knowing that people can whisper answers to me is very comforting." Annie Gray, LiveHelpNow's Director of Customer Success. 
SMS Communications
In the modern world, text communication is more common than ever. In fact, text is the most used form of communication for American adults under 50. Additionally, 91% of people who text prefer it over voicemail, texting is the most common cell phone activity, and a third of Americans prefer text to phone calls. (The Local Project)
"New generation is not picking up a phone to call. Text messaging is a game changer. If your business isn't using it right now I'd say you're late to the party. Over 30 percent of all of our interactions come through text. It gives customers a feeling of control.  They can send you a message at one in the morning knowing that they are already in the queue and will get a response as soon as the business opens." Marc Vasquez, Global Director of Ecommerce at Ideal Tridon.
Customers expect mobile optimization of websites and company communications. One LiveHelpNow customer saw a conversion of 22 percent of all chats into text in the first month of text feature implementation. In the second month that number grew to 33 percent, and then it remained in the 30-40 percent range.
"Your customers might not initially adapt to changing to the SMS, but we found that once you offer it, it just grows and grows in popularity. Repeat visitors to the site know that they can go about their life. They don't need to worry about missing an interaction with the company because they walked away from their computer or got distracted from the live chat." Annie Gray, LiveHelpNow's Director of Customer Success. 
Customer Experience Webinar
We have learned quite a few things of how a modern website, updated digital tools, and a customer-oriented attitude can help businesses. To learn more and to watch the entire Customer Experience Webinar: From Pre-purchase to Re-purchase, check out the video below. Happy learning!
LiveHelpNow Webinar from Miva on Vimeo.