Growing up, we heard from our parents and teachers to always say "thank you" as a sign of showing appreciation. Saying "thank you" shows that you respect and value other people's effort, which can help create a meaningful, lasting bond.
Everyone feels nice when other people value them. As a business entity, you need to know how to personalize your "thank you" messages to customers. In this article, we have taken the liberty to explain the art of saying "thank you" and how to implement it. Here are five ways you can personalize your "thank you" message
1. Send handwritten notes
We live in a digital world where almost everyone uses a mobile phone to communicate. This may have you wondering if handwritten notes still exist and have any impact? The answer to that is a resounding YES! 
Research shows that writing a handwritten note is more powerful than you think. Handwritten notes show that you care about your customers and have them in your thoughts. So how do you write a well-personalized handwritten note? Here are a few tips:
Start with the greetings
Nail it with the greetings by starting with the customer's name. This shows customers that you appreciate them supporting your business and that you specifically remember them.
Personalize, Personalize!
Be specific! Talk about a particular item or service they purchased. You can even mention the date they bought an item or service to show them that you genuinely know their history with your company and value their business. Personalization is everything.
Say Thank You
A "thank you" message might seem simple, but it has an emotional feel to it, especially when said in a personalized manner. It would help if you said "thank you" in handwritten cards as this might help you retain your existing customers and bring in referrals from them as they feel appreciated and at home.
Close on a positive note
In your closing remarks, remember not to sell your business or market yourself as this might damage the message. This is not the time to market yourself; instead, tell them that you appreciate them and wish them well.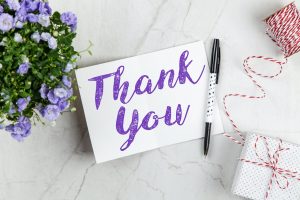 2. Business "thank you" emails
Not all customers will visit your business physically. In today's world, ecommerce enables people to shop online from the comfort of their home. With the pandemic, ongoing online buyers are increasing fast so you shouldn't ignore them.
The competition is harsh and appreciating your remote buyers with a thank you email is a good marketing strategy to turn them into loyal customers. Personalized "thank you" emails are a great way to invest in brand loyalty and customer retention.
So, when should you say "thank you"? Well, as simple as it might sound, it is not. Yeah, you can decide to send automated messages after every purchase, but this may harm your business in the long run as it might end up marked as a spam email.
Emails should be humanizing and have that personal touch. It is wise to interact with your visitors by having a signup form that helps you get to know their details such as their names, email, interests, address—all of which come in handy when saying "thank you".
After they sign up, you should thank them as part of your welcome email sequence. Remember to mention them by name and welcome them to the family. The key is in personalizing your message and not becoming a sales agent.
3. Use Videos to say "thank you"
The most significant advantage of a thank you video is the human aspect of it. People tend to appreciate it more when they see a fellow human being on the other side of the screen. Others prefer watching a short clip rather than reading text.
The best part is that you don't need expensive or fancy equipment to make a video that leaves an impact. With a mobile phone such as an iPhone and a tripod, you can create high-quality videos on your own.
Define your goals before making the video and gather all the details. There are many types of "thank you" videos. Examples include "thank you for your time," "thank you for buying or doing business with us,"and "thank you for agreeing to meet." And why not just send a random thank you video when customers least expect it?
As you decide which suits you best, build your confidence in front of the camera and have video editing software to add some magic to the final video. You can hire a video editor if need be.
You can send your appreciation video alongside the email or during your sales marketing campaign. Remember to personalize your thank you video and make it short and precise.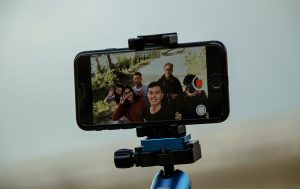 4. Give them a call
Almost everyone is connected to the internet through mobile data or a WIFI connection. People rarely make calls using landlines. As a business, you need to have a VoIP number to make it easier for your customers to get in touch. VoIP stands for Voice over Internet Protocol —it enables you to make and receive calls over an internet connection and you can use any device as long as it has internet.
As a rule of thumb, when making that call, remember their name and thank them for a specific thing to make them feel valued. You could say something in the lines of:
"Hello [Customer name], I'm [your name] calling you today to say Thank You for shopping with us and buying [product or service]. As a business, every customer matters, and it's customers like you that keep this business going. So again, [Customer First Name] thank you very much for your trust in [business name]."
Avoid making any further sales and presenting offers during this time. This is not a sales call, so stick to the purpose of expressing gratitude and just saying "thank you".
Conclusion
In your marketing strategy, you can always employ the art of saying "thank you" and be patient to see the results over time. At the end of the day, courtesy matters. A simple thank you message can grow your business, bring you more customers and build your brand loyalty.