LiveHelpNow is pleased to announce The LiveHelpNow Challenge,  a monthly ranking that measures the top 100 companies providing exceptional customer service-measured by LiveHelpNow's customer service metric score. Monitor your score and improve your service daily, with LiveHelpNow's customer service score metrics, conveniently placed in your administrator panel. If you have live chat, you already provide great service to your customers, but now your excellent service can be recognized and shared with the world! Take the challenge and give your company a chance to rise to the top of the list each month!
Why Take the Challenge?
Customer Service is still King:
Running a business has been completely revolutionized in the last 10 years by online shopping, search engines, mobile devices and the slow death of traditional advertising, but one thing has remained the same- customer service is still king.  No matter what type of business you have, your customers are looking for great service. The best way to find good service is to seek out reviews. The LiveHelpNow challenge is a certified review backed by statistics.
Built-in Bragging Rights
Our system metrics know when you've provided excellent service. When you make a promise to put customers first,  they don't have to take your word for it. Our official seal of approval means your customers can rest assured they will get the attention they need. Ranking among our top 100 companies offering superior service is a badge of honor that earns your customer's trust and loyalty.
The Metrics Motivate:
Our metrics monitor 50 different criteria that reveal a detailed picture of the current state of your customer service. Even if you aren't interested in participating in the LiveHelpNow challenge, the metrics still provide valuable information about the effectiveness the service you provide. The metrics can tell you exactly where your efforts are falling short and how to improve your service performance. The administrator panel displays a constant report of your real-time metrics, making improving your score an engaging challenge or a customer service game with immediate, visible results.
The Methodology
The LiveHelpNow Challenge metric score is calculated through an intelligent formula based on a combination of 50 criteria, in the following categories: customer survey results, resolution rates, operator effectiveness and proactive service. Wether your company is large or small you have a fair chance to make the top 100 list, since the formula fairly accounts for volume and scale.
How Do I Take the Challenge?
If you are already a LiveHelpNow customer using live chat, you are already enrolled in the challenge. You don't have to do anything but continue to do your best in offering excellent service. The metrics will do the rest.
Only the top ranking 100 companies will be listed in the challenge results. Your operator console will always display your service metrics for your benefit only. Regardless of your rank, if you wish not to be listed, please submit a ticket requesting your company name be removed from the list of other top companies providing superior customer service. Please provide your account number in the ticket details for confirmation.
If you aren't currently a LiveHelpNow customer, start a free trial today and take the challenge! See how your service measures up, and get vital insights on how to improve!
Where Are the Challenge Results?
Each month the LiveHelpNow Challenge results will be posted here on the blog and on the LiveHelpNow Challenge page. If you make the list we will notify you. Check back frequently to see your company proudly displayed! Remember to take your award code and paste it on your site as a testament to your exceptional service!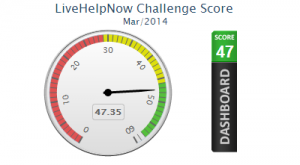 Every day LiveHelpNow dashboard will show your current customer service challenge score and what you need to do to improve it.
We dare you to take the LiveHelpNow Challenge today!