If you could have any superpower, which one would you pick? 
In business, perhaps, the power of premonition would come quite useful when making major decisions. Or would you prefer the ability to read customers' minds?
Unfortunately, we cannot yet see the future nor can we learn people's wants and needs through telepathy. But we can do the next best thing. And that is to hire smart, talented people. They can get us closer to success with their superpowered skills. 
And so we're beyond excited to announce the addition of two new team members to the LiveHelpNow family. On top of having their customer service superpowers, they are quite cool, fun people. We believe they will fit right into our quirky team and become irreplaceable in their roles of serving our customers. And that, in turn, will power up LiveHelpNow growth even further. 
And so we present to you the new Director of Customer Success, Annie Gray and Business Development Executive, Mark Cameron. 
Annie Gray: Making Someone's Day on A Global Scale. 
While LiveHelpNow is headquartered in Pennsylvania, United States, companies from all around the globe use our software. But now, we can truly say that LiveHelpNow is a global company. 
Originally from Edinburgh, Scotland, Annie joins our team from Barcelona, Spain. How cool is that?
As the Director of Customer Success she will lead the team that serves as primary contact with existing customers, managing all elements of the relationship. Annie is passionate about helping customers and has a track record of delighting them with excellent customer service and project management skills. That passion sparked when Annie started her very first job in a cafe at the age of 14. She fell in love with customer service and became determined to continue on that path. Over the years, she worked in Hospitality, Tourism, and then switched to Software as a Service industry (SaaS). 

Barcelona: Current home of Annie Gray
Annie is committed to providing memorable personalized experiences that not only meet, but exceed the customers wants and needs. In 2014, Annie graduated with Distinction in a Customer Service degree from Queen Margaret University in Edinburgh and has been growing her qualifications in this field ever since. Throughout her career Annie has focussed on building and nurturing long lasting relationships that help the customer achieve their goals. As part of our team, Annie will sure help LiveHelpNow growth skyrocket in no time. 
"I've always understood the importance of customer experience and how that one interaction with someone can change that person's whole day. I feel privileged to be able to make a living doing something that I genuinely love" (Annie Gray)
Moving to Spain right before the pandemic left Annie struck at home, unable to explore her new city. To keep herself entertained, Annie has taught herself to knit and embroider, while also learning Spanish and Catalan. Annie's dog Jura has been by her side the whole time and goes everywhere with her.  So don't be surprised if you see a snoring ball of fur in the background of her video calls.
While customer service is Annie's true superpower, she'd love to gain the ability to teleport. In the pandemic it would come quite handy, she says, as visiting her family in Scotland could happen in a jiffy.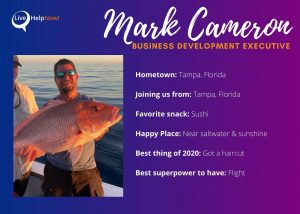 Mark Cameron: Bringing Technology and Psychology Together. 
When Mark was a young boy, he would take three broken radios apart and make one that works. That passion for technology, together with his curiosity for human mind and behavior, is what defined his career path.
While Mark still resides in his hometown of Tampa, Florida, it's not for the lack of travel. Mark could just as well sing the Johnny Cash song because he's truly "been everywhere." When he started his sales career he reached some far away lands, from South Africa, to Australia, throughout the UK, Ireland, and New Zealand, just to name a few. 

Tampa: Current home of Mark Cameron
But not before he pursued his passion for technology, got a BA in Psychology from the University of Central Florida, got a SCRUM Master certification, and started his own web development agency. What took Mark around the world, away from his computer, and to a more customer focused role was his love and understanding of people.  
As the business development executive at LiveHelpNow, Mark will be responsible for pursuing new business leads for the LiveHelpNow growth. Mark will work closely with customers and our customer success team. In his new role he will surely get to use all those exceptional interpersonal and relationship-building skills, which he has developed and perfected throughout his career. 
"I am extremely excited to work with LiveHelpNow. Everyone has been so nice and the platform is awesome. I am looking forward to growing with the company and doing big things with the LiveHelpNow team." (Mark Cameron)
Having lived in Florida all his life, Mark naturally loves water and all the activities associated with it, whether it is fishing, surfing, scuba diving, or wakeboarding. Together with his wife Ricci, Mark is a proud owner of two dogs, four cats, five flying squirrels, and one grey squirrel. Yep, squirrels! Apparently, a full nest of them fell out of a tree and Mark came to their rescue, nursing them all back to health. 
While Mark's superpower allows him to truly understand people and address their needs, if he could pick another one it would be the power of flight. The reason is because he would not have to sit in traffic and it would also be a ton of fun. We agree wholeheartedly (and we also wonder if the flying squirrels gave them the idea.)
LiveHelpNow Growth Spurt: Powered by People
2020 has not been easy for anyone. But it taught us one thing – we can get through anything. We can adopt, adjust, and power on. Most importantly, we can come together when we need to. And thanks to modern technology remote work is more possible than ever we can do that from anywhere, from Barcelona to Tampa. 
We all have superpowers, be it the magic of amazing people skills, understanding customer psychology, or the ability to personalize service using common traits humans share. 
So as we set off to further LiveHelpNow's growth, we remember that while we cannot teleport, fly, or read anyone's mind, we can do so much more by simply being human.