Even before the COVID-19 pandemic, more and more entrepreneurs were exploring the options of remote online business. In a 2019 survey conducted by Buffer, the data showed that 31% of respondents were fully remote companies and 91% of the business owners said they always intend to support remote work. 
This is because running a remote online business provides huge benefits, including improved employee productivity, less time spent commuting, and fewer expenses. 
However, launching a remote online business still presents a few challenges. Fortunately, there are tools to help with everything, from team collaboration and communication to project and expense management.
In this article, we'll be taking a look at the five types of tools needed to start a remote online business in 2021. 
1. Help Desk Tools 
Keeping customers satisfied should be one of your biggest priorities. You can't be on-hand 24/7 to answer all your customer queries. But there are tools available around the clock that also solve customer issues and nudge them closer towards a conversion. 
Consider real-time communications across all platforms as some customers might elect to reach out via social media rather than the expected channels like live chat, email, or phone. 
The more ways a company offers for customers to reach out, the better. Additionally, a true omnichannel system ensures smooth and efficient communication. It maintains a consistent and effortless experience from one channel to another. In other words, no matter what channel a customer uses to communicate, all channels work as one consistent stream of communication.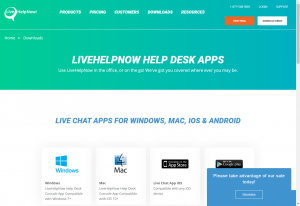 LiveHelpNow, an omnichannel customer support software, helps contact centers handle multiple requests in real-time. It's easy to use and also has SMS functionalities and social network integrations. The platform is suited to all types of businesses with varying budgets. 
2. Communication Tools 
Communication is the foundation to success at any business, whether it's online or offline. Because working remotely can make communication trickier, it's important that you use communication tools that bring your team together in one place. 
Good communication tools include Slack, which acts as a centralized hub for remote teams. Slack allows for video calling, as well as file sharing, and it comes with a number of additional apps that enhance the experience.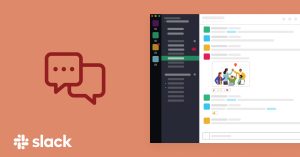 If you suspect your remote team will need more advanced communication tools, you could create a customized messaging platform with a chat API or SDK. This type of tool will be great for when team members just need to fire off instant messages to each other in real-time to get information across quickly. 
Tip: If your company will come into contact with individuals' personal protected health information, make sure your communication tools are HIPAA-compliant.
3. Remote Meeting Tools 
Even when your team is working remotely, team meetings still need to go ahead. 
Remote meeting tools allow you to hold remote presentations and group video calls. It's really important to find ones that offer good bandwidth, and which come with a number of additional features, such as the ability to annotate your presentation, the ability to record your meeting, and even the ability to participate in live chat.
Zoom is one of the most popular remote meeting tools of 2020. It's easy to use and it's essentially a standard video conferencing software that comes with many popular key features, including real-time chat and screen sharing. 
Other options include Skype and Google Hangouts. 
4. Project Management Tools 
One of the hardest challenges remote online businesses are presented with is managing projects and improving agility. In fact, a study from the Project Management Institute showed that only 21% of organizations use standardized project management practices throughout the entire organization.
Coordinating tasks and responsibilities, delegating roles and making sure that everyone stays on track is a real issue if you've got team members scattered across the world in different time zones. Project managers have their job cut out for them in a remote setting. Choosing the right tools can help make their daily interactions with their teams go much smoother. 
A good project management tool needs to act as a one-stop-shop for all your projects so that each team member can access everything he or she needs. It should also simplify your projects (and not make them harder). It should come with key features, including the ability to track KPIs and reporting. 
There are a number of project management tools on the market right now. A standout choice is Asana, a cloud-based tool that makes it super easy for your team members to track their work, collaborate and stay on top of tasks. Asana also lets you pull and share pictures from other apps, while a search function makes it easy for everyone to find what they're looking for.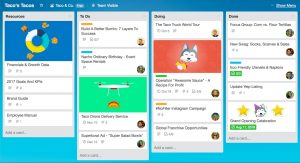 Trello, meanwhile, is another popular project management tool that offers cross-platform support. It's also cloud-based, can be accessed via a smartphone, tablet or desktop computer, and it's especially useful for customizing your workflows and delegating tasks. It also comes with task cards that are great for helping teams stay on track. 
5. Time Management Tools 
Not everyone is the best at keeping track of their time. If you happen to hire remote workers who need someone to help them with their team tracking, it's a good idea to use time management tools.
Are you Serious About Time?

Effective time management is the need of the hour. It is the starting point for anyone chasing work-life balance. Here are 5 time management tools that may help you in managing time for remote work.

𝗙𝗨𝗟𝗟 POST 𝗛𝗘𝗥𝗘 👇 https://t.co/hr0MAPRUa5 pic.twitter.com/Iz1DeKYXZN

— Work is Dead (@workisdead_) June 9, 2020
Time management tools help you and your team define your daily and weekly goals, schedule your days, prioritize your tasks and record how you've spent your time. They also give you a complete overview of what needs to be done and by what time. Key features they should come with include timers and calendars, as well as extras such as habit tracking tools. 
Some of the best time management tools on the market today include Toggl. This time management tool integrates with a variety of project management tools and it allows you to track unlimited projects. It also comes with reports that feature team progress and both offline and online tracking. 
Another great resource is Time Doctor, which helps to monitor employee productivity. It includes keystroke logging, screenshot and internet usage tracking features.
Other time management tools include Harvest, which is especially useful for the business owner who needs a tool that records time and helps them bill their employees accordingly. As well as ProofHub, a piece of online proofing software that's used by the likes of Disney and NASA. 
Conclusion 
Now you know what remote tools you need in order to start a remote business in 2021.  The next step is to start putting a team together. Then, finalize your choice of tools and help your team with the onboarding process so that all employees can familiarise themselves with how they work.