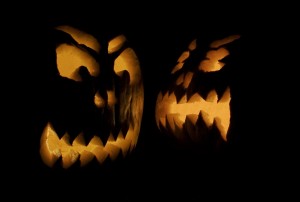 According to the National Retail Federation 71.5 % Americans will spend almost $8 billion during Halloween in 2012.
For any kind of business, big or small, online or brick and mortar, Halloween represents a bonanza that can boost your revenues this quarter.
Are you prepared for it?
Some businesses- bakeries, florists, gift shops, online retailers, costume stores, restaurants- will be able to take advantage of Halloween in obvious and direct ways.
Other businesses that operate in a different niche- for example, a car dealership or a law firm will have to be more creative to take advantage of the festival.
No matter what your niche is, we got your back with these 7 tips
1. Decorate websites and store locations
Halloween is one of those festivals when you can unleash your creativity and dress up your real or virtual business location. If you are a brick and mortar business start thinking beyond the odd carved pumpkin.
And don't forget your website. Add goblins or lanterns to your header or footer image. Change the color scheme. Add iconic characters that people can identify with your business.
How about a hulking Neptune with his trident on a site that rents out boats?
2. Customize other things related to branding
Google is the prime example of this concept – they have a doodle for just about everything. You may not be Google, but you can have some fun with your logo, or even with other branding elements
So if you are sending out mailers or making flyers, why not make them Halloween themed? Ditto with the design of newsletters: it doesn't take much time to whip up an appropriate design (take the design from point #1) and change the language from your usual tone (unless you are running a haunted house, in which case you don't need to change anything.)
3. Offer special Halloween discounts
Discounts at Halloween are a great way to encourage customers to spend more. Depending on your business, you can even run special sales- pastries that look like chopped fingers, T-shirts with ghouls and zombies and werewolves on them or  soaps shaped like Count Dracula.
Take care while setting the level of discounts, though. If you offer too deep a discount, you can end up losing money even if you have moved large volumes off your shelves.
4. Tie up with other businesses
If you run a garage or a hardware shop you won't have as many direct opportunities to give Halloween themed offers as a cake shop would have. The same thing applies to architects or lawyers or credit card companies.
In that case, you can tie up with another company and give your own customers discount coupons that they can redeem for anything from candies to costumes.
5. Host a costume party or a meetup
While it's a good thing to take advantage of the marketing opportunity of Halloween make sure you haven't neglected the important task of  thanking your loyal customer for their business.
Invite your employees, your vendors and suppliers to this event as well. Have a good time with everyone, and enjoy the moment. Acknowledging the people who made your success possible is sometimes the best way to build your brand. After Halloween, post photos of the event on Facebook and write up a blog post.
Halloween is one of those times when you can show people that you are not merely a faceless, monolithic company.In the long run, that's priceless.
6. Hand out gift bags
Along with discounts, you can also offer customized gifts or goodie bags to customers. Wrap them up nicely, put a customized URL or a custom QR code on the packaging and you are all set.
The URL can lead to a special Halloween offers page, or a specially built landing page, or even to your Facebook page or Twitter profile.
7. Create a Halloween themed contest on your Facebook page
If most of your customers are present on Facebook you can use the platform in a number of ways to engage with your fans. Run a contest asking fans to post photos of themselves in costume. If you are willing to go a little further, create an online treasure hunt, or do up a house of horrors thing.
Gamification is one of the best ways for small businesses to improve both employee and customer engagement and Halloween is all about spooky games.
What are you doing this Halloween?