Changing customer expectations are driving a seismic shift in the retail landscape. With only a few taps, consumers today can access a wide range of on-demand products and services, and they expect their purchases to be tailored to their needs with fast delivery. 
Convenience is now taken to a whole new level by today's consumers – and it is completely altering the way businesses operate.
On-demand economies show how a whole economy works, from companies to consumers. Customers are now at the centre of all attention regardless of the product or service. As a sustainable model for satisfying the needs of next-generation consumers, the on-demand economy dominates the tech industry. 
People's mindsets and methods have all changed as a result of the COVID-19 pandemic, and we are still in a dilemma about what normalcy is. Business models have become radically altered as a result of this outbreak. Every industry that has resumed services is focused on meeting customers' demands.
In 2016, 22.4 million people used on-demand services, accounting for $56.7 billion in spending, as the Harvard Business Review reported. There has been an increase in on-demand players entering the market as a result. Usually, these on-demand platforms come in the form of app-based digital marketplaces that allow consumers to access the services they need on their own terms.
An Overview of On-demand Economy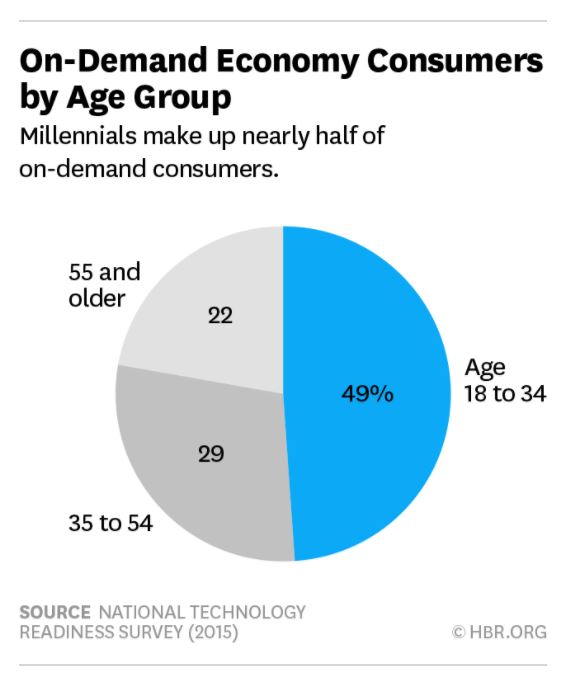 Source: Winnesota Regional Transportation 
Through a series of transformations, businesses have flourished, marketed, and presented themselves. The e-commerce journey began with the evolution of the Internet that opened the gates for on-demand business models. Mobile app versions of these websites have emerged with the advent of smartphones, resulting in this new concept of the on-demand economy.
The term "on-demand" suggests that the on-demand economy is a system for coordinating vendors and clients only when specific tasks need to be completed. In this economy, companies offering digital technology products and services cater to customer needs by providing immediate access.
On-demand economies are gaining ground rapidly with their convenience, speed, and efficiency. Statisticians estimate that 22.4 million consumers annually choose this system, spending an astonishing $58 billion on it.
Here we can consider how Uber and Airbnb offer convenient ways for consumers to rent a cab or book accommodations. 
In fact, after witnessing the major success of Uber, transportation business owners are willing to revamp their existing business models to enjoy the same success. Additionally, we are all familiar with popular platforms in this category. Numerous transportation companies implement Eber, Cubetaxi, and Onde and accept online ride-booking requests and deliver a safe riding experience to customers. 
Here are some instances of the on-demand economy,
Ride-sharing platforms: Uber, Lyft, Ola

Marketplace for homestays: Airbnb

Grocery delivery players: Instacart, AmazonFresh

Media streaming website: Netflix, Amazon Prime 
We all know how the apps mentioned above have gained popularity across the globe and allow people to get things done in a minute. Now without any delay, let's throw some light on how customer service is revolutionized by introducing the on-demand economy. 
How Customer Behaviour Has Been Shaping 
Every on-demand service offers a convenience of speed that satisfies modern consumers' desire for instant results. Convenience is not just about immediate gratification, though. In the age of on-demand, companies can transform the customer experience through several tactics and technologies. We will discuss how the on-demand economy shapes consumer behavior and ensures instant delivery of services. 
Customers are More Demanding Than Even Before
Customers today have more specific demands in the on-demand economy and are less patient. Through the click of a button, companies accommodate the needs of local customers. The Internet has revolutionized online shopping and receiving news. The startup community is increasingly focused on taking advantage of the Internet'sInternet's ever-permeating reach and growth.
Here we can consider how restaurants and local stores allow customers to order products online and deliver them at their doorsteps. Moreover, customers also don't prefer to stand in a long queue to make payments, and this kind of demanding behavior compels business startups to revamp their operations. 
Engaging with Global Customers has Become Easier
Popular companies like Uber, Airbnb, Zomato all have a global presence. And what is the reason behind this success? How these companies have been reaching a global audience. The simple answer is technology. The question no longer is whether the on-demand economy will change the customer's habit because all of that is happening. 
The burning issue is how companies or global brands reach consumers in real-time and resolve their issues. For instance, chatbot. A chatbot can answer thousands of customers in real-time and allow the customer service department to focus on some important tasks. 
We all know how popular the Pizza company Domino's is, enabling customers to order a pizza through chatbots and making it even easier for customers to access its digital menu without opening the app or website. 
Flexible Pricing Plans to Access Goods
Consumers place a greater value on flexibility in accessing goods rather than owning products in today's society. A Goldman Sachs study admits that millennials are unlikely to purchase items like music and luxury items, instead choosing options that allow accessibility "without the burden of ownership" 
Consider Spotify's business model; the service does not own any songs but provides its subscribers with convenience and flexibility by allowing them to subscribe for a rolling monthly fee. 
Today's consumers do business this way. 
Option to Access Contactless Services
Increasingly, businesses are moving to online platforms because of the pandemic, and more customers prefer to shop online instead of visiting physical stores. Companies need to create innovative ways to meet customer expectations that promise to go above and beyond what they expect from you.
Approximately 37 percent of US respondents used contactless delivery more than usual, according to a May 2020 survey. Online-to-store purchases are also becoming more popular, with 29 percent of responding U.S. consumers stating they do this more frequently than normal.
On-demand delivery services such as DoorDash, GrubHub, and Uber Eats offer contactless delivery on everything from household essentials to food. And customers have accepted this concept with open arms due to safety results. 
Usage of Mobile Apps Foster On-demand Economy Success
A mobile app is, without a doubt, the most important aspect of digital transformation. Whether you are browsing, hiring, or doing a little shopping yourself, every service is available on mobile. In order to address this, companies are enhancing every single customer experience by leveraging in-app shopping, food delivery, lifestyle, and much more.
To address this, companies enhance every customer experience by leveraging in-app shopping, food delivery, lifestyle, and much more.
Refine Your Customer Service Practises to Give What They Want
Google and Amazon deliver information and products instantly, and it isn't easy to imagine how humans would survive without them. Today, customers frustrated by long load times, same-day shipping delays, or a lapsed customer service response can ruin a business.
In a nutshell, we're living in an era when consumers expect everything to be available on demand.