As much as we're all looking forward to the year 2020 to end, it's not over until the clock strikes midnight. 
Until then we still have some work to do. Holiday season is upon us and, as everything in 2020, it might be a bit different this year. 
The pandemic changed online behaviours and according to some studies the changes are here to stay. 
"The COVID-19 pandemic has forever changed online shopping behaviours, according to a survey of about 3,700 consumers in nine emerging and developed economies.The survey, entitled "COVID-19 and E-commerce", examined how the pandemic has changed the way consumers use e-commerce and digital solutions.

Following the pandemic, more than half of the survey's respondents now shop online more frequently and rely on the internet more for news, health-related information and digital entertainment." (UNCTAD)
The survey covered seven major countries. American companies have seen similar trends affect their markets. Online shopping increased dramatically as the pandemic started in March 2020 and remained high. 
According to a report by Statista, a high percentage of responders admitted that COVID-19 affected their online shopping behaviors.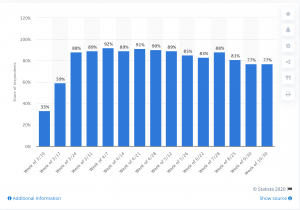 The upcoming holiday season is only going to continue the trend. Companies can expect increased holiday traffic to their websites. To help deal with it, we put together some tips to ensure smooth customer experience as well as stellar customer service. Regardless of the type of business a company runs these tips can help any website run smoother through the end of the year and beyond. 
1. Open All Floodgates: Implement Omnichannel Communications 
There is a common misconception that having multiple ways for customers to reach a company is a good enough way to fulfil their communication needs. It isn't enough during the non-peak time of the year and it is definitely not enough during the increased holiday traffic season. Omnichannel communications are the real key to smooth, effortless communications between the customers and the customer service agents. 
[ctt template="3″ link="09gca" via="yes" ]According to Customer Think statistics, 75% of consumers expect a consistent experience wherever they engage, be it web, social media web or in person. However, 65% of respondents are frustrated with inconsistent experiences when they are using multiple channels. (CustomerThink)[/ctt]
Just like the multichannel option, omnichannel customer service provides a variety of communication channels. However, it also maintains a consistent and effortless experience from one channel to another. In other words, no matter what channel a customer uses to communicate, all channels work as one consistent stream of communication. 
In an omnichannel setting, live chat, email, ticketing, calls, SMS, social media messaging and any other means of communication available all work as one. Below is LiveHelpNow's operational panel view. The agent, Jamie, connects with the customer and inquires if the customer would prefer a text communication as opposed to the live chat interchange. When the customer agrees, Jamie gets the customer's phone number and continues the conversation over text.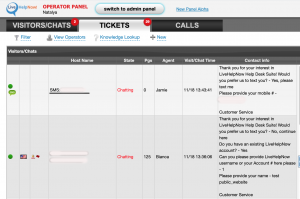 The same flawless communication can take place when the customer contacts the company at a different time or over different channels because all customer information is recorded in the system. Any agent at any time can access the communication history and continue the conversation having all information at his or her fingertips. 
[fullcontrol title="LiveHelpNow omnichannel Integrations " subtitle="Features than can help during peak holiday season" linkurl="https://livehelpnow.net/it-help-desk-software/" linktext="Learn more about LiveHelpNow omnichannel integrations"]
2. Bring in the Reinforcements: Add More Agents to Man the Live Chat
One thing customers (and everyone else) hate to do is wait. Especially when there is wrapping to do and holiday parties attend (over Zoom in 2020, of course!)
The best way to shorten the time a website visitor has to spend waiting to connect with an agent is to add more agents to man the communication channels. Not only will it speed up the process of customers connecting to operators during increased holiday traffic times, it will lighten the load of existing agents, preventing agent burnout. 
Adding operators and editing operator profiles in the LiveHelpNow account is very simple to do. The maximum number of operators a company can add depends on the number of active operator licenses. It' possible to only add agents for a certain period of time, like the holidays, and then return to the previous number of licences. 
To add an operator:

Login to your LiveHelpNow account

Select [Switch to admin panel] -> My Account -> Operators

Click [Add Operator] located at the top right

Fill out all required fields (marked with an *) and select [Add Operator] to save your settings
3. Be Proactive: Add Triggers to Website Browsing
Proactive customer service is one of the key components to positive customer experience. It also can help tremendously with managing increased holiday traffic on a website. 
With limited holiday gathering this year perhaps there will be fewer triggers when it comes to religion and politics at our holiday dinner tables. But triggers on your website can help speed up visitor's browsing sessions, all while bringing the company some extra cashflow. 
Triggers are settings in the website customer service management system. LiveHelpNow accounts get three triggers and each company is free to set them to specific options. For example, if customers are looking at a specific product on the website, the system can show them a discount code. It's a way to have the chat window pop-up with a promotion or information.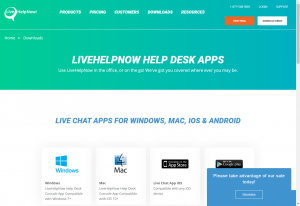 Other examples of triggers include shopping cart abandonment that prompts a reminder, prolonged time on a page that results in an inquiry to see if the customer has additional questions, and other holiday-related information. 
DID YOU KNOW?

LiveHelpNow has a Billboard feature! A rotation of up to 10 messages in the chat window can display promotional messages, inform of upcoming events, or display product info. 

To set it up: Go to Admin Panel > Chat System > Customization > Billboards. 
Displaying holiday-related messages on the home page can help manage increased holiday traffic. 
If you have any holiday-specific offers, show them off on the home page. Making special deals, discount codes, and gift cards accessible from various places on the website saves customers time and decreases the traffic load on the site.
Banners, call-to-action buttons, and other useful information that can speed up the time a customer spends on a website can be extremely helpful. Redirecting visitors to other pages from the home page is also a useful strategy. Additionally, placing a search window on the website can make it easier for customers to find exactly what they are looking for quickly.

4. Be Ready on All Fronts: Test Features and Social Media Integrations
Before the increased holiday traffic swamps websites and gets customer service agents busy, it's important to make sure everything works. Check on security features, plugins, and integrations. 
LiveHelpNow has quite a few of them, so if you have not explored these options yet, doing so before the holidays might be a good idea. As far as social media, LiveHelpNow is fully compatible with Facebook Messenger, which can be a very helpful addition to a company's communication arsenal. The more ways customers can contact a business, the better!

5. Oil All Gears: Make Sure Customer Service Is On Top of Its Game
Getting customer service agents ready for the increased holiday traffic can make or break the company's holiday profits. Ensure that all agents are properly trained, motivated and engaged throughout the season. 
Routing chats to the right department and agent will increase the speed of a customer inquiry. Pre-chat surveys, and instant responses to chats can help with that. Ensuring First Contact Resolution rates are high is also a successful strategy. All that can help make customer experience personal and have interactions run smoothly. 
Adding canned responses to the agents' tool arsenal can help everyone save time and respond to inquiries quickly and efficiently. Watch the video below to see LiveHelpNow canned responses at work. 
Training agents to be familiar and efficient with the Knowledge Database is another great way to manage increased holiday traffic. 
Managing Increased Holiday Traffic
The best way to ensure a successful holiday season for customers, website visitors, and customer service agents is to be prepared. Any of the above strategies can help run a website more efficiently as traffic increases. So roll up your sleeves and get ready. 2020 is almost over. We got this, people!