Imagine a billboard for your brand everywhere you go. 
One in the coffee shop.
One in the grocery store.
Two at your doctor's office.
Elleven at your industry convention.
What am I talking about? Your customers.
Your customers are the best billboards you can find for your business. And not just because of the number of them out there. And not even because they are the ones paying you (though both of these are amazing incentives). 
Because they are human. And they tell stories. And a story-telling human is the best marketing device there could be.
[ctt template="3″ link="veQIP" via="yes" ]According to Nielsen's, a consumer report agency, 92% of customers trust recommendations of someone they know over other means.[/ctt]
If you get your customers talking about your brand and telling stories about your amazing service, more customers will come your way.
That is just how humans operate.    
So how do we inspire our customers to not only spread the word about our business but also to tell engaging, captivating stories about their experiences?
Here are four steps to encourage customer-led storytelling.
1. Give them something to talk about
A few months ago I visited a friend in Phoenix. After a long day, I needed a quick pick-me-up, so I found the closest coffee drive-through. It happened to be a place called Dutch-Bros, a popular, as it turns out, west-coast coffee drive-through chain. 
Well, the pick-me-up happened before I even got my coffee. A girl with bright blue hair came out and greeted me at the curb of the drive-through; there was no standard drive-through intercom in place.
She commented on the shirt I was wearing, asked me how my night was going and informed me that since it was my first time at the establishment my order would be free. Both she and the girl at the window, who handed me my coffee, were extremely pleasant, vibrantly personal, and cheerfully amazing.
As I drove away I know that not only will I be coming back for more coffee the next day (I totally did, and even sat in 15-minute line, too),  I would have to tell this story of the experience. (Hence this little shout-out to Dutch-Bros Coffee Company).
Dutch brothers customer service is on point ? they have to be high 24/7 to be that happy/energetic

— 阝月茎 (@famousrm12) April 3, 2014
Giving your customers something to talk about is kind of a no brainer, but in order for your customers to talk about their amazing experiences you need to make those experiences amazing. 
The amount of advice on the topic is endless. Knowing what triggers your customers, offering pet-friendly services, and anticipating the needs of your customers are just a few ways to improve your customer experience.
---
Related Post: 12 Books That Will Turn You Into a Customer Experience Superstar    
---
Providing experience that shocks and awes your customers to the point where they just have to tell someone – that's is the goal of excellent customer experience.      
Chip Bell, a customer experience expert and recent participant of SmallBizCX19 calls this type of service value-unique. 
The surprise of a value-unique experience creates a powerful memory and a story ready to share. http://t.co/JNjufxlKcL

— Chip R. Bell (@ChipRBell) September 10, 2014
Value-unique service is simple, unexpected, and brand-fitted customer-centric acts that delight the customer in a unique, personal way. 
---
Related Post: Get whacky with it: Make your customer experience memorable
---
Because value-unique service is so uniquely personal, it makes the customers feel very special. Because of that, they are more likely to talk about the brand and provide story-based recommendations to more potential clients.                                                                                  
Bell encourages companies to get creative to the point of wacky with it and create memorable experiences customers want to talk about.
2. Provide a platform for storytelling 
Having the stories of your brand shared at dinner tables, coffee shops, and the office water-cooler is wonderful.
And if that happens there – great! yeah
But keep in mind that most of the feedback about your business will probably end up on the vast spaces of the online world.
People will share pictures on Instagram, write recommendations on facebook, and submit their thoughts on Yelp. With more social media outlets popping up every day, people can talk about your brand anywhere and everywhere.
So with so many places for people to share their thoughts, it only makes sense to provide them with a platform where they can share their stories. 
Such a strategy will not only give you an easier way to listen to what people are saying about your brand but also provide a designated space for them to share their stories.
Square, a digital payment system company, created video-series For Every Dream, a place where the company shares the success stories of customers who achieved their dreams using the company's technology.  
Dove Skincare company, true to its core values and the goal of empowering women everywhere, created the #MyBeautyMySay campaign to promote beauty and body image positivity. Women can share their stories on Youtube, Instagram, and other media to participate in the campaign. 
One way to connect customer-led stories of your brand is to create a hashtag. 
"I run to prove to any human in this universe that there are no limitations." @EliudKipchoge

A crazy dream come true — Eliud Kipchoge becomes the world's first to run a marathon in under two hours. #justdoit pic.twitter.com/12mVz1wbpd

— Nike (@Nike) October 12, 2019
Nike's famous #JustDoIt is a great example of how a company's slogan can become part of a storytelling strategy across many platforms.
Even allowing your customers to share their stories right in your organization's waiting room is a great strategy.
Baby photos at a pediatrician's office is a form of storytelling. And so is the autographed photo display of celebrity visitors at a local diner.
3. Stay engaged and collect stories
As a business in the customer experience industry, we love everything customer-related. We always keep an ear out for unique customer-led experience stories. 
The ones that come from online retailer Chewy.com are always some of our favorites and for a couple of reasons. 
One – they always involve pets, and if you know anything about us, we are pet lovers to the end. Two – this company always comes out on top with the little details that delight the customers.
How cute!!!! Thank you @Chewy ? ? #chewy pic.twitter.com/wvEsz3HUm9

— valerianoriegab (@valerianoriegab) October 20, 2019
And three – Chewy always stays engaged on social media to help customers, see what people are saying about the company, or just give out a shout out to their customers sharing stories about their experiences.
It was un-bear-lievable… nopawdy can resist a Chewy box! ???

— Chewy (@Chewy) October 16, 2019
If your customers have an experience worth sharing and have a place to do so, your next step is to listen and engage.
A company in search of customer-led stories should engage in social listening.
Finding out what customers are saying about you is a good move for two reasons:
If a customer has a problem and uses your handle on Twitter or other social media, you will be able to see the problem and have a chance to address it right away.
DM us with your order number we can help ?

— Glossier (@glossier) October 20, 2019
Keeping an eye out for reviews on sites like Yelp and TripAdvisor is also important as a timely reply can make a difference between losing a customer who will also spread negative words about your business and having a happy customer who will tell a positive story.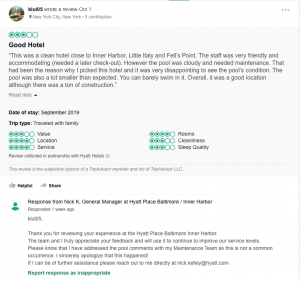 In addition to helping make customer experiences positive, collecting customer-led stories about good experiences is another benefit of social listening. 
There are many ways to collect real-life stories through talking to customers directly, recruiting your team members to share customer stories, and encouraging customers to tell you their stories, like in the examples of Dove Skin Care Company and Square above.
Social listening digital tools, like the one described in the video below, can also help you locate all the sources of customer-led stories and see what people are saying about your brand. 
4. Share the stories with the world
Last weekend I was walking in the mall when I saw this in the Motherhood Maternity storefront: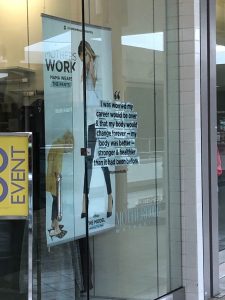 Hashtagged #Mymomtruth, this one-sentence story caught my attention not only because I'm always on a lookout for customer-led stories. But also because I'm a customer and a mother. 
The company not only found this story from one of its customers but also made a perfect placement for it to attract more customers. 
Collecting stories is half the job. Finding a perfect audience, perfect placement, and a perfect way to connect with customers is the other. 
One of the most unforgettable Super Bowl commercials of all time includes Always "Like a Girl", which tells a story of societal stereotypes and carried the message of female empowerment. Strong, relevant, and beautiful, this emotional ad demonstrates the power of a story. I doubt there is a woman who didn't connect to the message, and perhaps there are only a few men who didn't.
Ads that feel like stories are an impactful advertising tool. They work. According to some reports, 92% of consumers want ads to tell a story. 
Real-life customer-led stories incorporated into ads create relatable content that speaks to customers and creates a connection to the brand.
As we discussed above, establishing a platform for customer-led stories is a great strategy. 
Airbnb created a page on the company's website titled Stories from the Airbnb Community, where travelers and hosts can share their stories and experiences.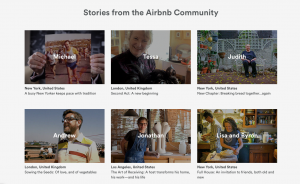 A small-town dog-friendly bar spreads the word about their outdoor patio by posting photos of the furry-visitors on the eatery's Facebook page.
Using the stories about your brand on the company's website, social media, in paid ads, or in the place of business itself, such as a waiting room or a storefront all prove to be great mediums for story visibility. 
Bottom Line
Storytelling is a tool that has connected humans since the beginning of time. Humans crave stories and when a company shares customer stories it creates a bridge between customers and the brand.
That makes the brand more relevant, more relatable, and more memorable.
So do you want your customers to be your walking billboard? Look for, listen to, and share their stories. They will love it. And so will your business. 
Q5 Recap. ? Want to learn more about storytelling? Here are some resources that you may find useful ⏬ #SEMrushChat pic.twitter.com/5AMPulP8zC

— SEMrush (@semrush) October 16, 2019