People love their pets.
According to a Harris Poll survey, 95% of all pet owners consider their pets to be members of the family.
The same study also found that pet owners show their love for their furry children through their wallets, reporting that they spend nearly $1,200 per year on items like treats, food, toys, and other pet expenses.
Some big brands are beginning to take notice to this untapped share of the buyer's market. 
Many companies have come to realize that their customers not only want a better experience for themselves but that they also want an experience that includes their dogs. 
These are the brands that are winning their customers' hearts one paw at a time.  
Uber Pet: The Rideshare Dog Customer Experience
Do you and your pup need a lift?
You're in luck. The rideshare giant is now answering the bark by bringing Uber Pet to a city near you. 
Uber has finally recognized its customers' growing demand for a fur-friendly rideshare option. 
In select U.S. cities, those that use the service as their main source of transportation can now safely and easily get their dog to the vet, dog park, or gran-paw's house for just a $3 to $5 surcharge.
If you are a fellow pet owner, you have probably experienced the challenges of taking your furry friend traveling. In this article from MONEY they describe how Uber will now charge just $5 to bring them along on your next ride! https://t.co/qBdmVLsVjC

— Qbox (@coraltreetech) October 14, 2019
Fido Fun, Food & Fantasy
When the Knoebels brand says their park is "fun for the whole family," they really mean it. 
America's largest free-admission amusement park encourages visitors to bring their four-legged friends.
Located in the middle of the Pennsylvania mountains, the tree-filled theme park is complete with walking trails, a campground & tons of good places to sniff.
The resort even allows dogs on some of the rides including the carousel, the boats, the train that circles the park and the antique driving cars. 
Knoebels ends each Summer with their popular "Doggie Dive" event, where attendees' dogs are welcomed for a day of fun in the sun at the Knoebels Crystal Pool. 
It's every dog family's dream destination. 
Paw-cation at Westin Hotels and Resorts
Have you ever seen those t-shirts that say, "I'd rather be with my dog."
There's a reason why that saying exists.
According to a report released by the dog-sitter network, Rover, 37% of respondents have skipped a vacation to stay at home with their dog instead. 
37% of people have skipped a vacation to stay at home with their dog instead. @RoverDotCom
Click To Tweet
Westin Hotels and Resorts is working to put a dent in that statistic by accepting pooches with open arms, and a pretty sweet welcome basket.
Not all of Westin's locations are pet-friendly (so check before you book). However, the ones that are pro-pooch go all-in when it comes to their dog customer experience.
Not only do guests' dogs get treats and toys upon arrival, but they also receive one of the famous "Westin Heavenly Dog Beds" to sleep on. 
Certain resort locations even tout dog-friendly restaurants complete with dog food menus.
Westin Hotels & Resorts welcome mid-size dogs and smaller, giving them the luxury and comfort of a plush Heavenly Dog Bed and special amenities, free of charge. #NationalDogDay #dtla #westin pic.twitter.com/x4SRZXaU4o

— Westin Bonaventure (@thebonaventure) August 26, 2018
Shake A Tail at Shake Shack
Speaking of dog food menus…
Shake Shack has been named one of the "Top 6 Dog-Friendly Restaurant Chains Across America" by Rover.com.
And, they have the dog food menu to prove it.
Moreover, statistics show that this dog-friendly burger joint is on to something.
A recent survey was conducted by The Kennel Club found that 97 percent of all dog-friendly businesses state that allowing canine companions into their business has added value directly or indirectly. 
97 percent of all dog-friendly businesses state that allowing canine companions into their business has added value directly or indirectly. @TheKennelClubUK
Click To Tweet
So, stop in, show your support, and let your dog enjoy a Pooch-ini® or a Bag O' Bones on the Shake Shack patio.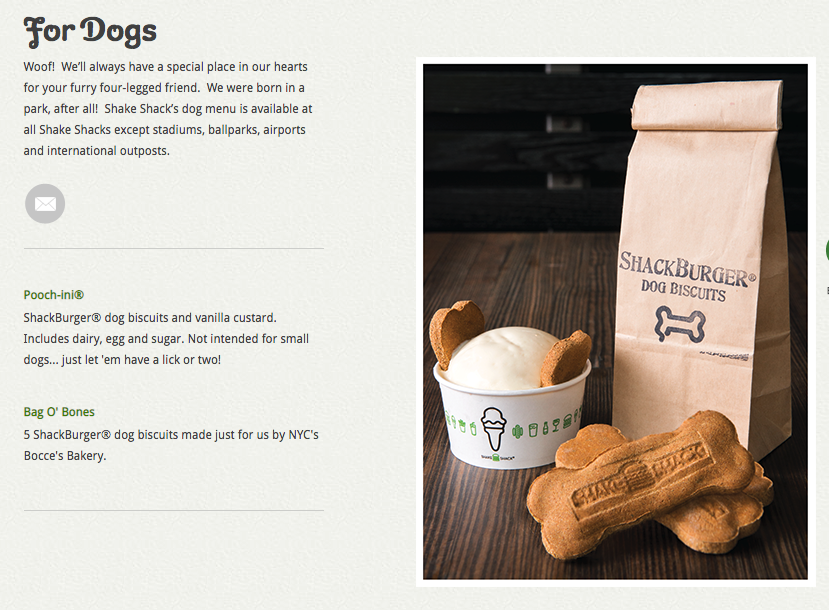 Check out Shake Shack's full menu here.
Chewy: The Dog Customer Experience Worth Howling About
It's no secret that Chewy.com is well-known for its stellar customer service and support.
(We've discussed their superhero-esque live chat support agents in our previous article, "4 Brands Delivering A Live Chat Customer Experience Worth Tweeting About.")
But, the brand doesn't just care about its paying customers.
They care about their furry customers, too.
When one pup's food was stolen off a Pennsylvania family's porch by a black bear, Chewy replaced it for free.
They'd never let a pooch go hungry.
Chewy even encourages customers to donate incorrectly shipped orders to local shelters instead of returning them.
Don't worry, they'll still give you a refund or send you a replacement at no cost.
For more business tips and customer service advice follow our business page on LinkedIn or Twitter.