Stores and shops stop being just stores and shops around the holidays. They become centers of the season's busy buzzing energy, That excitement and magic anticipation radiate from underneath the clerk's fingers as she wraps that perfect book someone will love. It sparkles in the reflections in the ornaments in the windows, surrounded by glowing lights. It dances with the aromas of cinnamon and sugar cookies…
Small businesses everywhere transform into holiday spirit leaders. Is your small business ready for the challenge of that responsibility? Fire up the reindeer slay and pack some of those Thanksgiving leftovers. We're going on a ride of getting ready for the holidays!
Small Business Holiday Challenges 2023
Remember how we dreamed about this time? The time when the collective uncertainty and anxiety of the pandemic would lift and we would return "back to normal." Well, while we never returned to our previous normal, we've arrived at the future without most COVID-19-related restrictions. The "new normal" we anticipated. And here small businesses face new challenges and have the aid of new solutions. Let's address some of both. 
Challenge 2023: Economic Uncertainty
"When we talk to retailers there's a lot of uncertainty," said Max Rhodes, CEO of Faire, an online wholesale marketplace many small retailers use to buy inventory. "The combination of higher inflation and rising interest rates are making consumers nervous which in turn makes retailers nervous. It continues to be a weird economy. The data looks good, but nobody feels good about it." (Small Business Holiday, MPR News, Nov 2023.)
For many retailers, the holidays can account for most of their annual sales. Reports predict holiday retail sales to increase between 3% and 4% in 2023, according to trade group the National Retail Federation. But the total value of those sales will grow more slowly because inflation has moderated. In 2022, sales jumped 5.3%, according to the NRF. (MPR News)
With rising costs, changes in consumer trends, and supply shortages, economic aftershocks of the pandemic continue through small business communities.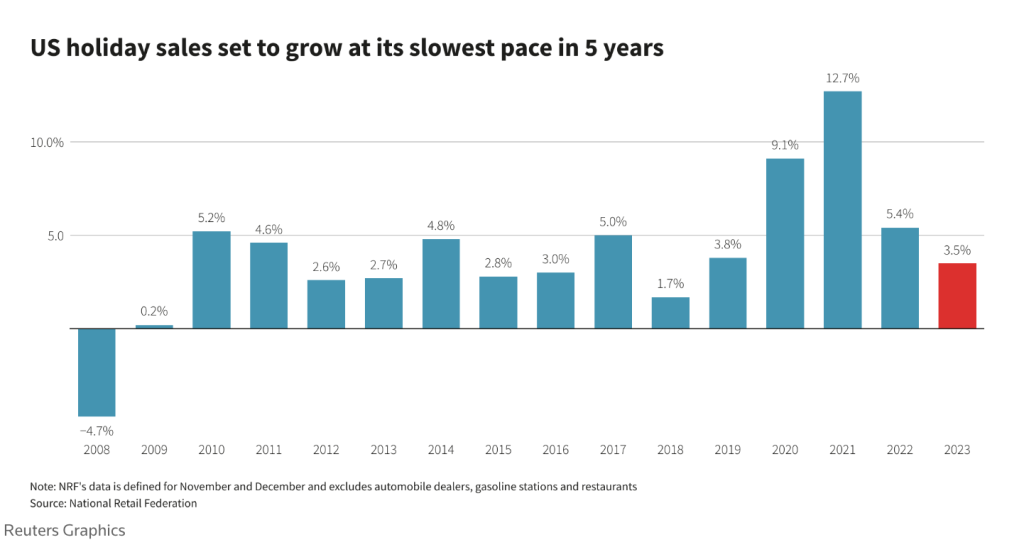 Consumers are more careful with their money. "We're not saying people won't spend; they will, but it's going to be in a different way," says Lori Zumwinkle, Accenture senior managing director and North America retail lead.
For example, this year more people report plans to buy materials to make gifts, "both as a cost-saving measure and a way to put more meaning into the gifts they give." (Forbes, Holiday Retail Growth Forecast, Nov. 2023)
Solution: Keep an Eye on Trends
Monitoring and following trends can help small businesses offer what their customers seek. Humans in the post-pandemic world look for meaningful connections. That desire threads through customer holiday behaviors. 
The homemade gift example mentioned above highlights the need for small businesses to accommodate customers' need for materials, tips, and assistance with DIY projects. The "Bright Future" trend caters to customers' optimistic demand for comfort items. 
"Shop owners are seeing "comfort" items sell well: high-end candles, plush stuffed animals for adults, all things sparkly (like disco balls), and anything Barbie- and Taylor Swift-related. "We're calling it a 'bright future' (trend) right now because there's so much heaviness in the world," said Rick Haase, owner of eight Patina gift shops in St. Paul and Minneapolis in Minnesota. "Bright and happy is really the trend that we're seeing as a whole, this kind of happy escapism and things that make you feel good about life." (MPR News.)
Online shopping trend returns with a new force this year. According to The Conference Board Holiday Spending Survey, 46% of consumers expect to purchase at least half of their gifts online in 2023. That number is up from 39% in 2022—and closer to the pandemic peak of 52% in 2020.

Gift cards, travel and experiences, as well as toys and games prevail in this year's holiday purchases, according to the report.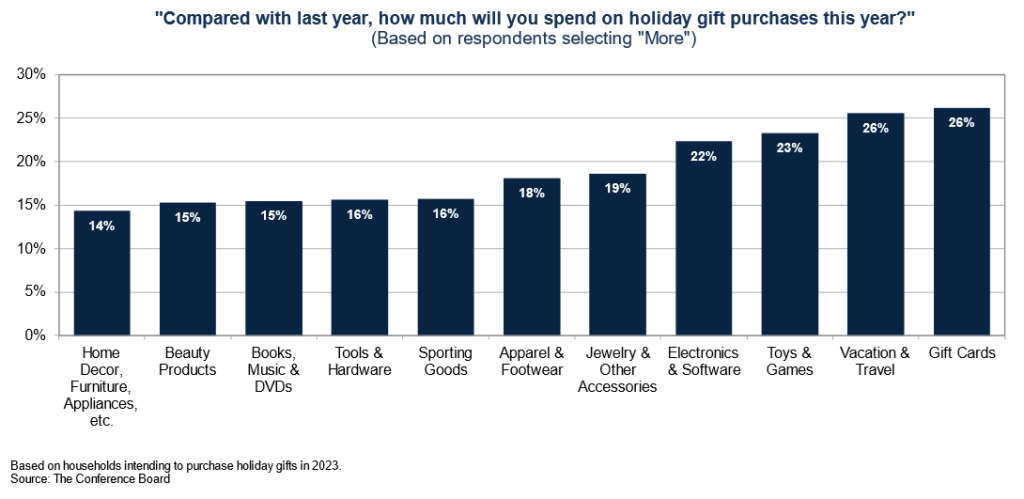 Challenge 2023: Hours, Staffing, and Employee Engagement
Busy sales floors and lines at the register are all good signs. But that means businesses must adjust their petitions to accommodate heightened demand. Employee engagement is another area that requires attention. Engaged employees create a happy customer base, while employee disengagement translates into poor work performance and subpar customer service. 
Solution: Adjusting Hours and Staffing
The U.S. Small Business Association offers the following tips to stay on top of holiday traffic. 
Consider adjusting your hours.

The holiday season will likely be your busiest time of the year. Extending your hours by opening earlier and closing later could have a big impact on sales.

Be prepared for crowds.

You'll want to plan for an influx of customers by stocking up on inventory. Pro tip: Checking last year's orders could give you a baseline idea of the items you'll need, from shipping supplies to branded gift cards for shoppers. Hiring seasonal employees is another effective way to account for higher demand.

Huddle up with your staff.

Now is the time to have a meeting with your employees. Remind them to greet each shopper when they enter and exit your business. Also, thank them and show appreciation for their work. After all, small business success is often a team effort.
As for that last point, employee engagement might need a bit of a booster during the holiday season. With employees' own holiday buzz to attend to, ensuring their job satisfaction is extremely important. After all, the vibe your employees bring to work will play a major role in the way they communicate with customers. 
Solution: Boost Employee Engagement with Seasonal Incentives
The greatest challenge small businesses face when it comes to employee engagement is the alignment of objectives. It is not common for employees to have their personal career ambitions aligned with the organizational goals. They do not view their individual growth in terms of the advancement of the organization. It's up to the management to create that essential connection. Small businesses can tackle this hurdle with an unconventional approach and foster an appealing work environment that is indulging for employees. 
Things to consider implementing: 
A positive work environment with empathy, gratitude, learning prospects, delegation, recognition, and respect for individuality. 

Massive scope for creativity and innovation that inspires employees to grow individually parallel to the advancement of the business.

Rewards and incentives. Holiday bonuses are always nice. Enhance the traditional seasonal boost with a bit of creativity. See some ideas for employee engagement during the holidays from

Virtual Holiday Party

. 
Read More On Employee Engagement Topics:
Remote Employee Engagement Strategies 
How to Motivate Contact Center Agents 
5 Ways to Make Employees – And Customers – Happy!
Challenge 2023: Social Media 
The rapidly changing social media preferences of consumers can be confusing. But with social media being an integral part of our lives, businesses must meet customers where they are and keep up. 

Solution: Focus on Meaningful Content, Find the Right Tools.
Navigating social media during the holidays can be a challenge, as time and effort run scarce, especially during the busy holiday season. Content creation, lead generation, customer support, and engagement with followers are all important parts of a successful small business social media strategy.  
As we discussed earlier, following trends can help businesses stay current and meet customer demands. The same strategy works with social media. Knowing your audience and their expectations can help find a successful direction for social media marketing. After all, creating personal connections, whether it's through social media or face-to-face interactions, remains the goal of the small business customer experience.
Social Media Post Ideas for Holidays lists some great ways businesses can connect with their audiences online. Among those are highlights of previous holiday creations, offering gift ideas, and community giving. Collaborating with fellow small businesses is a great way to connect with the community further. Examples of successful collaborations include shared event spaces, multi-artist studio co-ops, and influencer marketing. Cross-posting content relating to such collaboration can help increase social media viewership and engagement. 
When it comes to social media customer support, finding the right tools to manage the task is essential. When selecting customer communication software, social media integrations play an important role. Choose tools that help customer support agents effortlessly connect with customers via social media.
Challenge 2023: Customer Support Innovations
Staying on the topic of omnichannel customer support, let's touch on technological innovations in the customer service space. Clearly, recent tech innovations brought some efficiency-focused changes to customer service. But with the AI-powered benefits come some challenges as well. Building customer trust in AI is part of the process. 
Solution: Catering to Customers Digital Communications Needs
Companies must not only meet the demands of their client base but anticipate them to stay ahead, especially during the holidays. Faster and smoother communications, omnichannel options for effortless conversational messaging, and rapid troubleshooting are just some requirements for an outstanding customer experience The holiday season is the perfect time to showcase your customer care. This year, advanced ChatGPT-powered tools can help meet customer support demand during the busy season. For example, Hue the Chatbot can help divert some customer service inquiries and answer some common repetitive questions.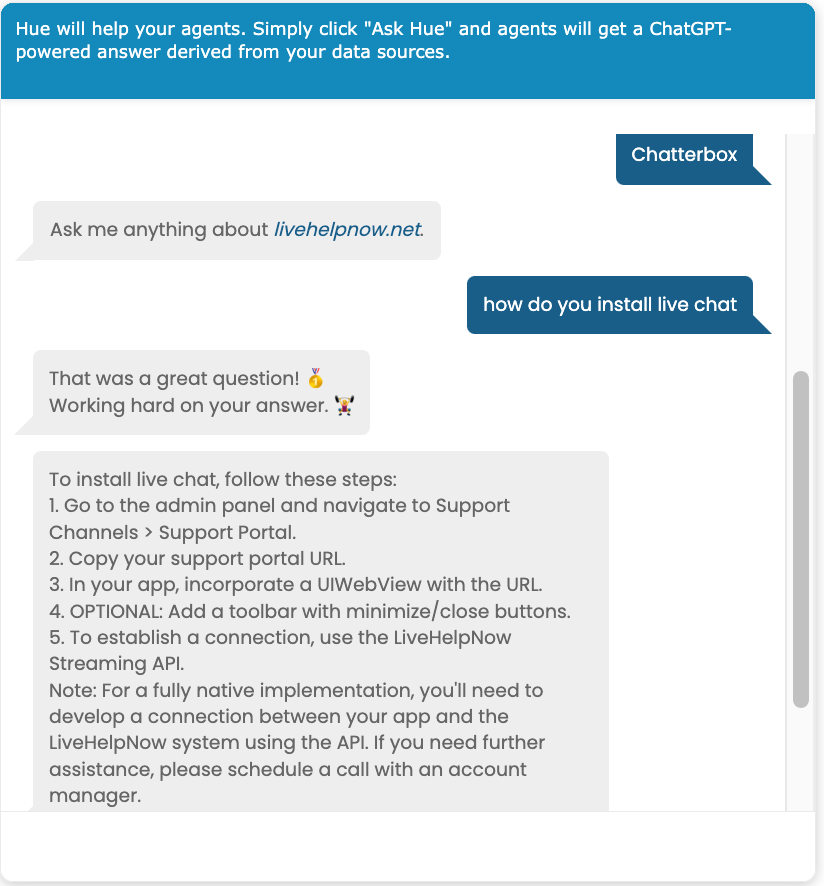 Implementing some AI tools can help with the goal of employee engagement we discussed earlier. If eliminating agent mistakes when assisting customers is a goal, some supplemental chatbot functions might make a big difference in customer service options. As an example, Tarrant County of Texas was able to reduce its call volume by 50 percent with the implementation of a chatbot on the government agency's website. 
Small Business Holiday Guide 2023
It's a busy time of the year, and we get it. In addition to the tips above, we put together a Small Business Holiday Guide. Complete with a checklist and resources, it can help get small businesses ready for a happy and wealthy holiday season.