It's not a secret that happy employees make happy customers.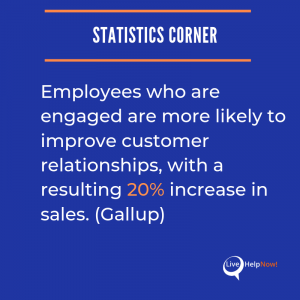 When employees love their jobs, their work performance and engagement is better. With more effort comes higher efficiency, better results, and with that more satisfactory customer experience. 
It is, therefore, essential for leaders to ensure employee engagement in order to create a satisfactory customer experience. 
The way employees are treated has a direct impact on how customers are treated. If the internal culture of a company fosters empathy and emotional engagement, it will have a similar positive impact on the customer's experience.

— Shep Hyken (@Hyken) June 6, 2019
Happy employees are important for any business to succeed. 
Unhappy employees are bad for business. 
Customer service representatives deal with customers directly. The happiness of these agents will determine the degree of satisfaction for the customers.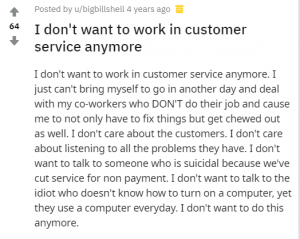 This is a cry for help posted on Reddit by a very unhappy customer service representative. 
Unfortunately, while many unhappy employees do not always openly voice their dissatisfaction, this can be a common attitude among customer service representatives.
Currently, less than two-thirds of customer agents are happy in their roles and more than a third don't intend to stay in their jobs, according to a national study done in March 2017. The study polled 500 active service reps and was conducted by Aspect Software in partnership with Conversion Research.
How would an employer know how happy the customer service agents are?
There are two ways of finding out:
Conducting an agent satisfaction survey, asking the employees how they feel about their jobs. 

Evaluating agent performances – after all, happy agents will have better work results
Once the management learns how happy (or unhappy) the agents are, it can employ various strategies to improve the scores.
So here are six ways to make customer service agents happier.
Establishing Strong Company Culture
Companies with strong culture have less staff turnover than those who don't. Weaker culture companies have a turnover rate of 48.4%. Companies with strong culture have a turnover rate of 13.9%. 
Company management must play an active role in culture building to ensure a consistent, healthy, and positive company culture.
There are six steps to developing company culture; implementing and reinforcing them can really improve the morale, bring more unity and positivity, and increase efficiency in an organization.
Define purpose

Define common language and values

Establish effective leadership

Implement engaging team building

Communicate

Treat agents with respect
Successful companies use these culture-building strategies throughout their operations. Examples of companies who really focus on company culture include Disney, Pepsi, and Google. 
Employees of these companies and others that actively work on building a strong culture report higher satisfaction rates and, therefore, better business practices.
2. Encouraging growth
Humans need to grow. Growth is life.
Growth in the workplace is essential. Without it employees will lose their motivation, becoming stagnant and dissatisfied. Employers can encourage growth by implementing growth opportunities for customer service agents.
Agents will be more inspired, driven, and motivated if they have a chance to grow in four ways:
Financially – the possibility of higher income motivates other growth 

Professionally – mutually beneficial, gaining

new skills

increases motivation

Career-wise – moving up the organizational ladder is both prestigious and inspiring

Personally – personal goals as important as professional
There are various ways in which employers can promote growth in all four areas. Doing so will be beneficial for the entire company. 
In the TED talk below Tamekia MizLadi Smith addresses the truly human aspects of professional development – compassion, empathy, and personal connections. She talks about the importance of training and how encouraging and helping agents to understand the "why" of their actions makes them better at their jobs.
3. Communication: Feedback and Recognition
Imagine working at a job day in and day out and wondering if your work even matters. 
Well, most of us do not need to imagine. Unfortunately, this is often a reality of our workplaces.
But that doesn't mean it can't change. 
Communicating, recognizing, and giving constructive feedback can build bridges between the agents and the management. These practices can also serve as staircases to employee job satisfaction. 
Knowing our work matters and is meaningful is important for motivation. And when recognized for what we do we will strive to do even better.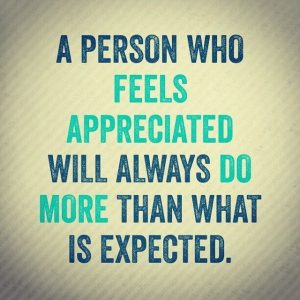 One way of recognizing success is setting goals for agents. Measurable goals can improve company culture and decrease agent turnover in a customer service call center. 
Some metrics for goal-setting are:
Team level metrics:

Average time for first response

Average number of interactions per resolution

Customer satisfaction score

Average call handling time

Customer request volume

Overall resolution time

Agent Level metrics:

Resolved cases per agent

Customer interactions per agent

Customer satisfaction level per agent

Average handling time per agent

Case/ticket level metrics:

New cases/tickets over time period

Cases/tickets related to specific topics

Number of cases from various geographic regions
In the video below Glenn Rolfsen discusses a simple strategy to improve communication in an unhealthy work environment.
4. Provide Necessary Tools
No matter how talented your customer service team is, you must give your agents the right tools.
While your software arsenal can vary depending on the type of business you run, some tools are universally helpful.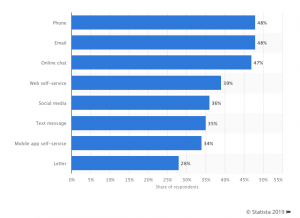 Live chat apps can help provide better customer service by improving response times and even help build trust. Providing customers the option to text your business further improves customer service.
75% of consumers say it's absolutely critical or very important to interact with a salesperson who is available when they need them. This is where live chat apps can offer an online presence for consumers, even 24 hours a day if needed.
With more consumers shopping online than ever before, companies must keep pace by providing a mobile-friendly option for customer service.
The best live chat apps provide a streamlined mobile customer service solution that can correspond with customers in a simple text message.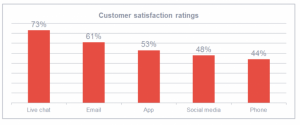 Other useful customer service tools include ticket management systems, FAQ knowledge base, and good old fashioned agent training through handbooks and other materials. 
As we discussed above, professional development is important and with the continuous technological advances agents will need learning support throughout their career.  
While technology is extremely helpful when it comes to customer service, one thing is even more crucial – human customer relations.
As a live chat development company, we deal with a large volume of digital communication. The one question we get a lot is "are you a real human?" 
Whether customer communications take place over the phone or via chat or email, humans want to talk to other humans. 
It is, therefore, essential to personalize your customer service communications, add humanity, empathy, and that special human touch every customer craves. 
In the video below Blake Morgan, a customer experience futurist, talks about the importance of personal communication in a call center and how it is still relevant in the digital era. 
5. Provide Positive Physical Environment
According to a 2011 research study on how workplace design contributes to mental health and well-being, the average person spends 33 percent of their waking time in their workplace on a weekly basis. 
Physical workplace environment has a major impact on everything from happiness and mood to productivity and focus. The study concludes that "good working conditions enable employees to work effectively" and that "investments in the physical workplace that create those conditions pay back quickly."
 According to designer and author Ingrid Fetell Lee there are four ways to create positive physical work environment:
Adding color

Bringing in the light

Embracing nature

Adding transcendence
Fetell goes into detail about the importance of the above elements in the workplace in the video below:
6. Add Value to Work
We talked about the importance of meaningful work above, but it's important to note that adding value to every task is crucial.
Modern generation of employees wants valuable tasks at work more than ever. In fact, 74% of millennials want a job where their work feels meaningful.
Agents want to know why they are doing what they are doing, what the purpose of each task is, and what difference it makes for the customer and the company as a whole. 
Here are some ways to add value to a customer service agent's work:
Show how work makes a difference: stories of happy customers, resulting in additional business, positive reviews

Pay personalized attention to an agent's work. Offer specific feedback and recognition. 

Trust in an agent's abilities by allowing personal troubleshooting and project initiative. Let the agents come up with their own strategies for customer service growth and improvement. Do not micromanage. 

Create new opportunities. Doing the same work the same way might become mundane. Allow room for advancement and improvement. Growth is essential for happiness. 
Daniel Rodic discusses adding value to work and business in the below:
Conclusion
Creating a positive environment for customer service representatives makes their work-life better. It makes the overall company environment better and, in turn, improves customer experience.
To learn more about the topics covered in this post visit our website to download free Ebook "Creating a Positive Environment for Customer Service Representatives"