Oh, passwords…What a life's joy they are…NOT!
With modern tech advances, security measures must step up. So passwords get longer, have additional requirements, and, let's be honest, take up just too much brain power to remember. (And no, writing them down is not that cool of an option, thank you very much!)
While we're all about making life easier, user security is still very important to us. That is why we're excited to reveal our latest security updates. So, secure (ahem) your seat belts, folks. This summer we're taking a trip to the depths of secure sign-ons. 
Security Update: Introducing SSO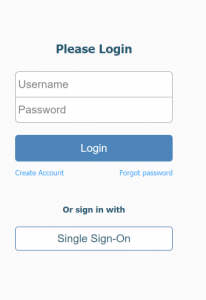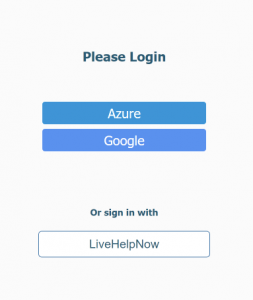 Single Sign-On is a lifesaver that is great for both user experience and security. And now it's part of LiveHelpNow's system, too. Starting this month, admins can set up Single Sign-On (SSO) for their teams teams, customers or employees to use. 
Single Sign-On (SSO) is an authentication method that allows users to securely authenticate their accounts by using just one set of login credentials. It increases efficiency by streamlining the login process. (No need for that brain-dig for forgotten passwords!)
When team members and customers don't have to spend time or apply efforts to the simple task of logging in, their overall experience is better. Also, the SSO process increases security by ensuring that all related accounts use the same password policies. 
At LiveHelpNow we can integrate with numerous SSO providers (see below). We also have three different options for the style of SSO to configure. 
Style 1: Agent Match Only
This style is all about your LiveHelpNow's agents and their experience. With the Agent Match Only option, admins can manually create the Operators  for their organization account. When single sign-on user is validated, the system will only allow the user to login if email matches an existing agent's email on the account. This option gives you the greatest level of control over who should have a user license in your LiveHelpNow account. It does require the manual creation of the Operators before the Agents are able to log in, so there is some prep work on the admin's part. 
Style 2: Agent Match and Create
Now, we know admins are busy people. So sometimes it's nice to allow users to fend for themselves a little bit, right? Agent Match and Create removes the need to manually create the Operator records for every user. Once you have successfully configured SSO, this option will create an Operator account for every user successfully validated by your SSO configuration. If the agents try to log in and the Operator record does not already exist, the system will create a new Operator record. Be careful, as this option will automatically add operator licenses to your subscription for every Agent who tries to log in with SSO.  The admins will not be notified of the additional license to the bill, so it's a good idea to keep an eye on it. 
Style 3: End User
Option 1 and 2 gets support agents covered. But what about customers? That's where option 3 of the SSO security update comes in. With the End User option, admins can configure SSO for their customers. With this style in place, both internal and external users will be able to log in to your LiveHelpNow powered support portal to see their chat and ticket history. 
Once you configured End User Single Sign-On application, please attach it to your LiveHelpNow powered support portal in Admin Panel -> Support Portal -> General Settings -> Security like so: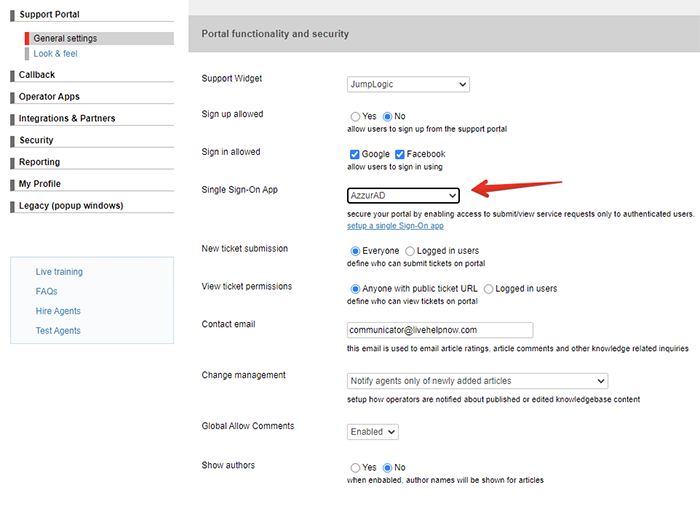 Sounds good? It sure does! And the setup is quite easy. Check out this article or instructions: SSO.  
Please see some examples of SSO configuration for Google SAML SSO and Azure AD.
Security Update: Two-Factor Authentication
While SSO provides an option of easy sign-on and adheres secure password policies to LiveHelpNow sign-ins, Two-Factor Authentication provides even more security. This security update adds another layer of security by validating a user's password through text or email. 
Once an admin enables Two-Factor authentication for your account, all agents will be required to go through it upon log in. After an agent enters their passwords, they will receive a code through text or email to enter to be allowed log in. 
To increase account security, and enable Two-Factor Authentication for your LiveHelpNow account check out the security tab in your Admin Panel. For more information about two-factor authentication check out this article: Two-Factor Authentication. 
That's it!
Questions? Concerns? Let us know! We hope you enjoy this new security update and the added ease and protection it provides!