Ahhhh, spring!
Perfect time for cleaning out old junk, reorganizing, and starting anew. Sometimes, as we spring clean, we find random things that are clearly misplaced. Like, say, a blender in the coat closet. How did it get there? Well, one night, after a busy night of making frozen margaritas.. ok, sorry. Definitely TMI. Anyway…
We decided to follow the trend and reorganize our admin panel. The project was long overdue and we found more than one appliance in the wrong place. But we think you'll like the results. 
In the new admin panel, it's now easier to find system set up, account and profile details, and specific settings. The menus are easier to navigate, saving admin users time and effort to get to the right  place. After all, an organized workplace contributes greatly to customer service agent motivation. 
So, check this out – our shiny spring-cleaned admin panel.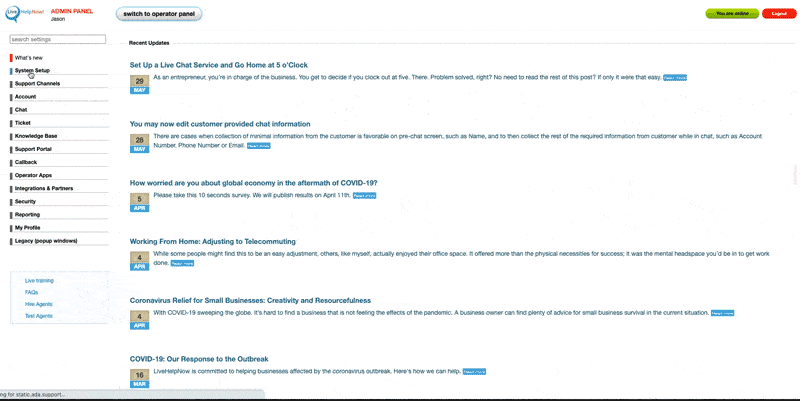 So what's new?
Modern Design
You might have heard that LiveHelpNow is working on a new user panel set to release later this year. The new admin panel follows the suit with its simplified and modern look.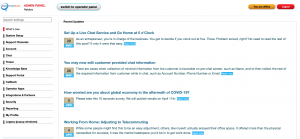 The layout features plenty of white space and more attractive display. We embraced the trend of minimalistic, clean style. It's sleek, light and more 2021 than 2010, to be honest. 
Organized Menu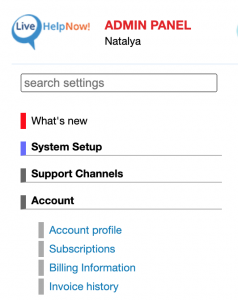 Label makers are popular for a reason. They clearly identify the right home for all things. Our new menu options organize and specify individual settings based on their characteristics.
Need to see billing details? Chek under the "Account" category. Need to reset FAQs?
The "Knowledge Base" section allows users to change its settings. Simple, Clear. Labeled. 
Search Feature
One major improvement we just have to boast about is the new search feature. Just in case a user is in a rush or unsure of where to find a setting, the search feature comes to the rescue.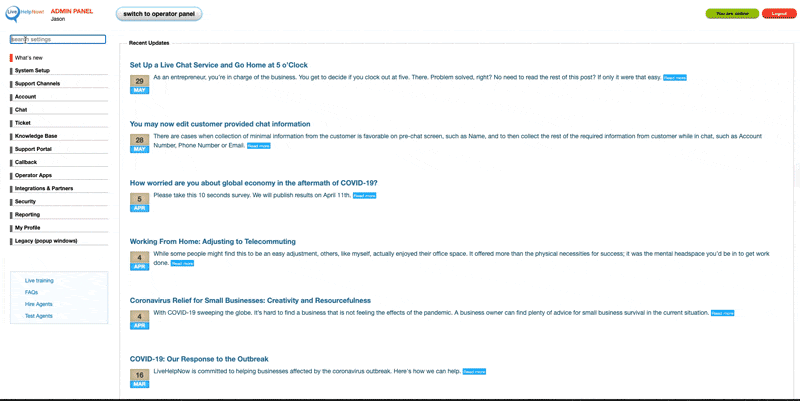 We love this new feature and I think you will, too. (If only we had this option to find things in our home closets, too). 
The About Section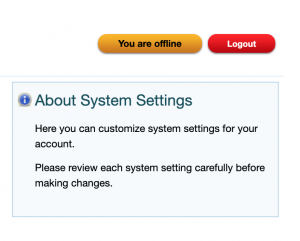 In our homes, we know what all things are and what they do (at least one would hope so). With tech software sometimes things are not as self explanatory as a coat closet.
That is why the  description section that clarifies specific features is quite useful.
Two-Factor Authentication
Although we had a lot of treasures in our closet already, we needed to find a home for some new stuff too. Under Security > Security & Compliance, you'll find a new security feature, two-factor authentication. By enabling this setting, you can control whether all operators, all admins, or operators in specific departments need to use two-factor authentication to login. When activated, the system will give users the choice to authenticate their login using email or text message.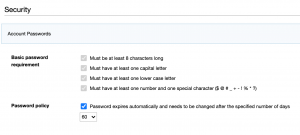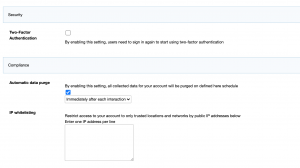 Operator Profiles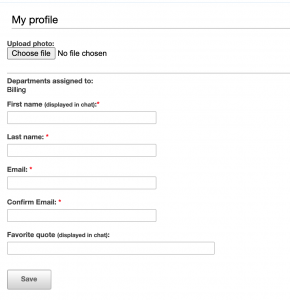 In the new closet, everyone gets a little shelf space!
Your operators can now create their own profiles in the admin panel. Under My Profile > Profile, operators can upload a photo, change their name, and create a favorite quote displayed in chat.
This used to be a capability only available for admins to do on behalf of operators. 
Open Your Closet and View Your Admin Panel
Guess what? Your admin panel is ready! Check it out by clicking on "Admin Panel" in your user panel to see the new layout or click here: https://livehelpnow.net/lhn/console/admin/
Additionally, you can view this video tutorial from Annie Gray, our director of customer success.
Spring is for new beginnings and we hope that our new admin panel will make it easier for you to serve your customers. We're excited to hear what you think. Do you have any feedback? Let us know!