LiveHelpNow Email-Ticket Management includes a Ticket Filter to sort through customer inquiries with absolute precision.
The Ticket Filter makes it easy to search for past resolutions to current issues, filter tickets by source, and keep a watchful eye over all your help desk operations.
Introducing Saved Filters
When you save a Filter you gain one-click access to your saved search parameters instead of retyping them each time you need to find tickets that meet your criteria.
Simply fill out the ticket filter as you normally would, enter a name for your filter, and click [Save Filter] to add it to the list.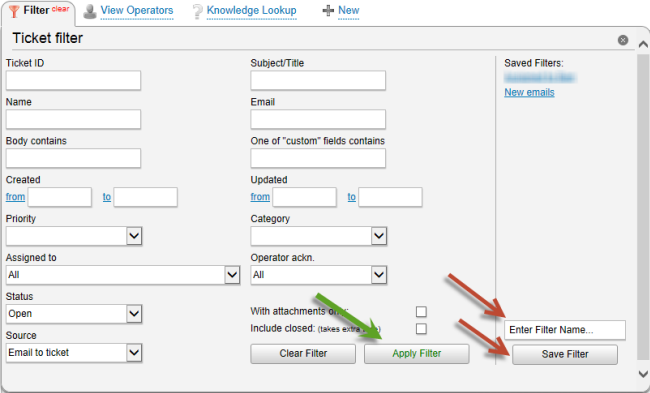 Apply a saved filter at any time by selecting it and clicking [Apply Filter]. Add multiple saved filters and delete them just as easily by floating your cursor over a saved filter and clicking on the trash can icon.
A Media Library for your Documents, Images, and Files
Adding file attachments to tickets has always been possible, and with the new Media Library you can store commonly used documents, images, and files online and make them readily available to your operators.
Add a new ticket or select an open ticket and click the disk icon to access the media library file manager.
The media library is also part of the LiveHelpNow Knowledge Base, so you'll have access to the same resources across both systems.
LiveHelpNow Email-Ticket Management is a complete support desk solution that tracks the progress of every customer's email inquiry and keeps them informed of status changes. Customers can also submit web tickets and view the status of all their recent inquiries online.