James is a psychologist and a veteran with hearing loss. He lives in Missouri and works with a small staff on a grant to make sure that children are protected from domestic abuse. Recently, James wanted to learn some new skills to add to his professional qualifications. He signed up for a Neuroscience for Clinicians webinar with PESI, a continuing education company that provides instruction to behavioral health professionals. To accommodate James, the company arranged for him to have closed captioning capabilities for his first-ever webinar. James was elated. 
"PESI is the most professionally operated educational provider I have ever dealt with," he wrote in his correspondence to PESI staff. "If I could do all of my training through PESI I would." James praised the company's technology, customer support, organization, materials, and information the company provided. He was one happy customer, for sure. 
Turns out, he is not the only one.
@PESIinc Another tool to add to our tool box…Myofascial Cupping Practitioner Certification…thanks to Jes, Rock Tape, and PESI for a great continuing education course#PESISeminar #RockTape #P #SportsMedNorth #physicaltherapy pic.twitter.com/EW7npAXJID

— Jonathan Gately (@JonGately) October 11, 2019
And it is because of customer experiences like James' and others, PESI, which has been providing adult education since 1979, is still striving. With the increasing demand for online classes, the company has been adding visual education options to its clientele. With this addition, come certain challenges such as the need for online customer support. Keeping the operations flowing while maintaining organized customer communication is key. Here is how PESI addressed these challenges while providing a smooth customer experience. 
Challenge #1: Need for Organized Customer Communication 
For over three decades PESI has been providing continuing education credits for behavioral health, rehab, and healthcare professionals. The company has branches in Australia, the United Kingdom, and the United States. However, recent global events and shifts in students' expectations have significantly impacted the way PESI operates. 
Increasing Inquiries
"With the pandemic, our business has shifted to be primarily online which has increased our ticket [service requests] numbers," says Danette Brown, PESI's Senior Customer Service Manager. "LiveHelpNow's software has allowed us to stay organized and address specific programs efficiently. Prior to using these tools, we employed outlook mailboxes to manage mail. That resulted in inefficiency and poor customer experience. Sometimes, the customer spoke to a different representative whenever they contacted us. There were also many instances of accidental deletion of customer communications, which LiveHelpNow's software prevents."
Of course, with the ability to provide classes online, PESI experienced extensive growth. With that, came more digital communications. Organized customer communications have since become a high-priority item 
"Our customers are tending to email us more than call us," Brown says. "LiveHelpNow has allowed us to better manage emails. For example, canned responses have increased our efficiency significantly.."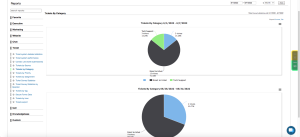 Need for Easy-to-Use Organizational Tools
Other ticket management reporting and analytics tools have also contributed to more organized customer communications at PESI. 
"We regularly use Ticket System Detailed Statistics, Ticket System Performance, and Daily Live Chat Breakdown reports," Brown says. "One of the features we find most helpful is the categorization for our different brands, it allows us to have better access to those tickets that may be more time-sensitive."
In other words, these organizational tools help PESI staff to stay on top of customer communication needs. For example, the ticket system allows the staff to brand the automated email signatures accordingly for the various departments within the company. Comprehensive customer history no more lost tickets, and all the details in one place help agents provide the best customer experience they can. 
Merging Brands
With multiple accounts and programs, PESI had difficulties keeping customer communication organized. And so, at some point, they wanted to merge two accounts into one. 
"We needed to ensure that all the tickets and attachments would still be searchable for PESI's agents for historical purposes," says Annie Gray, Director of Customer Success at LiveHelpNow. "This enabled the PESI agents to have all support in one centralized location instead of in two separate accounts. This, in turn, increased productivity and efficiency and allowed for a streamlined customer support experience."
Challenge #2: Quality Control 
Of course, organized customer communications contribute to customer satisfaction. However, PESI needed additional tools to ensure that its customers received the very best service possible. And so, the company uses quality control tools to do just that. 
One main tool is the survey information and other analytics available through the LiveHelpNow system.  "The survey information allows us to use quality control measures with our representatives," Brown says." Additionally, canned responses allow for raised productivity.  We see high volumes of tickets and the canned responses allow for efficient and quick responses to common customer issues.  It has also allowed us to also sort by category which has been very helpful to find specific event tickets."
Organized Customer Communications Keep PESI on Top of Its Game 
PESI customer service team members have a lot on their plate. To serve their customers efficiently, they must know the ins and outs of accreditation boards and how continuing education works in each state. From everyday inquiries to large summit-related communications, PESI's team provides a wide range of support for its customers. 
Students like James, who have never taken an online course, as well as younger students who expect a smooth digital experience from start to finish, can rely on PESI. That is because the company uses great tools to ensure organized customer communications and cares about every inquiry.