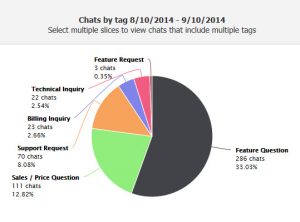 We've updated the look and feel of the charts and graphs in LiveHelpNow Analytics to make them more accessible & responsive.
View & Sort Chat, Ticket, and Call history using multiple tags. You can create up to 30 custom tags for operators to select when working with customers & review results in Tag Statistics reports.
Improved Survey Statistics Reports.
View chat & ticket transcripts tied to each customer survey submission along with overall survey score averages & statistics per operator.
New Ticket Satisfaction Surveys
Add customer satisfaction surveys to your ticket responses & resolutions.
LiveHelpNow Email-Ticket Management subscribers can setup ticket satisfaction surveys.
New tools to streamline your Email & Ticket workflow
By popular demand, we've added a variety of new settings and capabilities to Email-Ticket Management that allow you to simplify ticket support workflows, cut down on spammy ticket submissions, and even include other operators as 'watchers' on your tickets.
Add CAPTCHA to your ticket submission form
Put up a barrier between you and form-filling bots by enabling a Completely Automated Public Turing test to tell Computers and Humans Apart.
Corral your New Ticket Submitted emails
Select the specific operators (or departments) you'd like to notify when a new ticket is submitted.
Disable all Ticket Assignment Notification emails
Skip your inbox and login to LiveHelpNow daily to respond to customer inquiries.
Disable ticket confirmation emails for customers

NEW: Add Watchers to Tickets
Add other operators to your ticket as 'watchers' to keep them apprised of updates. Watchers can add private comments by replying to the email notifications they receive.
If you're wondering what this post applies to then check out LiveHelpNow Email-Ticket Management & Live Chat Support solutions for more information.