As a local, family-owned, brick and mortar business, we are always looking for ways to differentiate ourselves and stay relevant. 
Our store, Darianna Bridal & Tuxedo in Warrington, PA, dresses thousands of brides, grooms, bridesmaids, groomsmen and prom-goers every year.
A few years ago, we sought to up our game by implementing an online live chat service on our website. We wanted our customers to have another easy method of communicating with us.  
Fortunately, we had realized that we were now living in an age of immediate gratification.  We knew customers expected information and answers right away.
As we began our research, we stumbled upon LiveHelpNow's live chat services. LiveHelpNow immediately stood out to us because its features include the ability to text a business's landline number. 
We thought, "WAIT!  WHAT?! We can actually give our customers the option of texting our business's landline telephone number to communicate with us?"  
"WAIT!  WHAT?! We can actually give our customers the option of texting our business's landline telephone number to communicate with us?"
To us, this capability was a game changer.  Because, who calls anymore?! Most of our customers preferred to text and the rest wanted to speak to us through online chat. 
LiveHelpNow's SMS and live chat features would allow us to provide our customers with just that! 
We couldn't deny that LiveHelpNow was the perfect customer service solution for us.
Since then, we have provided a level of service way above our customers' expectations and have gained an edge that other stores just do not have.
How Live Chat Text Messaging Changed The Way We Do Business
Finally, the day came when we received our first online chat from a bride.
Before we knew it, not just one bride, but ALL of our brides started using text messaging and live chat to speak with us, and they loved it!  
Our brides and grooms even write about our live chat and texting service in their online reviews. 
Many customers often mention that Darianna Bridal & Tuxedo has a special touch that no other bridal or tuxedo store offers simply because we offer these convenient, yet personal forms of communication.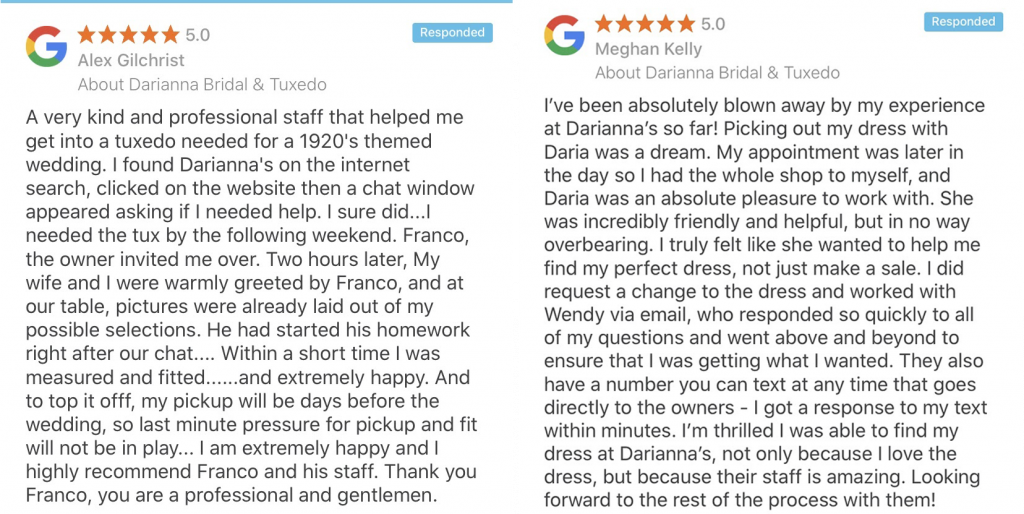 In an emotional business such as ours, we believe that being accessible to our customers at any moment is incredibly important. We really enjoy offering this added level of service.
How Live Chat Saved A Special Day…More Than Once
Live chat and live chat text messaging has allowed us to head off emergencies, go the extra mile, and earn an amazing reputation as a store that truly cares about our customers.
Here are just a few of Darianna's success stories that illustrate why we couldn't imagine running our business without live chat and live chat text messaging:
A groomsman was coming from out of town to pick up his tuxedo.  His flight was canceled, and he texted our store telephone number to notify us of his very late arrival.  We were able to make arrangements to open the store after hours to accommodate him. He and his wife were incredibly grateful, and LiveHelpNow allowed for another glowing review.

One day when we were shopping in Wegman's supermarket, we received a chat from our website via text message. It was a website visitor from Doha, Qatar.  When we responded, we learned that it was a woman who was originally from Montreal. She was teaching english in Doha, and was set to marry a man from our area. She liked the line of Madi Lane Bridal wedding dresses that we carried and was led to our website because of that particular designer. Originally, she had planned to shop for a wedding dress in Montreal with her mother. But, she changed her entire wedding shopping plans once she spoke to us over live chat. She made an appointment with us and had her mother fly to Philadelphia, so she could try on Darianna's Madi Lane Bridal wedding dresses.  Chalk it up to live chat for a long distance induced "yes to the dress" moment!


Get as excited about your dress shopping experience as Caroline! Make your appointment at Darianna Bridal & Tuxedo: call/text 215-491-8500 or visit us online at https://t.co/WFDNo5Ths7 pic.twitter.com/EVE7tWhtu1

— Darianna Bridal (@DariannaBridal) September 22, 2019

A bride texted us from her cocktail hour with an emergency. They had rented formalwear from Darianna, and notified us that the sole of one of her husband's shoes had just come loose. They had 35 minutes until their first dance. We were there in 25 minutes with a new pair of shoes. We saved their day, but live chat saved our reputation.
Many of our brides have anxiously chatted or texted us at night after business hours (i.e. Did she order white or ivory? Did we place the order for the veil? Did she order a size 8 or a size 10? Will her dress still fit if she gained 4 lbs.? Did her fiance pick the bow tie or the long tie? Did her mother-in-law change her father-in-law's tie color?, etc.). Each and every bride has gone to sleep with her questions answered and grateful for the opportunity to be in immediate contact with us.

— Darianna Prom (@DariannaProm) April 9, 2018

Unable to make a direct phone call to us, a bride in Florida sent us a live chat from her place of business. She was desperately looking for a dress from an exclusive designer that we carry in a specific size for a wedding that was only 3 months away. We were able to procure the dress for her, and I'm not sure we would have had the sale if it weren't for the live chat. She couldn't make phone calls, but she could chat!
A year ago, we received a text message to our store's telephone number from a father of a prom attendee.  The high school student lost his bow tie and needed it for photos starting shortly. We were able to bring him a bow tie.  He later found the bow tie in the bottom of his garment bag but, at the moment it counted, we were able to make sure a high school memory was properly recorded in photos.
The Texts (and Chats) Heard 'Round the World
We also have many wedding guests we have dressed who live in other countries.  The live chat feature on our website has allowed us to communicate with customers in Brazil, France, Germany, Saudi Arabia, China and England and more! 
Thankfully, LiveHelpNow has proved to be a convenient and more affordable way for the customer and our business to make arrangements for choosing attire, obtaining tuxedo measurements and accepting electronic payments for services.  
More importantly, this service also allows us to build a strong relationship with our customers even when they are 5,000+ miles away.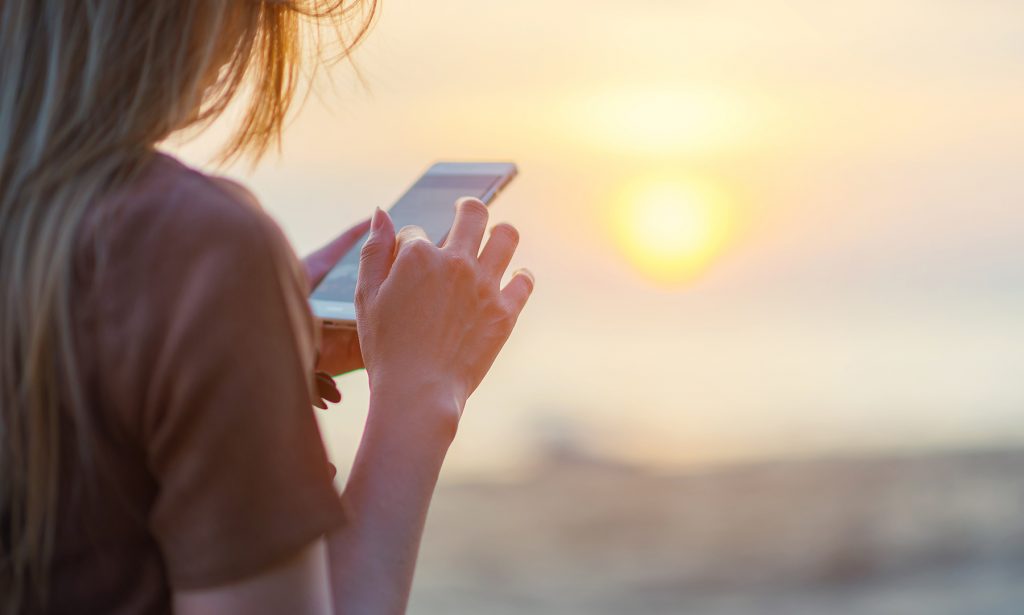 Being able to answer chats and text messages on a computer and via LiveHelpNow's app on our smartphones is priceless.   In fact, it even makes it possible for us to go on vacation, and STILL be in communication with our customers. 
Our business is open 7 days a week, but there are times when we try to get away, really far away.  While our staff takes care of our store, we have answered chats and texts on our iPhones while vacationing in Thailand, Italy, Hong Kong, Maui, Puerto Rico, and Grand Teton.  
This feature of the service is seamless. We are able to efficiently answer questions, book appointments and, all the while, our customers have no idea where we are. 
Live Chat Texting Messaging Proud
Wherever and whenever we can, we like to give shout outs to our live chat text messaging capability. 
We frequently mention the ability to chat or text us within our Facebook, Instagram, Pinterest, Linkedin, and Google My Business posts. 
Next to our phone number on our website, you will see "Call or Text":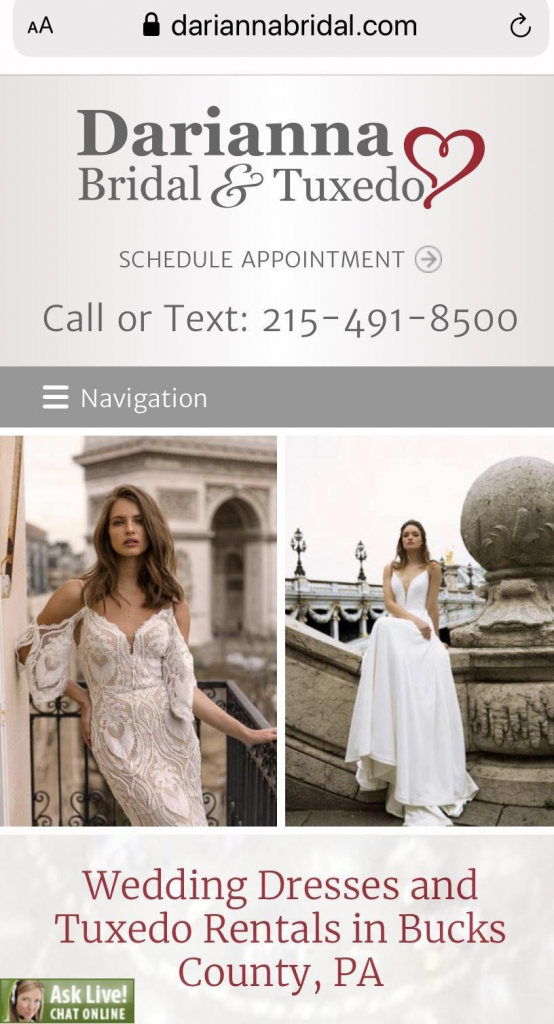 We have even placed the words "Call or Text" above the telephone number on our front door. 
This has resulted in many text messages from newly engaged brides after seeing that they can text us while waiting for a table at one of the neighboring restaurants.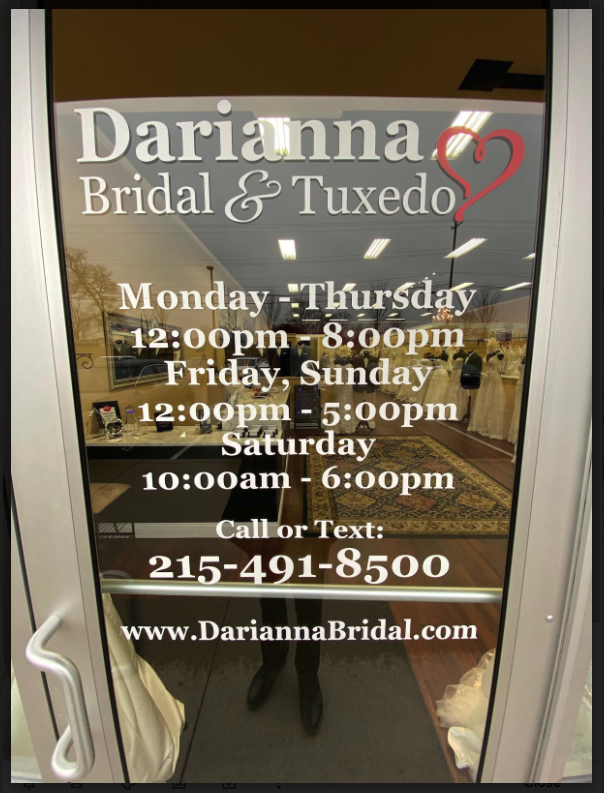 And of course, we wouldn't be complete if we didn't have "Call or Text" on the back of our Darianna-mobile!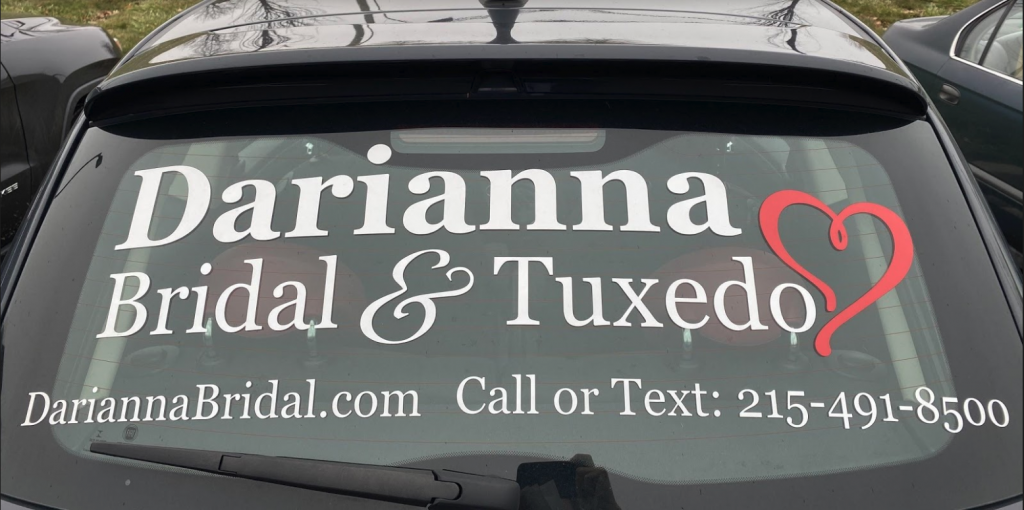 The point is that we could not imagine being without this amazing service. 
Without it, Darianna would lose the opportunity to immediately capture business and the ability to be in immediate contact with our customers. 
We love this service as much as our customers do, and we can truly see the impact of improved appointments and revenue.
We live in a very competitive world, and LiveHelpNow is a very simple and inexpensive way to communicate with the customer and build a relationship before our competitors do. 
It has made us appear like a large business with a high level of customer service options, but without the large price tag.
Thus, we highly recommend having an online chat service and a text messaging service. 
Have a question about how we use this service?  Go ahead, text us: 215-491-8500! Or start an online chat with us by going to: www.dariannabridal.com.  Wendy and Franco, the owners of Darianna Bridal & Tuxedo, will personally answer you!
For more business tips and customer service advice like LiveHelpNow on Facebook or follow our business page on LinkedIn.