"Is it worth investing in multilingual customer support solutions? After all, English is omnipresent globally, and billions of people understand it well. Let's go with this language for customer support, we'll respond to more requests," you, as a business owner say to yourself. 
Yes, English is the world's most influential language. But should you rely on it if you're an international business selling to customers whose native language is one other than English?
The answer is absolutely not!. Unless you want your international sales to go downhill. 
"Why so negative?" 
Well, even those with a decent command of English still prefer to make important decisions after reading information in their native tongue. 
Here is some proof:
72.4 percent of consumers are likely to purchase a product from a website in their own language (

Harvard Business Review

)

86 percent of customer support call centers say they serve non-English speakers (

ICMI

)

72 percent of businesses say that providing support in a customer's native tongue has increased their satisfaction with customer support; 58 percent reported also increased brand loyalty (ICMI)

Only 66 percent of businesses provide customer support in a language other than English (ICMI).
These stats have four tremendously important takeaways for business owners: multilingual support is something that 
Increases customer satisfaction

Increases brand loyalty

Improves sales

Helps to gain a competitive advantage. 
With that in mind, there are three great ways to provide multilingual support for an international eCommerce business. 
1. Use Multilingual Live Chat Platforms
The first thing that a business consultant will tell you about how to start with multilingual support is to hire fluent or native speakers of the target language. 
Of course, this would be a perfect option. But what if your company cannot afford to hire a bunch of multilingual customer support agents who speak your language and the language of the customers? 
---
---
One good option here is to use a live chat and support platform that has a built-in auto-translation option. Software with these features translates any foreign live chat requests in real-time. That means that customer support agents can understand and respond as if they were native speakers. 
This also eliminates the need for language training, saving you money, time and resources.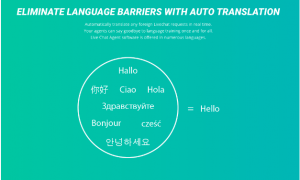 2. Invest in Localization and Translation of Your Website and App
Connecting with foreign customers will definitely become an easier task if your content is available in other languages. The vast majority of customers prefer to get information and make purchases from websites in their native tongue.
This applies to both small and giant eCommerce businesses. 
Best Buy, a retail giant, has made an early decision to translate its website into Spanish because of the growing interest of Mexico-based customers as well as U.S.-based Spanish-speaking customers. Being one of the first major American businesses that embraced multilingual customer support, Best Buy was hugely successful. 
"Latinos are giving us credit in being leaders in the e-commerce space in services to them," this 2011 Forbes article quoted Ana Grace, the company's global web team product manager.
And an increased brand loyalty from Spanish speakers isn't the only benefit that Best Buy was able to get as a result. According to the Forbes article, Spanish users of the website spend twice as much time and money per visit.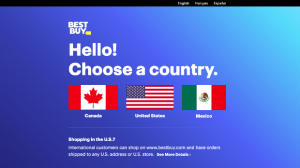 Nice.
Unsurprisingly, Best Buy created the fully localized website version for Mexico in 2013. The company has been reaping the rewards of that decision since. In 2019, for example, they took first place in the online retail category at the eCommerce Awards Mexico 2019. 
The company went the whole nine yards with the translation and localization. Best Buy translated promotional messages, pricing, terms and conditions, product descriptions, error messaging, everything. 
"eCommerce giants have to translate a huge amount of material, including regular marketing messages, sales announcements, changes to policies, and other content they introduce every day," says Adam Greene, a localization expert at PickWriters. "Achieving this goal may seem difficult for smaller businesses, but it's something they can do easily if they pick an affordable translation service."
Don't Forget About the App
In addition to website localization, it's important to make sure to translate all texts in your app as well. Another retail giant, Walmart, has an excellent Walmart México app that serves as a great example of a truly localized digital product with support in the local language.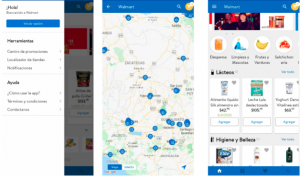 So, be sure to invest in professional website and app translation and localization to deliver a great customer experience to your local audiences. Don't forget to provide customer support in the target version, too.
3. Consider Outsourcing Customer Support
If there's a time difference between the home country of the business and the targeted country, you may have to outsource customer support to locals. If you can afford this option, go for it. While you can resolve the majority of support requests and questions with custom FAQ pages and live chat, there's still going to be some customers who need to speak to a human.
The people to whom you will entrust your multilingual customer support will have to uphold your brand's values. Picking a highly professional team is critical.
According to hiring experts, here are the most important qualities to look for in candidates:
Great communication skills

A strong sense of working autonomy. The team will be working remotely, so they need to know how to provide a successful autonomous work performance

Team-first mentality. You're going to judge the success of your remote workers as a team, so look for candidates who have sufficient team working skills.
Your customer support will still need a working ticket management system. Make sure that your international support agents have access to the latest software (this also encourages autonomy in remote customer support teams). 
And one more thing: communicate with your remote team regularly. Autonomy doesn't mean working in isolation. 
Break the Language Barrier
Yes, investing in multilingual customer support is totally worth it. English isn't the only language out there. If you sell to people whose native languages are different than yours, consider implementing at least some of the above tips. 
Of course, these tips are just a handful of ways to provide effective multilingual support, so feel free to drop LiveHelpNow a line through the live chat to know more.