The latest LiveHelpNow release expands your ability to search chat history, allows you to tag past chats, and displays more relevant customer information in your call history. Read on for more details about these updates and instructions on how to start using them today.
Search Chat History
We've overhauled the Chat Transcripts report so you can easily search through the past chats you've had with customers. Look up chat transcripts based on operator, department and any keywords within your pre-chat requirements form fields. Dropped Chats no longer have their own report, they have been added to the Chat Transcripts report.
If you already use the LiveHelpNow Chat system, go to Admin panel -> Analytics -> Chat Transcripts as you normally would. You can set the date range for this report as before.
1. There is now a pick list containing all of your operators and departments.
2. The search bar allows you to enter keywords like visitor name, visitor email or any other details you gather using your pre-chat requirements form.
3. (Optional) Select 'Dropped Only' to limit your search to dropped chats.
4. Once you've made your selections, click the [Search] button to drill down to the chat transcripts you're looking for.

Tag Chat Transcripts
Live chat tagging allows you to quickly pick the golden nuggets out of chat conversations instead of wading through each chat transcript in your records.
You can now tag chats after the fact within the redesigned Chat Transcripts report. Search your chat history as described above and you'll notice that the tagging option appears when you select a transcript. Operators can tag their own past chats and admins can tag any chat on record.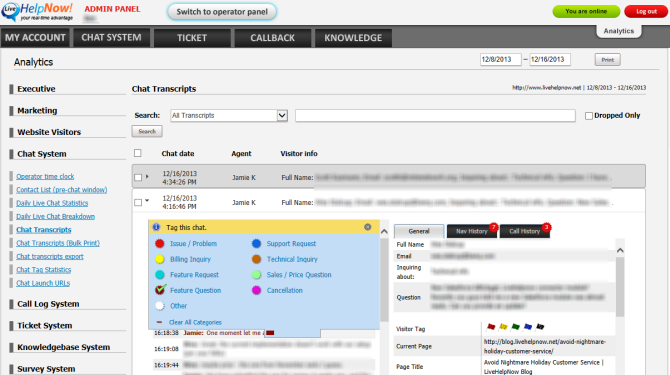 A Complete Call History
If you use the LiveHelpNow Chat system together with Email-Ticket Management or Call Management systems then you're in for a treat.
As you chat with a customer their past chat history is available at your fingertips for review. This release brings both ticket and call history into the fold, giving you a complete picture of the customer's past interactions with your brand.
Customers expect their conversations with you to be fluid, but this can be challenging when they jump from one customer service channel to another. LiveHelpNow solutions allow you to offer seamless support no matter how your customers choose to reach you.