As a self-admitted anal-retentive personality, I have a strong passion for lists.
List-making makes me feel organized and like I have my life together.
The opportunities for list-making are many…
Grocery store lists, to-do lists, items-to-pack-for-vacation lists, AND when I'm about to make a huge life decision, there is the ever-popular, hand dandy pros and cons list. 
When you're running a business, it seems like there is a constant flow of big decisions to make. 
That's why we've put together a pros and cons list for those wrestling with making a choice between live chat support vs. traditional phone support. 
So, without further ado, here are the pros and cons of both mediums.
Traditional Phone Support Pros
The Opportunity to Hear a Human Voice:

According to the

Zendesk Customer Experience Trends Report

, 70% of consumers prefer human agents to AI technologies. For consumers that have a problem, it can be invaluable to be able to hear an empathetic, understanding tone on the other end of the phone.


Shout out to the awesome customer service phone support at @lanebryant !!!! You are amazing and helped get my very special order for @nutgraham to have a sleepshirt for her surgery Friday. She will be rockin that LB style at @DukeCancer!!! ?? #WeGotThis #CancerSucks #LaneBryant

— Alisha BGP? (@alishabgp) April 30, 2019

 

Complex Problems Won't Get Lost in Translation:

Complex problems are better explained and elaborated during a live verbal interaction. For instance, 44% of respondents prefer using live chat for online-shopping questions, while 79% prefer the telephone for complex financial questions

(Software Advice)

. So, the more difficult their issue is to express the more likely they will be to dial.
Older Generations are Generally More Comfortable with Telephone Support:

Older Americans represent a considerable portion of the U.S. population.

According to Statista

, in 2017, roughly 16% of Americans were 65 years old or over. Projections show this number will only continue to grow.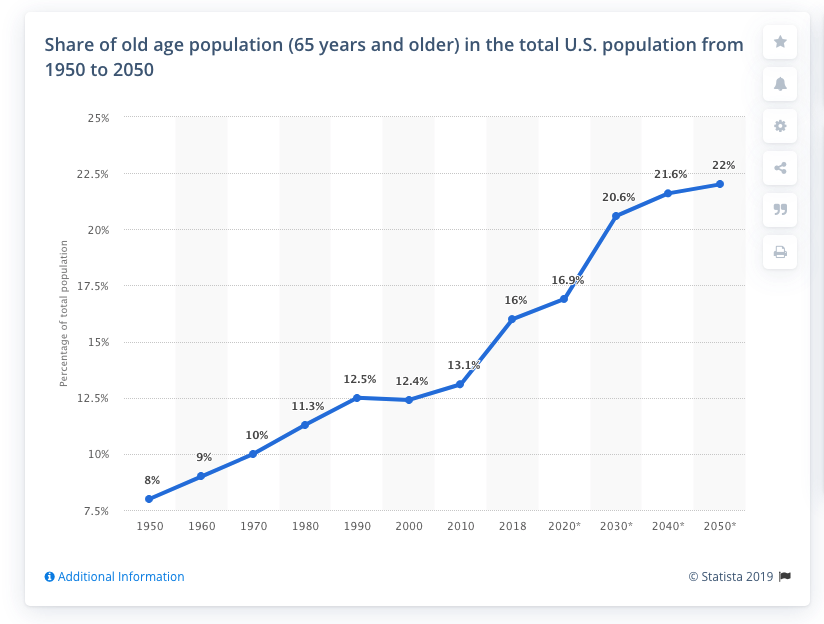 Thus, it can be deduced that the 65+ population also represents a considerable number of your potential customer base.  In fact, younger people (ages 18 to 34) are more likely to have used live chat "many times," while older people (aged 55 and over) are more likely to have "never used" live chat (Software Advice). To provide a customer experience that accommodates everyone, you'll need to offer phone support.
Traditional Phone Support Cons
Long Wait Times = Slow Response Times:

Phone support may offer more of a human touch, but, in this fast-paced world, speed makes live chat a more attractive option. 42% of consumers that use live chat say they prefer it over other support functions because they don't have to wait on hold (

Inc.

). And, if they do have to wait for a response, the hold time is nowhere near as long. As of 2018, the average wait time before speaking with an agent via live chat was 48 seconds (

Forbes

).
Constantly have to wait 2+ hours on hold to report a guest late return. Turo makes millions stealing earnings from hosts who risk renting their cars to strangers AND WE HAVE TO WAIT HOURS ON HOLD FOR SUPPORT? #Turo pic.twitter.com/1uxstfJAoL

— max smith (@maxsmit93404115) October 30, 2019
Phone Support Hinders Employee Efficiency:

It's impossible to be on the line with two customers at once. Phone support representatives can only help one customer at a time. Once again, this is part of the reason call centers face the obstacle of longer wait times, and that's a huge problem for customers. 19% of businesses say their customers are most frustrated by long wait times (

Kayako

).
Live Chat is More Popular Among Younger Generations

:  Young people prefer live chat. Studies show that 63% of millennials prefer to have their basic customer support queries answered by live chat versus traditional channels

(ICMI

). This is due in part to millennials' tendency to be glued to their cell phones. Nearly 52% of chat queries were initiated from a mobile device in 2018, an increase of around 8% from 2017 (

Comm100

). Today, many live chat platforms allow for the opportunity of

text-to-chat

, a feature that traditional phone support can't deliver.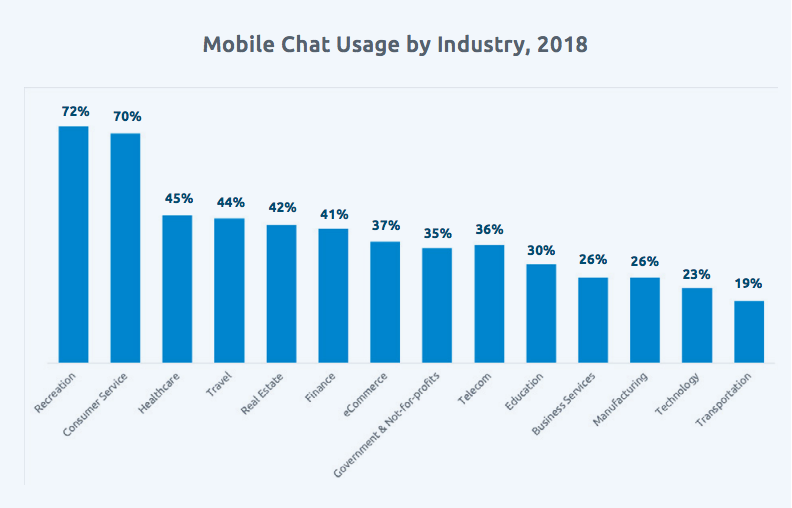 (Source: Comm100)
Live Chat Support Pros
No Foreign Accents or Trying to Understand an Agent Over Background Noise:

The number of consumers that use live chat over the phone and email support has increased by more than 50% since 2012 (

Forrester

)

. This is due in part to live chat's ability to bypass communication barriers like call center background noise and thick foreign accents.
In addition, traditional phone support limits your pre and post-sales service potential to the languages your agents speak fluently. Want to see your customer satisfaction scores skyrocket? Choose a live chat software that has a built-in language translation feature

! A

study by the International Customer Management Institute (ICMI)

found that 71.5% of customer service managers reported an increase in customer satisfaction scores when they were able to speak with a customer in he or she's native language. 58.4% said it increased customers' loyalty to the brand.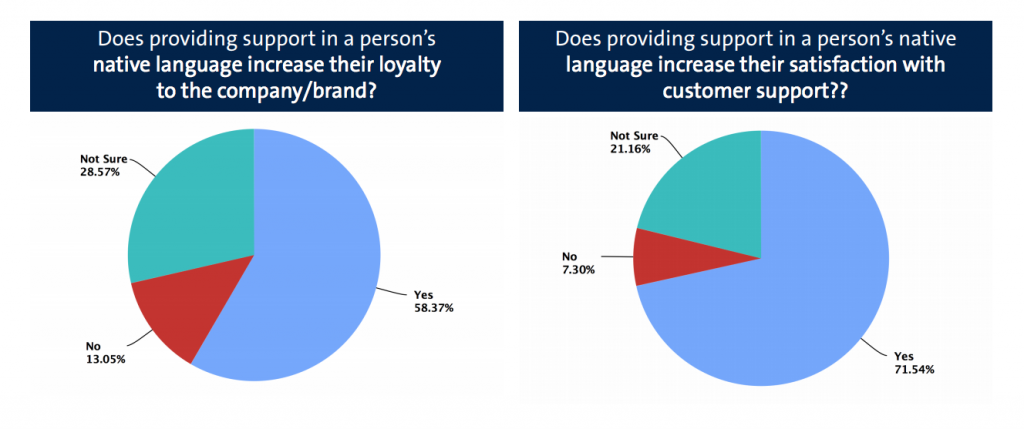 (Source: ICMI)
 Your Agents Will Be Able to Multitask:

Live chat makes employees more efficient by allowing them to speak with multiple customers simultaneously. For example, agents can quickly copy pre-written responses (a.k.a.

canned responses

) to common questions into the text box. This cuts wait times to a fraction of traditional support and eliminates the dreaded "Please hold, your call is important to us." Case and point: 79% of consumers prefer live chats because they offer instant responses (

99firms.com

).
Convenience:

Live chat will allow your customers to contact you anytime from anywhere in virtually any scenario. It's basically like texting. It allows for communication with zero noise output. If they really want to, they can contact you from a church pew and no one will be the wiser. This is one of the reasons for its rise in popularity. 51% of customers prefer live chat because it allows them to multitask. (

Forbes

).



51% of customers prefer live chat because it allows them to multitask. @Forbes Click To Tweet
Live Chat Support Cons
Loss of Emotional Subtext:

One issue with live chat is that your customers lose the personal touch of being able to hear an agent's voice. In fact, 29% of consumers take issue with live chat because they find the scripted, impersonal responses frustrating (

Kayako)

.


Moreover, being able to make an emotional connection is more important than many people realize.  Customers that have an emotional relationship with a brand have a 306% higher lifetime value and will recommend the company at a rate of 71%, rather than the average rate of 45% (Motista

).
Resolving Detailed Issues Takes More Time:

Most people can talk faster than they can type. If a customer has a complicated issue that requires a highly detailed, in-depth conversation, it may actually take more time to resolve their issue through live chat than it would to contact customer service via phone. And, let me tell ya…people absolutely HATE wasting time. 73% of customers say that valuing their time is the most important thing companies can do when it comes to customer service (

Forrester)

.
Misaligned Time Zones: Your website visitors will not necessarily reach out to you during regular business hours.  According to Zendesk, the highest number of chats take place between 7 a.m. and 7 p.m.  However, 4 a.m. in your time zone might be 7 a.m. in someone else's. Hence, time zone misalignment may be an issue many businesses face once they implement live chat. Unless, of course, they opt to go with a live chat service that offers 24/7 sales and support. 
Your business may not be open 24/7, but your customers probably wish that you were! HelpSquad's live chat agents will be available for your client-base around the clock. We'll even take care of your appointment scheduling. #helpsquad #FeatureFriday #appointmentscheduling pic.twitter.com/VMGUBHGPeN

— HelpSquad (@helpsquadusa) March 1, 2019
The Bottom Line
In today's consumer climate, both live chat support and traditional phone support are invaluable. It's not one over the other. Ideally, you should have both.
People like being given options.
When it comes to communication with your brand, it's best to give your customers more contact options rather than less.
Try it. Your customer experience scores will improve. You can thank us later.