What makes a good supervisor? 
One psychological study defines five components of effective supervision: support, trust, respect, time, and investment. While there is more on the topic, to facilitate and implement these qualities into their work supervisors must have a good toolset. 
LiveHelpNow strives to support our customers in their roles, and so we're releasing our new feature, the Supervisor View. It will help supervisors get all the information they need to offer support to their teams. 
Supervisor View: Metrics at the Fingertips
Supervisor View adds real-time analytics to supervisors' tool arsenal. Find the new feature in the LiveHelpNow Admin Workspace sidebar.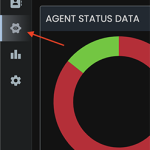 It offers a live snapshot of the whole LiveHelpNow account. A visual overview of agents' status, it provides statistics and interaction breakdowns. The metrics include average response times, longest durations, longest wait time, CSAT scores, as well as other important KPIs. 
The interaction breakdown at the bottom lists all interactions for the day.  A tab menu allows supervisors to switch over to a department and agent view to see specific metrics for each. 
Filters can organize all the information by LiveHelpNow system, department, and agent. 
This tool can help supervisors better understand their agent metrics, review key KPIs, and create goals in the future.