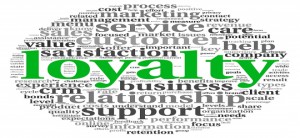 You've generated new leads, qualified them, pursued them, and gotten the sale. Now how can you keep those shoppers coming back? Loyal customers keep companies alive, not only through repeated business, but also through free word-of-mouth advertising and positive reviews.
Build a loyal team
Developing loyal customers begins with building a loyal staff. Employees who care about your success will work harder to deliver great results. Provide support for your employees, giving them the adequate training and tools they need to do their job well, and resources to turn to for help. Back up their decisions and create reward programs for staff members who excel. One way to do this is to set up a recognition award with specific criteria (positive customer feedback, high sales, punctuality, etc.) and give it every employee who meets them, not just the top performer.
Work also on creating an office or company culture that employees can identify with. Start with a motto or mission statement. This provides the feeling of having a reputation to uphold.
Recognize returning customers
Keep your CRM system updated so you can track who provides you with repeat business. Address them by name when they return, offer them discounts or special offers that aren't available to first-time buyers, or enroll them in loyalty programs. If you can see a record of past purchases, ask how they've enjoyed that product or service so far. They'll see that it pays off financially to stick with your company long-term and realize that you care about their satisfaction.
Personalize interactions
Too often, companies take too authoritative of a stance in customer interactions, automatically playing defense. Every conversation, whether in person, on the phone, or online, should start with the smile or a warm welcome. Talk to your customer like he or she is a friendly acquaintance to put them at ease and dispel the attitude that you're out to empty their pockets and nothing more. Take time to learn their names and understand their unique needs so they don't feel like just another number. Successful companies often make a friendly attitude mandatory in their employee training manuals. If you've ever visited a Starbucks, you likely noticed how cheery the baristas are. Even in the face of long lines they remain pleasant and they label everyone's drink with their first name. It's small way to make business seem personal and intimate.
Be quick!
As stated in our last post, customers often develop loyalty to the business that responds to them first. If you get an email requesting a quote or asking a question, don't leave it till a slow period in the day to answer. Sending a quick note immediately reassures your customer that someone has heard and is attending to them. Getting an immediate response not only makes life easier for customers, but also makes them feel valuable to the company, like their business is truly important.People tend to return where they feel like they matter.
How do you foster loyalty in your existing customers?